The Winnipeg Jets traded Eric Tangradi to the Montreal Canadiens in exchange for Peter Budaj and Patrick Holland. For most NHL teams acquiring a backup goaltender wouldn't be newsworthy. For the Jets who rarely make major moves in the form of trades or signings and have had issues in goal for years, this is a definitely a transaction take note of.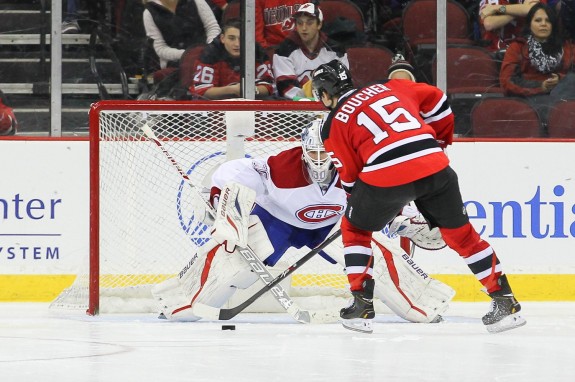 Budaj is a 32-year-old netminder who was selected in the second round, 63rd overall by the Colorado Avalanche in the 2001 NHL draft. In 296 career games he is 124-107-36 with a .903 save percentage, 2.76 goals-against average and 11 shutouts. He's appeared in more than 41 games in a season three times in his career, all with the Avalanche.
Bruce Arthur of the Toronto Star offers a simple overview of the situation.
The Winnipeg Jets made a trade! For NHL players! I mean, Peter Budaj's a good guy who's not very good at goaltending, but hey

— Bruce Arthur (@bruce_arthur) October 5, 2014
But, the Jets current No. 1 is Ondrej Pavelec and he hasn't exactly solidified himself and as an undisputed starter. Many fans question why the team hasn't made an effort to sign or trade for a veteran starter. For example, Jonas Hiller was available in the offseason and signed with the lowly Calgary Flames.
As for Pavelec's stats, they're awfully similar to the former Hab. Pavelec has appeared in 288 games, is 113-125-35 with a .906 save percentage, 2.96 goals-against average and 11 shutouts. That said, it's important to note Pavelec has played on weaker teams. These two aren't equal, it's Pavelec who has the edge and the trust of team management.
Budaj was a really popular player in the Habs room but the right call was made here, the better goalie (Tokarski) kept as backup

— Pierre LeBrun (@PierreVLeBrun) October 5, 2014
What Budaj can do is put pressure on Pavelec in a way no other backup has in recent years. Budaj is entering the final year of a two-year $2.8 million contract , according to CapGeek.com, and will looking to prove he is still worth that money, if not more. Pavelec, on the other hand, is set to start the third year of a five-year, $19.5 million deal that carries a $3.9 million cap hit.
The Jets have had problems on offense and defense. There is room for improvement and it should come as prospects work their way onto the team in the coming years. The biggest difference maker this season can come in goal. If Pavelec plays to his full potential, in should lead to two or three, perhaps even five or more wins than last season.
If Pavelec suddenly slips up in a close game or goes through a rough stretch of games, Budaj could come in and offer a couple of quality starts. Best case scenario? This is a wake up call for Pavelec and he responds in the face of pressure and perhaps the possibility of losing his job, with some solid, consistent play. Worst case scenario? Well, that would be the same old goaltending Jets fans have come to know.
https://twitter.com/SportsnetSpec/status/518809372445917185
Is this a move that could help the Jets get closer to the playoffs? No. But, it's better than doing nothing at all. Let's hope it's the start of a trend.
Eric is a postgraduate public relations student at Humber College. Prior to that he obtained a bachelor's degree in communication studies from the University of Windsor. He covers the Winnipeg Jets for The Hockey Writers and is a featured columnist for Bleacher Report.