It is perhaps a mark of the Predators lackluster offense in recent years that the most-talked-about offensive player is a defenseman. Shea Weber, with his booming shot and commanding presence on both ends of the ice, demands respect across the NHL and internationally. But changes were promised this summer, and general manager David Poile delivered.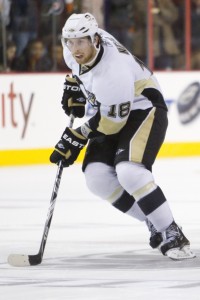 Big Changes in Nashville
Peter Laviolette was brought in to replace Coach Barry Trotz, the only coach the franchise has known, in order to instill a more up-tempo offensive style. On the player side, Poile traded Patrick Hornqvist, a fan favorite with a forceful net presence, to the Penguins for James Neal, a winger with smooth hands. The deal in itself showed change. Hornqvist made his living going to the net in the style of former Detroit great Tomas Holmstrom.
He was scrappy and provided the grit to the forward unit. Neal doesn't exactly play that way. In fact, no one on the Predators seems to now that Hornqvist is gone. Not that the Predators aren't tough—Rich Clune speaks to that—but now it seems we are looking at a team that would rather bring finesse to the rink.
Arguably the biggest trade in franchise history was the Peter Forsberg deal, but it turned out to be only a temporary fix. Other deals for forwards who were not just passing through town more or less fit a formula, almost literally. They tended to be small, often wingers, and they fit into what was already going on in Nashville. Cliff Ronning, who came to the Predators from Phoenix and eventually became one of the best offensive powers in team history, was the first of these. Steve Sullivan, a 2004 acquisition who impressed immediately in his first game with a hat trick, was another. He fit in on a line with veteran Scott Walker, and the two provided much of the offensive punch that took the team to the playoffs for the first time that year.
Neal does not fit into this mold, which is to be expected, but even more so because it isn't clear exactly who will play for him. Poile was reportedly in the market for a topline center, but that never really materialized. Instead, Poile made do with three free-agent centers: Olli Jokinen, Derek Roy and Mike Ribeiro. Poile either hopes that one of these veterans will stick as a topliner or the three will make up for the one that escaped his grasp. The three do have things in common: they all are aging vets with previously Steller offensive seasons, have been afloat in recent seasons for various reasons and are looking to settle in again somewhere.
Of the three Ribeiro looks to be the best fit for Neal, something that Laviolette has signaled by playing the two together during the preseason. But Ribeiro is also the riskiest choice.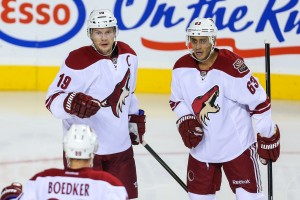 Ribeiro is a good fit because he wants to be in Nashville. He also played with Neal in Dallas.
"I think he's happy that he'll have someone to give him the puck," Ribeiro told reporters in July.
But, as has been well documented by now, not Ribeiro, not Jokinen, not Roy equal Evgeni Malkin, the masterful center who gave Neal the puck in Pittsburgh and helped him reach the 40-goal mark. Also, when Neal and Ribeiro were together in Dallas, Neal was a good but not elite talent, not the same player Poile traded for. Clearly Poile hopes developed skills, not linemates who were elite themselves, account for Neal's big numbers in Pittsburgh.
Finally, Ribeiro was available to Nashville because Phoenix grew tired of his antics there) he missed team meetings and buses and was reportedly confrontational in the dressing room) and bought out his contract. Ribeiro blames that on his failing marriage and now says things are on the mend with his wife, and he's ready to move forward.
Whether a summer full of change for the Predators will yield the kind of change on the ice Poile was looking for when he hired Laviolette and traded for Neal is yet to be seen. There are still a lot of questions. But it's a good start.
Alex is a native of Nashville, Tennessee. He has four years of reporting experience, both sports and news, mostly in newspapers. He holds a M.S. from the Columbia University Graduate School of Journalism, in New York City, and a B.S. in journalism from Middle Tennessee State University. He is a former news and sports editor at the MTSU student paper, Sidelines, and interned at the Tennessean. Raised in a football family, he left the reservation and found an obsession in hockey.