Being an NHL first round pick is a lot of pressure. But when you're a first round pick of the Montreal Canadiens, no doubt the glare is a little brighter and the expectations a little more out of control. In the case of 2013 Habs first rounder Michael McCarron, he has the shortest leash of any Habs prospect.
When Habs' director of amateur scouting Trevor Timmins stepped to the podium to announce the selection of McCarron, it immediately became a point of discussion amongst the fan base. Some applauded the pick as McCarron was 6'5″ and well over 220 LBS (according to TSN's draft profile of McCarron) and Montreal had just been ousted by a bigger Ottawa squad in a playoff upset. Others saw the pick as a reach as higher ranked players were available and he was considered to be a bit of a project.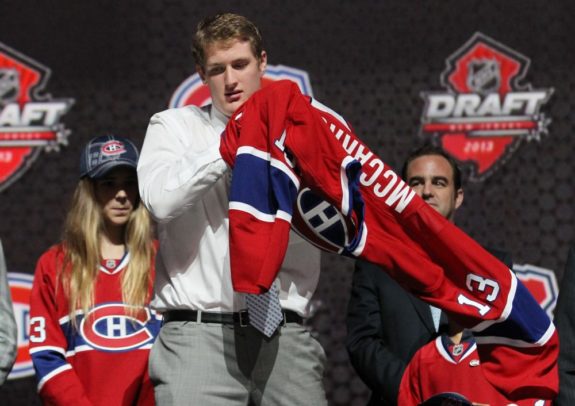 This past season saw McCarron join the OHL with the veteran laden London Knights after de-committing from Western Michigan in the NCAA.  It soon became painfully obvious that he wasn't prepared for the speed and grind of the OHL. He was injured early on in the season and he didn't receive top minutes due to the presence of players like Bo Horvat and Max Domi. But to be fair, McCarron didn't exactly earn those quality minutes either.
It was a situation where McCarron didn't take advantage of his gifts. For a big man, his straight line speed is pretty good and his hands are good too. However, in some ways, it isn't a surprise McCarron struggled in his first OHL campaign. All he has to do is look at fellow Habs youngster Jarred Tinordi.
Tinordi, like McCarron, went straight to the OHL post draft after graduating from the USNTDP and contemplated playing NCAA hockey. Tinordi is well known for his exceptional size and he struggled with the pace of junior hockey. If it's any consolation for Habs fans, Tinordi improved greatly in his second year and captained the Knights to an OHL championship. Unfortunately, McCarron will start the year on the shelf with a shoulder injury after hurting himself during the Habs pre season. But he showed encouraging signs during pre season. His conditioning was better and he was starting to use his size to his advantage.
Patience is key
So Habs fans need to relax. McCarron has time to sort his game out. It was the slimmest of chances he was ever going to the Habs roster as a teenager despite the calls from the fans to have more size in the lineup ASAP. When you look at how big McCarron is, it will take awhile before he fills out his frame. But even without McCarron, the competition for a Habs roster spot is pretty fierce and it was basically a given he was going back to junior either way.
The onus is on McCarron to do better this season and hopefully with the help of the Hunter brothers in London and input from the Habs, McCarron can be on the right track to being a bruising power forward, precisely the kind of player that excels in the playoffs. McCarron has a lot of potential and it is understandable Habs fans want to see him reach that potential in hopes his size will give them an advantage in the post season. But the bottom line is, he isn't ready and won't be for awhile.
I have a Bachelor's Degree in Journalism from Ryerson University. I am a freelance journalist and a Montreal Canadiens writer for The Hockey Writers. I previously wrote for Simcoe.com and Last Word on Sports as well as interned at TSN.