With the 2016 NHL Draft officially in the books, scouts and team prospect gurus alike turn their attention to the crop of players waiting to hear their name called in the 2017 NHL Draft. With a full year to go until the festivities kick off in Chicago, the prohibitive favourite to go first overall is strapping young centre Nolan Patrick of the Brandon Wheat Kings. While he was born just four days after the cutoff date to be eligible for the 2016 Draft, Patrick led all WHL players in playoff scoring and another season in juniors could be a spectacular sight for the 6'3″ power forward from Winnipeg.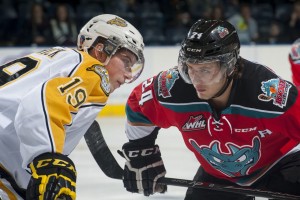 Similar to the past two drafts, Patrick could be in for some stiff competition for the honour of being selected first overall. High-octane Swedish defenseman Timothy Liljegren looks to be a strong candidate for a top-five selection at this point, as he was a regular in the top Swedish men's league with Rogle and is primed to break out offensively next season. Patrick's spot as top dog could also be challenged by Victoriaville Tigres forward Maxime Comtois, who was recently named to the QMJHL All-Rookie team, and Windsor Spitfires centre Gabriel Vilardi, the second overall pick in the 2015 OHL Draft.
While these high-profile prospects are likely going to be in the national spotlight from wire to wire, every year high-level prospects seemingly boost their draft stock and wind up as first round draft choices despite starting the year with low profiles. Here are just a few players who could be candidates to go very high in next year's draft with an outstanding performance and continued upwards development in the 2016-17 season.
Stuart Skinner, G, Lethbridge Hurricanes (WHL)
When Carter Hart was tabbed as the first goalie off the board with the 48th overall pick in the 2016 Draft, it marked the longest the draft had gone without a goalie selected since 1986. It certainly looks as if the risk that a young goaltender presents has turned off NHL general managers from spending an early draft pick on a netminder.
The lack of first round picks spent on goalies in recent years could also be attributed to the lack of elite goalie prospects, excluding 2015 1st rounder Ilya Samsonov, could also be at the base of the falling stock of goalie prospects. While the 2017 NHL Draft lacks an extremely exciting young player like Aaron Ekblad, Connor McDavid, or Auston Matthews, the crop of young goaltenders looks to be one of the strongest in recent memory.
Stuart Skinner of the Lethbridge Hurricanes could be the crown jewel of the class, as the 6'4″, 210 pound goalie already has two full seasons as a starter in the WHL under his belt. The 17th overall pick in the 2013 WHL Draft, Skinner's most famed moment was arguably when he became the first WHL goalie since 2012 to score a goal when he potted an empty-netter on March 19th. His stellar play throughout the season is what has earned him such high praise, however, as he placed fifth in the WHL in save percentage and led the Hurricanes to their first playoff appearance since 2009.
Skinner has the pedigree, size, and athletic ability to become a high draft pick next summer. Already one of the best goaltenders in the WHL, Skinner is just 17 years old and continuously improving. If he can improve his numbers and show that his mediocre performance in the World Under-18 Championships was nothing more than a blip in the radar, Skinner could become the highest drafted goaltender since Andrei Vasilevskiy in 2012.
Owen Tippett, RW, Mississauga Steelheads (OHL)
Another player who entered the CHL with high expectations, Tippett headed to Mississauga after being taken with the fourth overall pick in the 2015 OHL Draft and notching 52 goals in 50 games with the Toronto Red Wings minor midget team. Tippett only furthered his outstanding 2015 by capturing a gold medal with Canada White in the 2015 World Under-17 Hockey Challenge, notching a hat trick in the final game and earning a tournament All-Star team nomination.
Surrounded by a young and upcoming squad in Mississauga, Tippett played a secondary role with the Steelheads and finished with 15 goals. As one of the most promising young players in the OHL, Tippett looks primed to take a big step forward next season as the Steelheads' young core continues to improve. Alongside young stars Michael McLeod and Alex Nylander, Tippett has the potential to break out and show off his blazing speed and impressive shot.
Buried among a host of impressive young talent with the Steelheads, Tippett's rookie season left something to be desired after such a decorated minor career and promising start to the season. He finished his season well, and was one of just three 1999-born players named to Canada's World Under-18 Championship team. With an expanded role with a stronger Steelheads team next year, expect Tippett to take a huge step forward and prove he's worth a high first round draft choice.
Vanya Lodnia, C/RW, Erie Otters (OHL)
The Erie Otters have been a powerhouse franchise in the OHL for the past few seasons, thanks in large part to a strong track record in the OHL Draft. Their latest first round draft pick, Vanya Lodnia, was the 20th overall pick in 2015. Lodnia, a Michigan native, was buried in a deep starting lineup with the graduation of super-prospect Connor McDavid at the beginning of the season.
Throughout the year, Lodnia quickly proved that he was a great value for the Otters, notching 39 points as a rookie despite his small frame. A good skater with great hands and passing ability, Lodnia has the ability to excel playing all three forward positions. While his slight frame held him back from physical battles early in the season, Lodnia quickly gained strength and the confidence of Otters coach Kris Knoblauch as the year went on. And as THW's Mark Scheig noted, Lodnia has grown rapidly this year and could more of a physical force in his draft year.
The consensus on Lodnia's height is that he's now 6-foot-1. Major growth spurt.

— Mark Scheig (@THWMark) June 5, 2016
Lodnia flew under the radar somewhat in his rookie year, as he matched Dylan Strome's rookie season totals in his first OHL campaign. With a bigger body heading into next year and added strength, Lodnia looks like he is able to step right into the top six of one of the strongest teams in the OHL. With Dylan Strome likely in the NHL next year, Lodnia should get the chance to play centre full-time. With the collection of talent around him and his natural scoring abilities, Lodnia's numbers should get a dramatic boost next year and make him a candidate for the NHL Draft's first round.
Nico Hischier, C, SC Bern (NLA)
One of the more intriguing prospects available for 2017, Nico Hischier's play in the Swiss leagues has earned him comparisons to Edmonton Oiler and former first overall selection Ryan Nugent-Hopkins. A complete offensive package, Hischier has flown somewhat under the radar due to the historical lack of top prospects coming out of the Swiss men's leagues. However, Hischier's dominance of his own age group and stellar play amongst men several years his elder is nearly unprecedented.
TSN's Craig Button had this to say about the budding Swiss star:
Very skilled with excellent sense and a competitive spirit that won't allow himself to be denied. Fast and quick that allows him to break free in open ice and agile which allows him to break free out of traffic. Quick hands and makes plays in traffic and sees offensive opportunities and takes advantage.
One of the youngest players in the history of the NLA, Hischier was also the youngest player on Switzerland's World Junior Championship team and the leading scorer for Switzerland at the World Under-18 tournament. With such a complete offensive game and already some quality experience in a men's professional league, Hischier is in line for a strong draft season.
Taken with the 6th overall pick in the CHL Import Draft by the Halifax Mooseheads, Hischier has options on where he could play next year. His smooth skating and creative offensive abilities are always in high demand, however, and his offensive totals should only rise next year. Expect Hischier to put his name on the map and cement himself as a high first-round prospect.
Related: The Swiss Version of McDavid