One of the better NHL teams at drafting well is the Nashville Predators. With general manager David Poile's "build the team from the back on up" mentality, Nashville has been extremely successful in their defensemen selections over the years. Seven of the ten defensemen to play a game for the Preds last season were drafted by the organization.
Since the Predators have an already stable defense core for years to come, Poile has shifted his focus towards loading up on talented forwards as of late to rid the team of any scoring problems in the future. Of the five best prospects in the organization described below, four of which are forwards.
Nashville placed second in the Central Division with a 47-25-10 record (104 points) last season. With the prospects lined up to join the Predators, they will surely have the personnel to hoist the Stanley Cup in a few years for the first time in franchise history.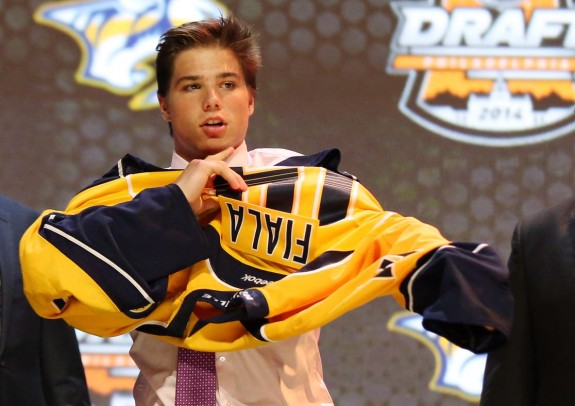 1. Kevin Fiala, Forward
Age: 18
Height/Weight: 5-foot-10/180 lbs
Handidness: Left
Acquired: 2014 11th overall (1st round)
2014-15 Statistics: 33 GP, 11 G, 9 A (Milwaukee Admirals/AHL)
There is not a more confident 18 year old hockey player than Kevin Fiala. A week after being drafted, Fiala stated his goal was to play in the NHL immediately, though he did not have much experience playing on a North American-sized rink. Unfortunately for Fiala, his plan did not pan out.
Fiala began the first half of the season with HV71 in the Swedish Hockey League scoring 14 points (5 goals, 9 assists) in 20 games before being re-assigned to Nashville's AHL-affiliate the Milwaukee Admirals on January 15. In 33 games with the Admirals, Fiala posted 20 points (11 g, 9 a).
Fiala somehow managed to make his NHL debuts in the regular season and playoffs this year. In those games, he showed how confident he was with the puck, but at the same time, he quickly realized he could not get past NHL defenders as easily as he did in the AHL and SHL.
The insatiable Fiala has already proclaimed to Poile this offseason that he will be playing with the Predators next season.
From Brooks Bratten of the NashvillePredators.com:
"At the end-of-the-year meetings when [Head Coach] Peter Laviolette and I are talking to players, we're usually the ones doing 90 percent of the talking," Poile said to the crowd at the Music City Center. "So we did the talking to Kevin and then he says, 'What do I need to do, I'm going to be playing for the Nashville Predators next season. I'm not going to [American Hockey League affiliate] Milwaukee, I'm going to be playing [in Nashville].'"
According to Poile, Fiala planned to arrive in Nashville on June 6 to begin offseason training with team strength coach David Good.
If Fiala's dedication and focus mixed with confidence continues, he is going to be a special player for the Predators in years to come.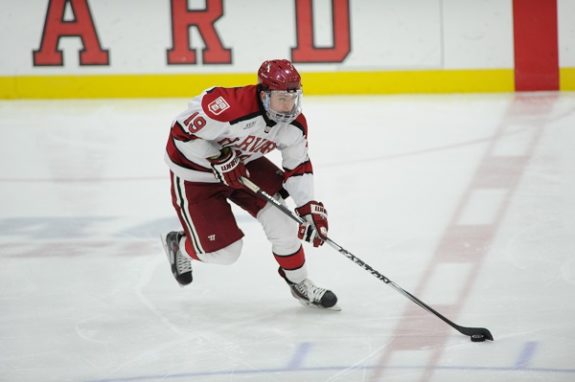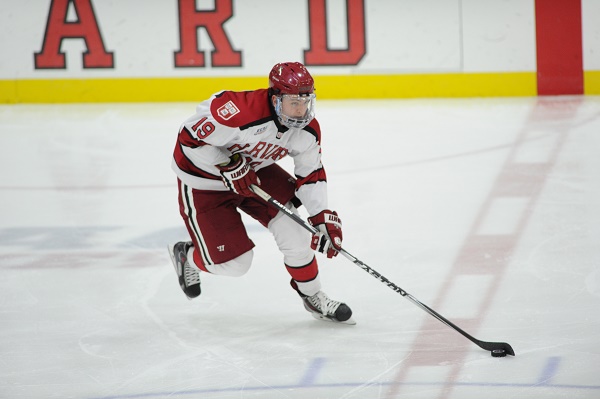 2. Jimmy Vesey, Forward
Age: 22
Height/Weight: 6-foot-1/195 lbs
Handidness: Left
Acquired: 2012 66th overall (3rd round)
2014-15 Statistics: 37 GP, 32 G, 26 A
After being nothing more than average his first two seasons at Harvard, Jimmy Vesey decided to break out his junior year. Vesey placed third in scoring (58) and first in goals (32) among all NCAA Division I players. Many considered Vesey just as good as highly touted 2015 draft prospect and Boston University freshman Jack Eichel. The Walter Brown Award, given to the best American-born player playing college hockey in New England, was surprisingly awarded to Vesey instead of Eichel. Other accolades Vesey received last season were being a Hobey Baker finalist, ECAC Player of the Year and Ivy League Player of the Year.
In May, he represented the United States at the 2015 IIHF World Championship. In nine games, he registered three assists.
Though Vesey is ready to play in the NHL next season, he is going to finish his fourth year at Harvard before turning pro. Once the collegiate season comes to a close in March, Vesey will likely join the Predators for the final stretch of the season and into playoffs.
3. Steve Moses, Forward
Age: 25
Height/Weight: 5-foot-9/172 lbs
Handiness: Right
Acquired: Signed as a free agent on April 9, 2015
2014-15 Statistics: 60 GP, 36 G, 21 A (Jokerit/KHL)
Nashville signed the most highly sought out KHL free agent in Steve Moses on April 9. Moses, a Massachusetts native and a graduate of the University of New Hampshire in 2012, broke the KHL scoring record last season with 36 goals in 60 games, previously held by Alexander Radulov. In doing so, he was named a KHL All-Star in 2015. With a season like Moses had last year, it is hard not to be excited about his future in the NHL.
Moses got to know his starting goaltender Pekka Rinne by scoring a highlight reel goal on him at the World Championship. In seven games for Team USA, Moses tallied just a goal and an assist.

Scoring is not a problem for Moses, but his size might be.
A sampling of opinions from NHL scouts who have been scouting Moses this season:

"He has skill but he doesn't have that special stuff a small player needs to do well (in the NHL)," one said. "Some might sign him; not us."

"He's quick and can shoot the puck but he's tiny and spends a lot of time on the perimeter," said another. "He's a better player on big ice."

"Really small but really fast," said another.
After observing undersized players like Tyler Johnson, Johnny Gaudreau and Martin St. Louis make instrumental impacts offensively, size is no longer becoming an issue in today's NHL.
4. Juuse Saros, Goalie
Age: 20
Height/Weight: 5-foot-11/176 lbs
Handiness: Catches left
Acquired: 2013 99th overall (4th round)
2014-15 Statistics: 13-17-16 record, 2.14 GAA, .929 SV%, 6 SO (HPK/Sm-Liiga)
Speaking of being undersized and successful, Juuse Saros is one of the smaller goaltenders out there, yet he is on track to be the future starter for the Predators. For what he lacks in size he makes up for it with his quick, efficient style of play.
The past two years, Saros has represented Finland at the World Junior Championship and World Championship in the same year. After winning a gold medal at the WJC in 2014 with a 5-1-0 record, 1.57 GAA and .943 SV%, he had rough outing the following year registering an 0-2-0 record, 3.03 GAA and .875 SV%.
Saros has started in just one game in two years at the WC because Rinne has essentially hogged the net. In that one start, Saros recorded a 22-save shutout.
Last season, Saros played for HPK in the Sm-Liiga. It would be great for his development if he could play in North America next season, but he is still under contract with HPK through the 2015-16 season.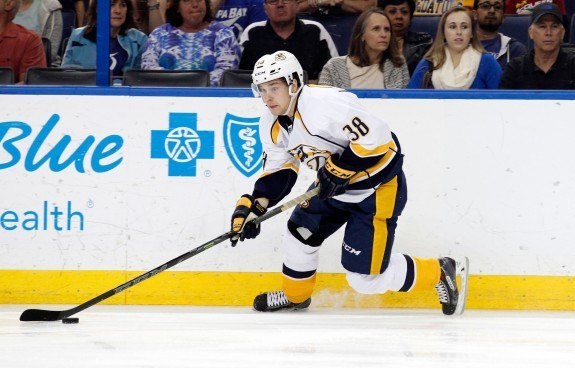 5. Viktor Arvidsson, Forward
Age: 22
Height/Weight: 5-foot-9/172 lbs
Handiness: Right
Acquired: 2014 112th overall (4th round)
2014-15 Statistics: 70 GP, 22 G, 33 A (Milwaukee Admirals/AHL)
Viktor Arvidsson is another undersized player with a lot of potential. Despite going undrafted for three consecutive years before Nashville selected Arvidsson in 2014, he remains confident in his game. For most players, that would be a confidence killer but not for Arvidsson. Like Fiala, Arvidsson's plan last year was to play in the NHL right away. That, too, did not happen, but Arvidsson did play in six NHL games last season in March. He displayed his speed and how unintimidated he was playing against the world's best. Though he did not record a single point, he was not shy about generating scoring chances for himself.
Most of Arvidsson's time last season was spent with the Admirals. His 55 points in 70 games led Milwaukee and ranked third among all AHL rookies in scoring.
Subscribe
to our Predators stories to get email updates every time a new story is published.Colin Fitts is a Nashville Predators staff writer for The Hockey Writers. You can follow him on Twitter, @FittsTHW.
Colin Fitts is a Nashville Predators staff writer and is a credentialed media member of the Chicago Wolves. From Nashville, Tennessee, Colin majors in journalism and public relations at Columbia College Chicago. Follow him on Twitter, @FittsTHW. Email: 22fitts [at] gmail [dot] com.