By Mike Miccoli
It's the second week of December and the Boston Bruins are about to go on their most important road trip of the season, even if it doesn't look like it on paper.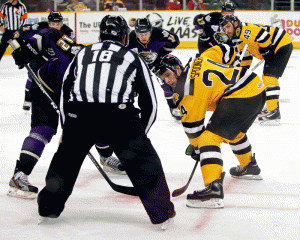 The Bruins' next four opponents, the Toronto Maple Leafs, Calgary Flames, Edmonton Oilers, and Vancouver Canucks, have a combined record of 53-53-15, with both Toronto and Vancouver the only teams above .500. That doesn't seem awful for a team that's currently 19-8-2 and coming off an emotional win against the Pittsburgh Penguins but for the Boston Bruins, the missing personnel and new faces give this four-game road trip a whole new dynamic.
As of Sunday morning, the names read Adam McQuaid, Johnny Boychuk, Loui Eriksson, Shawn Thornton, and Chris Kelly–all inactive Bruins for at least Sunday's tilt in Toronto against the Maple Leafs. Only Thornton isn't sidelined with an injury. With Matt Bartkowski and Kevan Miller already stepping in on the blue line in place of McQuaid and Boychuk, the focus will be on oft-healthy scratch Jordan Caron and recent call-ups Ryan Spooner and Matt Fraser.
Pair the close-race of the Atlantic Division and the Bruins 6-5 record on the road, and you have quite the interesting week coming up for Boston.
The lines won't be the same. As it stands, the only line that should remain intact is the top line of Milan Lucic, David Krejci, and Jarome Iginla. After that, you're looking at a new set of lines for a Bruins team that is finally developing chemistry amongst its forwards.
Smart money says that Reilly Smith will move up to play with Patrice Bergeron and Brad Marchand, similar to what happened when Eriksson was out with a concussion back in October. Even though the results weren't there–the Bruins were 2-3 with this line combination with only two combined points–Smith's game has developed over the past month and he has gotten used to playing with Bergeron on the team's second power-play unit. Plus, it's unlikely to see Caron line-up with someone other than Daniel Paille and Gregory Campbell.
That leaves Matt Fraser and Ryan Spooner–two guys who have been lighting it up with the Providence Bruins.
It also leaves Carl Soderberg, a left-handed shot looking for a new center and right winger.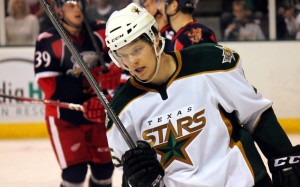 It might be a pipe dream and a bit unrealistic when thinking about the defense-first nature of this team, but a Soderberg-Spooner-Fraser third line could provide quite the dynamic. Spooner leads the Providence Bruins with 24 points (five goals and 19 assists) and is closely followed by Fraser with 21 points (16 goals and five assists). Put a pass-happy Spooner with someone like Soderberg, who already likes to shoot, and Fraser, his linemate in Providence, and we could see a speedy, offense-first third line.
Of course there are drawbacks with this theory, too. Off the bat, Sunday will be Fraser and Spooner's third straight game, having played in back-to-back games this weekend in Providence. The third line loses some defensive ground after the Kelly injury and hypothetical promotion of Smith to the Bergeron line. It also puts a line together of three guys who have played in a combined 46 NHL games. Sunday's game would also be Fraser's first in Boston.
Fraser has had plenty of success in the AHL with a career total of 86 goals in 158 games. However, in 13 NHL games, he only has a goal and two assists. Easing him into the Bruins with his linemate in Providence provides a unique opportunity for both Fraser and Spooner to make an immediate impact in Boston thanks to pre-established chemistry.
So really, why not give it a shot?
Boston's shortage of regular personnel will certainly impact the team's play but if the younger call-ups are able to pick up an extended workload, it could ignite a spark in a Bruins team that needs to learn how to play a full-60 minute game.
Mike Miccoli covers the Boston Bruins for The Hockey Writers and has been a credentialed member of the media for all Bruins' home games for the past five years. As a former player, coach and official, Miccoli has been around the game of hockey since the age of three. Along with his work on THW, Miccoli has also been published in the New England Hockey Journal, Improper Bostonian magazine and on BostInno.