With an immediate need for help on defense the New Jersey Devils selected Reilly Walsh with their second 3rd round pick (81st overall) at the 2017 NHL Draft. The 5'11" Walsh averaged over two points per game (69 points in 30 games) at Proctor Academy during 2016-17 and is committed to attend Harvard University this upcoming fall; he also appeared in 24 regular season games for the Chicago Steel of the USHL this past season.
Two players in consecutive years graduated from Harvard and elected not to sign with the team that drafted them — Jimmy Vesey (drafted by Nashville, signed with New York Rangers), Alexander Kerfoot (drafted by New Jersey, signed with TBD) — and New Jersey's GM Ray Shero had an interesting, cryptic comment when asked about the first of four blueliners his team drafted in June. "What I said to Reilly after we drafted him was: 'Good luck at Harvard next year, it will be the best three years of your life.'"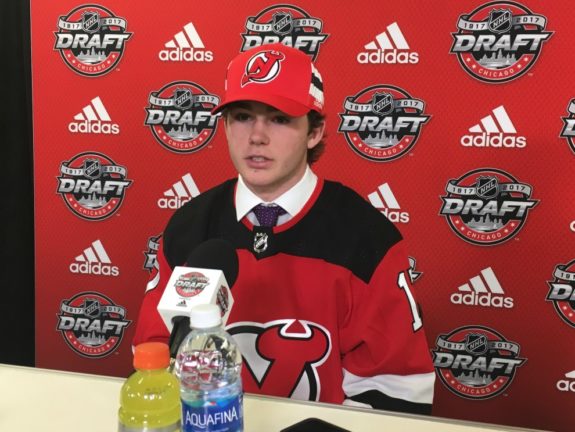 For Walsh, he put on quite the show at the Devils 2017 Development Camp, culminating with his two-goal performance in front of season-ticket holders at the Red-White scrimmage on the final day of the camp. He also showed poise and presence as a defender breaking up plays and using his body to stifle scoring chances. "Obviously, scoring is awesome," Walsh said humbly after the scrimmage. "But I wanted to play a complete game. I got a lucky bounce on the first goal and I got a good feed from (Mikey) McLeod on the second one."
Following the scrimmage, The Hockey Writers caught up with the Harvard-bound New Hampshire native for a few quick questions after the whirlwind that follows a prospect after he gets drafted into the NHL.
The Hockey Writers: After being drafted a few weeks ago here you are finishing up your first Development Camp with the Devils; how was your experience this week?
Reilly Walsh: I thought it was really cool coming in and seeing all this stuff for the first time. I was definitely coming into this open minded and trying to have the best experience. Playing the games, I definitely tried to just play my game, didn't try to change anything. Obviously, I think I had pretty good success (in the scrimmage), I had a lot of fun and our team won – which is most important as well.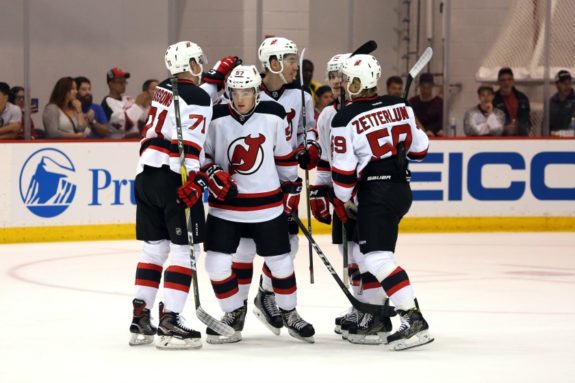 THW: The Devils have a long history of successful blue liners, from Driver to Stevens to Daneyko to Niedermayer to Rafalski and so on; what are some of the things you feel you need to work on in your game as you start your college career and hopefully a professional career as well?
RW: I think being more reliable in all situations, offensively I carry a lot of skills that can help me on special teams and in the zone play, things like that. I think being reliable on both sides of the puck is huge for me, being a trustworthy defenseman – like a guy that's out there at the end of a game – no matter if we have the lead or trying to score. That's my goal, to be a good two-way D-man. I have to build my strength, get bigger, be more of a presence on the ice. That's what I'm going to focus on.
THW: Did you know any of the players here at the Camp before this week?
RW: I didn't know any of them super-well but I played against Miles Wood and I met Bobo Carpenter a couple of times. But besides that, I hadn't really met anyone else besides them.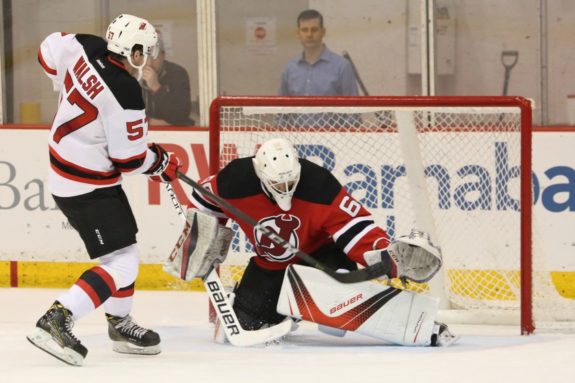 THW: What were some of the off-ice things that you enjoyed this week?
RW: The cooking class was fun, for a lot of guys it was their first time ever cooking. I thought it was really cool to bond with the guys and have some fun. The boat cruise (around NYC) was also super cool, seeing the city from the water. We also did an 'escape the room' challenge with us split into four groups and that was really fun too, to work together with the guys in a competitive situation. Those three definitely stood out to me.