For the New Jersey Devils, it wasn't an easy decision to trade defenseman Adam Larsson, even if it was a straight-up swap for the star forward they so desperately desired in Taylor Hall. But part of that decision was likely based on the fact that they knew they had Steven Santini coming up the pipeline and he had just signed his entry-level deal two months before the blockbuster trade was consummated.
Since the middle of last season, Santini has virtually been a regular in the Devils lineup, and the 22-year-old defender now has 45 games of NHL experience under his belt. After the team's lone loss of the young season – a 5-2 whitewashing at the hands of the Washington Capitals – he responded with maybe two of his best games since he turned pro.
Earning Coach's Trust
"He's brought a lot, Steven's brought a lot of stability back there. We've seen growth in his game from last year to this year; he's more assertive, and he's done a nice job when he's been in physical battles," Devils' coach John Hynes said. "He can end plays and he can move the puck simply and smartly when he's had opportunities. It's nice to see a young guy like that be able to come in — again he's one of these types of players we talk about: you want to be able to see growth and rely on, he's been pretty steady. The last few games, the Rangers game and this game (against Tampa Bay), have been pretty tightly contested games and Steven's really taken a nice step."
Bri Guy does it again. Santini and Wood pick up the helpers! #TBLvsNJD pic.twitter.com/Hp06kKrgEk

— New Jersey Devils (@NJDevils) October 18, 2017
That step included Santini being used to defend against an overtime 4-on-3 power play against the Lightning, who boast two of the best one-timer shots in the league — Steven Stamkos and Nikita Kucherov. Along with captain Andy Greene and Brian Gibbons, the iron trio was able to hold off the Bolts and send the game to a shootout where the Devils eventually prevailed.
Defending the Best of the Best
Obviously, the NHL has the best players in the league so some nights, things aren't always going to go your way. That was the case for the Devils when they hosted the Caps – a team they had bested twice in the preseason.
"I think you have to give credit to Washington, I think they played pretty well. For us, we just need to play a little harder and battle a little more; I think that was the only difference (for us)," Santini told The Hockey Writers following the loss. "I thought they definitely competed a lot harder (than in preseason), they played within their system really well. Whether it was through the neutral zone or on the forecheck I think they were very structured and the score tonight obviously showed it."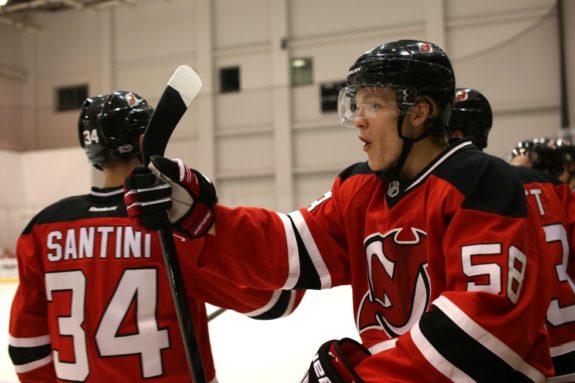 Washington also has one of the most potent power plays in the league today, right up there with Chicago, Edmonton, Toronto and Tampa Bay. The Caps were clicking on all cylinders in this game, and smarting after a close loss to their nemesis, the Pittsburgh Penguins, a few nights earlier. "Yeah, they have so many good threats. Ovi (Alex Ovechkin) on the backside, (TJ) Oshie in the slot, (Nicklas) Backstrom on the half-wall; it's a good unit but we have to find ways to shut them down," said the blueliner.
Santini Not Star Struck
"Everyone wants the puck on that unit and I think that's what makes them so deadly. Usually, teams have one or two weapons but they have five guys that want the puck and are ready to make a play," he told us. "We just have to be alert, make sure we block shots when they try to get shots through."
As a 22-year-old it could be overwhelming battling these generational talents so often in the ultra-competitive Eastern Conference, but ever since he arrived in New Jersey Santini has shown a remarkable amount of maturity and poise. Even if on the inside he was freaking out a bit. "Maybe when I was, I don't want to say younger but, last year when I was first called up I was (kind of spinning mentally), " he admitted. "But you get over it pretty fast. It's just business as usual; it's cool, it's fun but at the same time I have a job to do too. The awe of playing superstars like that wears off after a little while."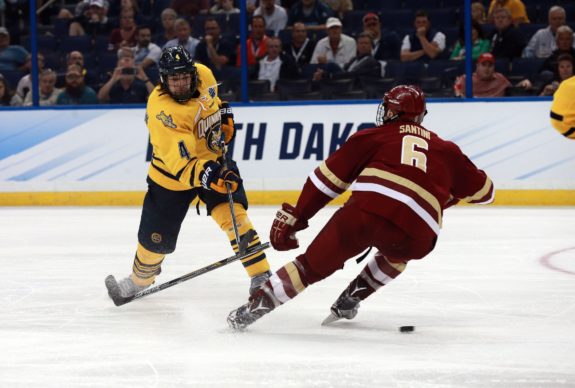 Devilish Defensive Duo
In a way, the Devils somewhat replaced Larsson when they added Hobey Baker winner Will Butcher to their blue line corps this past August as a free agent. All Butcher has done is record nine assists in his first six NHL games, and set all types of rookie and franchise records in the process. It's clear that the franchise has high hopes and aspirations for Butcher and Santini as linchpins on their defense for the foreseeable future.
Will Butcher is the first rookie defenseman in NHL history to record at least nine assists in his first six career games. #NHLStats pic.twitter.com/XM0aOIR5nd

— NHL Public Relations (@PR_NHL) October 18, 2017
"It's really cool that Butcher is here, I played with him at the US Development Program and we were pretty good buddies up there so I was pretty happy when he signed with the Devils. I've been carpooling with Nico (Hischier) a lot, rooming with him. It's been fun. I don't want to say Butchie is young because he's the same age as me, but having fresh faces in the lineup it's helping this organization for the long run. Everyone has been doing their part the first few games here; it's exciting and hopefully, we can keep it going."
Things can change quickly in this league, but it'd be a bit of a surprise if Santini found himself in the AHL again in his career (unless it was a rehab assignment). His spot isn't surely secure just yet, but his progress, as his coach mentioned above, has been very good to this point.
Santini's Short Memory
"I try not to worry and think like that," he said confidently. "For me, I try to think of what can I control and that's showing up every day for games and practices ready to work, ready to help the team, and (trying to) get better each day. I just focus on that and take it one day at a time."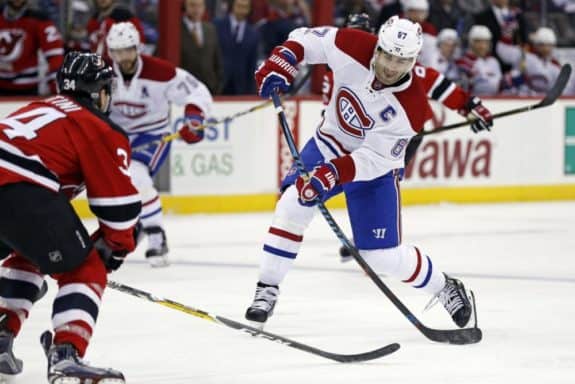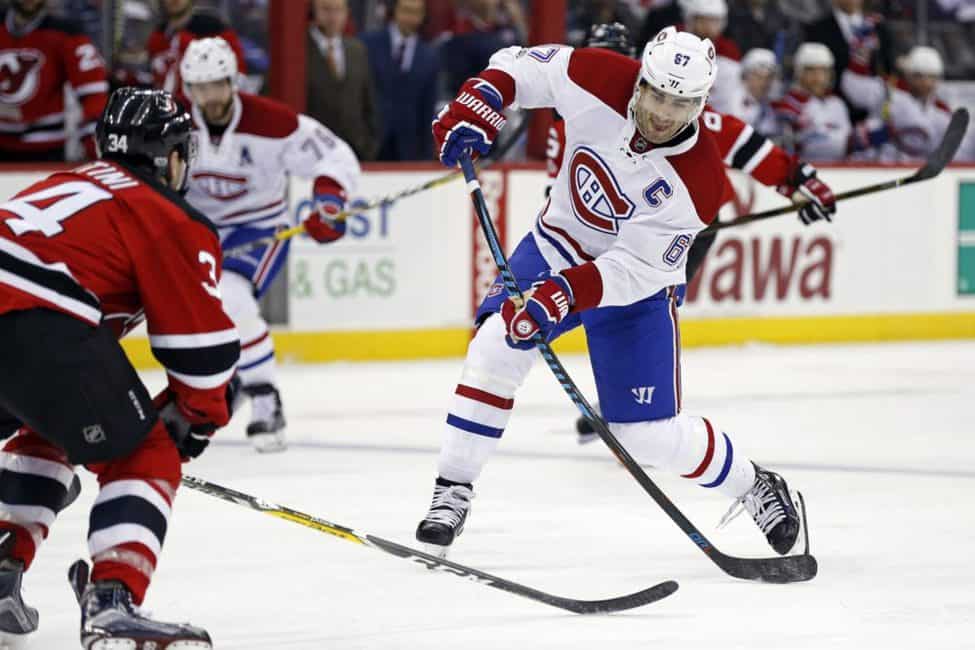 "For me, I usually use the 24-hour rule – you try to get the game out of your head within 24 hours and learn from it. With a game tomorrow I guess I have to make it a 12-hour rule," said a grinning Santini. "I'll just watch my shifts, get myself a good stretch in the cold tub, get a good night's sleep and we'll figure out the game plan tomorrow morning."
He also added he's a big video guy, meaning he really enjoys watching and learning from his shifts that the Devils upload to his iPad after each game. "I do watch my shifts after every game. I think learning from what I do well and what I don't do well and getting feedback from the coaches on that is really important. Anytime I can get a pre-scout it's just going to give me an edge in a game."
The Devils have been getting an edge nightly because of Santini's presence, whether he's blocking a Stamkos blast or intercepting a Jack Eichel pass, he's been a big contributor to the early season success in New Jersey.