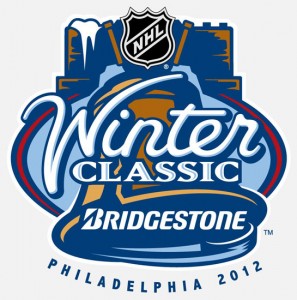 As part of an ongoing awareness campaign that Washingtonians first experienced on DC Metro rail commutes in 2010, the U.S. Department of Homeland Security has announced that the "If You See Something, Say Something" PSAs will being playing in NHL games, beginning with the 2012 Winter Classic, complete with in-arena graphics, jumbotron video PSAs, and arena ribbon displays:
Department of Homeland Security (DHS) Secretary Janet Napolitano has recruited hockey fans into counterterrorism efforts, as DHS has expanded the "If you see something, say something" campaign to National Hockey League (NHL) games.

"Through efforts like 'If You See Something, Say Something™', we can engage everyone, including hockey fans, in our homeland security efforts," Napolitano wrote on the DHS blog. Saying that "hometown security is the key to homeland security," Napolitano explained that the DHS public service announcement will debut next week during a hockey game between the Philadelphia Flyers and the New York Rangers.

"Fans at Citizens Bank Park in Philadelphia will see 'If You See Something, Say Something™' messages and graphics before and during the game," Napolitano said. "Safety messaging will be printed on the back of NHL Winter Classic credentials for staff, players, and volunteers."

A DHS statement added that "a Public Service Announcement will be read before and during [NHL] games, and campaign graphics will appear on the videoboard and on ribbon boards."
Regardless of one's political or policy views of the emergence of the post-9/11 national security state, the announcement means that the NHL's effort to rebrand the game of hockey in the post-lockout era have been wildly successful. Taking into account the fact that the Team USA vs. Team Canada gold medal game in the 2010 Winter Olympics drew 27.6 million television viewers — the most hockey viewers on American televisions on record since the 1980 Lake Placid games — this move by the league and DHS signals to hockey fans everywhere that the audience and atmosphere around professional ice hockey is broad enough in scope and reach to supplement the department's ongoing public awareness campaign.
For purposes of comparison, Homeland Security has also partnered with the National Football League, Major League Baseball, the United States Tennis Association, THE Ohio State University, and the University of Oklahoma in this effort. As far as the federal government is concerned, pro hockey is now on par with other major American sports leagues and collegiate athletics. Well done, NHL marketing!
You can hear Napolitano's PSA on the DC Metro rail system in the opening of the short documentary on Washington's graffiti culture below.
See Something, Say Something from citylovedc on Vimeo.