NHL General Managers, start your engines.
The holiday roster freeze lifted at midnight on Dec. 27 and trade chatter is picking up. As we near the halfway point, executives around the league are either trying to salvage a lost season or plug holes in a playoff contender.
Penguins GM Ray Shero falls into the latter camp, but he'll probably wait until the All-Star Break before making any substantial moves.  The status of Sidney Crosby will dictate what areas the Penguins need to prioritize and how much wiggle room they'll have with regards to the salary cap.  In the meantime, don't be surprised if Shero reaches out to help a desperate GM.
Defenseman Alexandre Picard and forward Jason Williams were re-assigned to Wilkes-Barre (AHL) on Friday morning and neither player has to clear waivers…this time.
Both players cleared waivers earlier in the season, meaning they are waiver-exempt until they play 10 NHL games or spend 30 days on an NHL roster (amounts are cumulative).  After they hit those quotas, the only way they can be recalled without waivers is under emergency conditions (i.e. illness, injuries, or suspensions take roster under 12 forwards, 6 defensemen, or 2 goalies).
Williams has played seven games with the Penguins and by our count has spent only 17 days on the NHL roster.
Picard is already at 17 games and the team has recently been shuffling him back and forth to Wilkes-Barre under emergency conditions. (Deryk Engelland has finished serving his three-game suspension and is eligible to return to the lineup Saturday, eliminating the 'emergency conditions' and requiring Picard to be shipped back to the minors.)
Shero has a few options with regards to Picard:
Continue to save him as depth for emergencies, forcing him to take the 'Wilkes-Barre Shuttle' back and forth across the state the rest of the season.  The solid play of waiver-exempt Simon Despres probably moves him ahead of Picard on the depth chart for now.
Expose Picard to waivers again and risk losing him for nothing.  Picard cleared earlier this year but the Penguins were definitely concerned another team might grab him.  With teams struggling to fill holes because of injuries, it's hard to envision a veteran defenseman with powerplay capabilities making $600k clearing again.
Call Scott Howson in Columbus and see if he's willing to overpay.  Facing a similar roster crunch earlier in the season, Shero unloaded Mark Letestu to the Blue Jackets for a fourth-round pick.  Columbus still sits last in the Western Conference and Howson told ESPN's Pierre Lebrun he expects to be very active in the trade market.  And this was before they lost $33 million defenseman James Wisniewski for six weeks with a broken ankle…
I think Scott Harrington is now on the radar.
A few weeks ago, we suggested watching the World Junior Championship to get a good look at how Penguins prospects perform on the big stage (click here for THW's exclusive in-depth coverage of the tournament).  Some fans were surprised to see last year's second-round pick Scott Harrington make the Team Canada roster over first-rounder Joe Morrow.  It's actually a great sign for the organization.
Morrow showed great offensive abilities during the Penguins training camp but Canada isn't expecting to bowl over every team by eight goals.  Instead, they preferred Harrington's style for a shutdown pairing alongside WHL prospect Ryan Murray.  That hasn't kept Harrington from showing a little offensive promise.
In Canada's 10-2 beatdown of Denmark on Thursday, Harrington had a goal and three assists.  Penguins management said the WJC showed them Simon Despres had a more well-rounded game than they ever realized which might allow him to reach the NHL sooner rather than later.  Despres got a chance to make his NHL debut this year because of injuries and has looked very impressive.  With Morrow and Harrington coming down the pipeline, the Penguins might be more loaded on defense than they ever imagined.
I think the Flyers are a little hypocritical.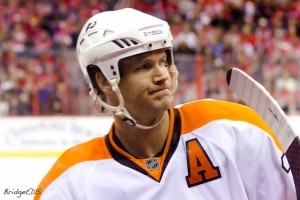 The hockey world went into a frenzy earlier this season after the Philadelphia Flyers mocked Tampa's 1-3-1 neutral zone forecheck during a nationally-televised game.
"It's not hockey," Flyers defenseman Chris Pronger whined after the game. "Would you pay money to watch that?"
Pronger has been ruled for the rest of the season with severe post-concussion syndrome and it seems the team's negative sentiment towards the Tampa system is gone too.
With the Penguins and Flyers tied at one early in last night's game, Philadelphia slipped into a 1-3-1 forecheck and used it a number of times throughout the rest of the game.
The Flyers-Lightning drama was completely overblown in the first place (almost every team in the league uses some form of a neutral zone trap and more than a handful use the 1-3-1) but I guess as they say: if you can't beat 'em, join 'em.
I think Jaromir Jagr likes to hear himself talk.
We won't waste much space rehashing the Jagr drama.  He's always been a supremely talented talented player with a few personality quirks that get exposed when times are tough because he can't keep his mouth shut.  Right now things are going well in Philly, but it'll be interesting to see what happens if the Flyers unravel.
I was surprised one thing Jagr said on Wednesday didn't receive more attention though.  In a conversation with reporters (after shattering the glass) at a practice rink in suburban Pittsburgh, Jagr insisted his offseason decisions weren't based on money, as we suggested back in June.
"You would be very surprised," Jagr said of the lucrative offers he received in free agency. "There was a team that didn't make the playoffs last year in a different conference and they just wanted to sign players because they had to get to the [salary cap floor]."
So who was the mystery suitor?
Dallas, Calgary, St. Louis, Minnesota, Columbus, Colorado, and Edmonton were the seven teams that missed the playoffs out of the West.  Calgary, Minnesota, and Columbus were well above the floor.  Edmonton had already added big-money Ryan Smyth prior to July 1.  That leaves:
St. Louis, who eventually added Jason Arnott and Jamie Langenbrunner
Colorado, who spent their money on defenseman Jan Hejda and goaltending
Dallas, who saved up cap space for Brad Richards before he ran off to New York
Of course this assumes Jagr is telling the truth.
I think Marc-Andre Fleury is still underrated.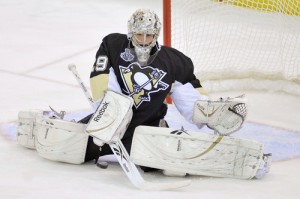 Gone are the days when a goalie gets selected first overall (no goalies were taken in the entire first round last year), but Fleury has been a solid value for the Penguins.
Earlier this month, Fleury became one of the youngest goalies in NHL history to win 200 games (since the expansion era in 1967-68):
Grant Fuhr – 25 years, 122 days
Martin Brodeur – 26 years, 343 days
Tom Barrasso -26 years, 354 days
Patrick Roy – 27 years, 26 days
Marc-Andre Fleury – 27 years, 19 days
*Stats courtesy of ROOT Sports
I think the Penguins need name tags.
Funny moment prior to Carl Sneep's NHL debut a couple weeks ago.  In the ROOT Sports opening montage, Brooks Orpik, seated next to Sneep in the locker room, looks across at an unknown teammate and seemed to mouth "What's his name, his first name?" while pointing to Sneep.
Every week it seems like another Penguins player is making his NHL debut or scoring his first goal.  Fans and players are almost numb to the barrage of injuries that have plagued the team over the last few years, but a few newcomers like Steve Sullivan admit they've never seen anything like this.
I think offensive defensemen do more than score.
Check out Dave Molinari's annual Christmas ranking of the Penguins Top 10 prospects, if you haven't already.  It includes some great insight from Shero's front office assistants Jason Botterill and Tom Fitzgerald.
I was shocked to see Philip Samuelsson make the list and Beau Bennett at #2, but Botterill brings up a great point in his assessment of defenseman Brian Strait:
"The thing we've liked in Brian's development, as with all these young defensemen we have coming through our system, is that they may not be big-time point-producers, but they do a good job of moving their feet and getting up with the rush to support the play. By doing that, it creates offense for us. You've seen that up in the National Hockey League with a guy like Ben Lovejoy. He's never going to be considered an offensive defenseman, but he gets up with the play. Or Deryk Engelland. [Strait] gets up with the play, and it creates chances for our team."
Lovejoy, Engelland, Strait, Orpik, and Paul Martin don't have elite offensive talents, but foot speed and ability to join a rush up ice makes them so valuable to the Penguins scoring attack.  Just having that extra option on the rush gives James Neal or Evgeni Malkin another foot of space they need to execute and score.
A final note…
The Penguins head to the Prudential Center on Saturday afternoon for a New Years Eve game against the Devils.  It's also the 23rd anniversary of this unforgettable Pens-Devils matchup:
___________________________________________