No matter which way you look at it, the Boston Bruins were awful in shootouts last season. Their lousy 4-10 shootout record was a cause for concern; it seemed as though the Bruins were giving away the extra point time and time again. Their 28.6 shootout win percentage was tied for third-worst in the league, in front of only the Los Angeles Kings and the Philadelphia Flyers. There's no sugar-coating it, the Bruins were terrible in shootout situations. Those who watched know the pain I'm talking about; it was like Boston was playing backwards Russian Roulette, with a bullet in every chamber … except one. And, dare I say it, those extra couple of points may have very well cost them the season.
Overtime, however, was a much different story. Boston's 9-4 overtime record was tied for the best in the league, alongside the Calgary Flames. For the majority of overtime periods, the Bruins were able to dictate the play, and find the back of the net before their opponents, partially because of the desperation to end the game before the dreaded shootout came along.
Now, with 3-on-3 overtime set to begin next season, the Bruins' shootout woes may be a little less painful, or at least a little less common. Teams will now play a 5 minute 3-on-3 period, followed up by a shootout (given that no team scores during 3-on-3 overtime). That's a pretty significant change, as players will have much more room to work on the ice, meaning goals will be more common.
It's pretty safe to say that the new rules benefit Boston. The Bruins will certainly look to close out games in the five minutes of overtime play prior to shootouts.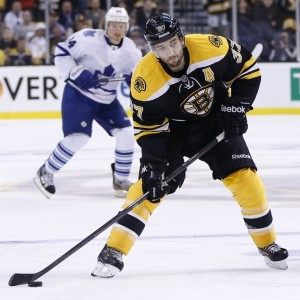 How Boston goes about doing this should be rather interesting. The Bruins resorted to rather desperate measures last season in overtime, often sending out only one defender with three forwards in an effort to score quickly. It would be perfectly logical to assume then, that Claude Julien will use a similar style in 3-on-3 situations, with one defender and two forwards.
However, would it be completely insane to think that Julien would consider putting out three forwards, depending on the situation? If there's any team that would attempt this, it would probably be the Bruins, given the extreme difference between their overtime and shootout records. If Julien ever opted to put three forwards on the ice, he would undoubtedly need a player like Patrice Bergeron out there, who could play a hybrid defense/offense position.
That being said, if Boston wants to take a gamble like that, it may make more sense to play two forwards, and an offensive defenseman (think Torey Krug, for example), just for a little extra security.
It'll certainly be interesting to see what kind of tricks Claude Julien has up his sleeve when it comes to 3-on-3 overtime, and one thing is for sure – it'll be a lot of fun.