The Pittsburgh Penguins are fresh off of a disappointing first round playoff exit where their goal scoring, uncharacteristically, dried up. It was later revealed that forward Evgeni Malkin had an ankle injury, David Perron had a rib injury and Patric Hornqvist was playing with a fully broken rib. Add on to that missing four of their top six defenders — Kris Letang, Christian Ehrhoff, Derrick Pouliot and Olli Maatta — and it's a miracle the Penguins even made the playoffs.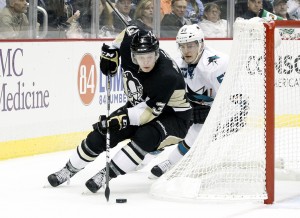 First-year general manager Jim Rutherford has already acknowledged that the impending free agent class is quite weak, but the Penguins still need a top six forward, or two.
That means the Penguins will have to continue their active trade practices and make an offseason move or two.
The second potential team the Penguins could negotiate with is the Tampa Bay Lightning. They have a plethora of young forwards and simply do not have room for all of them on their roster.
Take a look at Part 1 – Oilers trade Options
Would Alex Killorn fit the Penguins' needs?
Killorn is a 25 year-old forward that has played a variety of positions within Tampa's lineup this season. Most recently he has spent time on the top line alongside superstar Steven Stamkos and the gritty Ryan Callahan.
The former 77th overall draft pick has played in 191 games, scored 39 goals, assisted on 59 more and is a career +10 skater.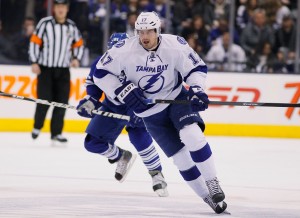 2014-2015 stats: 71 games played, 15 goals, 23 assists, 38 points, +8 skater, 36 PIM, 11.5% shooting percentage
Unlike many of the Penguins current top-six forwards, Killorn is a very defensively sound player. He plays a complete two-way game and is very versatile.
He would be a utility player for the Penguins, he might spend most of his time on the top line or he could solidify the third line.
Concerns:
Killorn is a physical player who has produced at about .5 points per game throughout his short career, but can he keep it up?
He isn't an offensive superstar, but he plays a very similar game to Ryan Callahan and the Penguins could certainly use a dose of toughness.
Outlook:
The Tampa Bay Lightning have done an excellent job at drafting in recent years, but they are running out of space on their NHL roster.
Killorn might be available this offseason given he only has one year remaining on his contract, until he becomes a restricted free agent, at a modest rate of $2.55 million.
Could Cedric Paquette have a breakout season with a change of scenery?
Cedric Paquette is a very similar player to Killorn and his game is focused on responsible play. However, Paquette is much younger and has not yet produced at the same offensive pace.
The 101st pick in the 2012 draft has played in 66 games, scored 12 goals, assisted on 8 more and is a career +4 skater.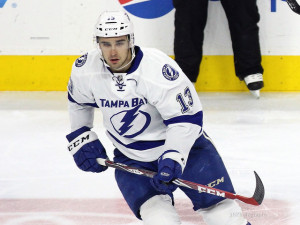 2014-2015 stats: 64 games played, 12 goals, 7 assists, 19 points, +4 skater, 51 PIM, 13.2% shooting percentage
He is still a very young and inexperienced player, but that is the type of players the Penguins are sorely lacking. They have enough proven veterans, what they need are young hungry players and that's why Paquette would be a perfect fit in the Penguins bottom six.
Concerns:
Paquette's initial impressive play does not translate into long-term success and the Penguins would be left with another player like Zach Sill.
His game has become focused on two-way play instead of scoring like he did in the minors. Pittsburgh needs goal scoring help and while Paquette could be a bottom six contributor, he is not developed enough yet to be considered for top six minutes.
Outlook:
Cedric Paquette should be a relatively easy player to acquire who could take over Nick Spaling's role. He could do this at a much cheaper rate and would be a very valuable player for the Penguins to have in the long-term.
However, despite Paquette's early success, he's still very unproven and it is yet to be seen if his offensive talents will transfer to the NHL.
Summary:
The Tampa Bay Lightning have many young promising forwards, but are running out of roster space. Either of the mentioned players would certainly improve the Penguins overall team, but they might not be a top-six addition that general manager Jim Rutherford is craving.