Same Old Story
If their New Year's resolution was to play with a some heart, the Minnesota Wild have already failed. After giving the State of Hockey false hope Friday night against the Toronto Maple Leafs, Minnesota went back to their usual style of gameplay Saturday night in Dallas.
The Wild were dominated early by the Stars, letting them score six goals in the first forty minutes and hardly putting up a fight. Minnesota eventually fell 1-7 to Dallas, with Thomas Vanek scoring the lone goal for the Wild. On top of allowing the Stars to run away with the lead, the Wild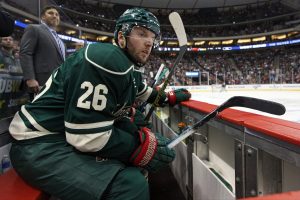 failed to put much, if any, heart into this game. Out of everybody, Stu Bickel made the biggest impact tonight, standing up for his teammates and at least showing some passion for the game. Bickel ended the game with 39 penalty minutes, over half of Minnesota's 57 total PIM. The rest of the team, not so much.
Even the goaltenders for the Wild seem checked out. Darcy Kuemper started the season unbelievably well for Minnesota, but hasn't been able to keep up as of late. The netminder for the Wild allowed four goals on just 21 shots tonight before being replaced by Niklas Backstrom. Kuemper may not being playing too hot right now, but to his credit the boys in front of him haven't exactly been making it easy.
It seems as if Minnesota has thrown in the towel on the season halfway through.
Time for Change
I don't think anyone is sure what exactly is wrong with this team, but we can all certainly agree that something has to change. Minnesota has too much talent on this roster and far too much money invested in star players like Zach Parise, Thomas Vanek, and Ryan Suter to be playing this poorly. The Wild have enough talent to be a serious playoff contender and at the beginning of the year, they played like a team destined to make the postseason. Yet they've fallen off track and just can't seem to find a way back now. This team has what it takes to make it if they set their minds to it, but they're just not committed to playing good hockey.
Maybe it'll take a trade or a coaching change to get these boys moving again. Coach Mike Yeo seems like the obvious first one to go,  as it appears this team has just stopped playing for him lately. Who knows what Fletcher will decide to do, though. Regardless of what happens, something has to changed, and quickly. 2015 is a time for the Wild to stop the downward spiral and turn things around. not continue on the same path they ended 2014 with.