In the words of 32nd United States President Franklin D. Roosevelt, "It is common sense to take a method and try it. If it fails, admit it frankly and try another. But above all, try something." At the midway point of the 2014-15 NHL campaign, the New Jersey Devils appear to be doing just that. No, their spot in the standings isn't going to move leaps and bounds overnight but they are trying a new tack behind the bench and on the ice. Displaying some fight, as they head into the second act of the season.
Coming off a 5-2 pounding of the Metropolitan Division rival Philadelphia Flyers, New Jersey stands at 14-20-7 (35 points). It was the fourth such game of the season, in which the Devils netted five-plus goals. Regardless of your perspective at this point, that ledger places them ten points out of the final Wild Card spot and the equal distance of the worst record in the league. Compare that to their mark at the halfway point last season, which was 17-16-8 (42 points).
Scott Gomez in on the action as well with a blast. What a night! 5 goals! #NJDevils https://t.co/Gp0ET5MYP1

— Pucks and Pitchforks (@pitchforkedpuck) January 4, 2015
If nothing else, the Devils are still playing for and fighting for each other, figuratively and literally. With Lou Lamoriello, Adam Oates and Scott Stevens, the veterans seem to be placated at the moment and some of the younger players have a new lease on life. A change making players eager to excel, according to our own Dan Rice.
QUICK LOOK: Adam Oates diagrams a practice drill in preparation for #NJDevils meeting with Wings tomorrow in Detroit. pic.twitter.com/4L3Ip6lbzg

— New Jersey Devils (@NJDevils) December 30, 2014
Their 88 goals for are tied for 25th. Meanwhile, their 111 goals against are tied for 8th most. With the extra attacker, the Devils are 13th, at 19.8%. On the penalty kill, New Jersey rates 22nd, at 78.8%. When leading after the first, New Jersey is 5-0-6. Leading through two frames, the Devils are 10-0-5. Conversely, when trailing after the first frame, the Devils are 3-8-0 and are 2-16-1 when behind following the second stanza. Then there's the remaining bugaboo of the shootout, wherein the Devils are 2-6.
Joe Whitney had a New Year's Eve he will never forget, scoring his first career #NHL goal. Watch: http://t.co/NREPXbfAcL

— New Jersey Devils (@NJDevils) January 1, 2015
Here and gone: Along with the coaching shakeup, injuries, ailments and player production have constituted quite a few changes from the opening night roster. No longer with New Jersey are former Head Coach Peter DeBoer, Assistant Coach Dave Barr, Damien Brunner (waived), Scott Clemmensen (Albany Devils). Here, are players added as the season has progressed, Scott Gomez, Steve Bernier, Peter Harrold, Seth Helgeson, Keith Kinkaid, Tim Sestito and Mark Fraser. Not mentioned but having either played or been called up this season are, Reid Boucher, Mike Sislo, Joe Whitney and Stefan Matteau.
Gauging some of the off-season signings to this point, well, Mike Cammalleri leads Devils' scorers with 12 tallies. Martin Havlat has shown that he still has some play-making ability but still has trouble staying healthy. Clemmensen, currently with AHL Albany and out with the mumps, played three contests, garnering one start, a 5-4 shootout loss at the Calgary Flames. Jordin Tootoo has given the team a spark with his fists, especially in a recent victory over the Pittsburgh Penguins, when Tootoo went toe to toe with Robert Bortuzzo twice, avenging a hit on Jaromir Jagr earlier in the season. Gomez has displayed flashes of what made him a magician in his first stint with New Jersey. While not a signing, Damon Severson proved an opening night roster spot was well warranted, prior to breaking his ankle.
What hasn't helped New Jersey still, some of its acquisitions from last season. Ryane Clowe still has concussion issues. Although fifth on the squad in points, Michael Ryder has endured a California sized drought, until a recent goal, in a loss to the Montreal Canadiens. Tuomo Ruutu has as many points (8), as defenceman Jon Merrill and Merrill has played 13 fewer games. Those eight points are only one more than the aforementioned and jettisoned Brunner, who turned into this season's version of Rostislav Olesz.
Jaromir Jagr is now the oldest player in #NHL history to record a hat trick with the 15th of his career. #NJDevils pic.twitter.com/hKeSL6DUwa

— MSG Networks (@MSGNetworks) January 4, 2015
On the positive side, Jagr continues to marvel and amaze at age 42. As he did last year, Jaromir leads the club with 16 helpers and 25 points. In the final game of the first half, Jagr became the oldest player in league history to record a hat-trick, the 15th of his illustrious career, giving him nine markers on the campaign.
Jagr. Hat trick. Watch it here: http://t.co/saXZlcMZlU

— New Jersey Devils (@NJDevils) January 4, 2015
Also reaching double digits in goals with ten, Adam Henrique is second on the team with that total and in points with 23.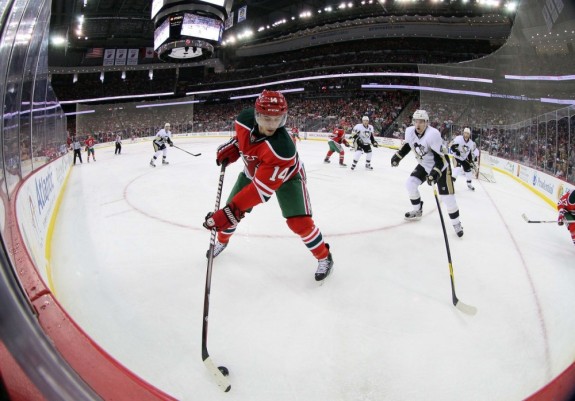 If you're looking for some semblance of hope, the 2005-06 squad started 18-18-5 (41 points) in the first half and went 29-9-4 (60 points), finishing at 46-29-9 (101 points). If you're looking for Connor McDavid or Jack Eichel, well, you're only one long losing streak away from that one too. If nothing else, expect them to try something.
Michael Gwizdala covers the New York Islanders for The Hockey Writers. Michael is also an Associate Producer at WNYT NewsChannel 13. Additionally, Michael was once a Media Relations intern for the AHL Albany River Rats. Michael is a graduate of The College of Saint Rose in Albany, NY.