After four seasons away as a member of the Avalanche, Canadiens and Maple Leafs, PA Parenteau has returned to the Islanders on a one-year, $1.25 million deal, the team announced Saturday.
Although it's the type of deal that many who aren't familiar with the Isles would consider a huge one, especially with the minuscule price tag Parenteau garnered, this is an absolute steal for the New York Islanders. After acquiring Andrew Ladd and Jason Chimera on Friday, it was still apparent they were missing something. Bringing back Parenteau gives them another 20-goal scorer, with tremendous upside and proven success with Islanders captain John Tavares. Although they haven't played together in four years, Islander fans are well aware of what these two are capable of together.
The acquisition of Parenteau makes so much sense for the Islanders as well because general manager Garth Snow was the guy that gave Parenteau his first real shot at the NHL level. Drafted by the Ducks in the ninth round of the 2001 entry draft, Parenteau spent parts of eight seasons in the Ducks, Blackhawks and Rangers AHL systems and managed just 27 games of NHL experience.
Picked up by the Islanders in 2010, Parenteau scored 120 points in two seasons and made a paltry $1.85 million combined. With an opportunity to cash in, Parenteau left for Colorado and although he put up decent numbers there, (32 goals and 76 points in 103 games over two seasons)  he never found his groove and was eventually traded with a fifth round pick for Daniel Briere. Injuries didn't help either.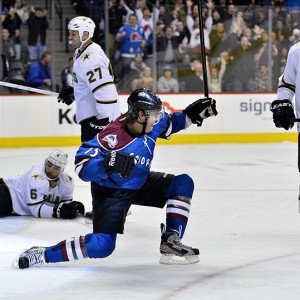 "It's the first time in my career I had to go through coming back from injuries like that," Parenteau told NHL.com in a conference after the trade was announced. "It was tough to come back from those injuries and tough to get my spot back. So there was some friction, but at the same time, he's an excellent coach (Patrick Roy) that made me better over the course of the season. But I'm happy to turn the page and to move on."
Things didn't get much better for Parenteau in Montreal, as he scored just 22 points in 56 games in 2014-15, getting bought out by the end of the season. During that offseason, Parenteau signed a "show-me" one-year contract with the then lowly Maple Leafs.
Mentioned in trade rumors all season long, Parenteau still found a way to perform. Scoring 20 goals last season in Toronto, Parenteau proved he was capable of more in a better situation. With Tavares back on the ice with him, and expectations high following the team's appearance in the second round of the NHL playoffs in 2016, the Isles expect him to return to the 50-point plateau for the first time since he was on the Islanders.
Parenteau's Place in the Puzzle
A two-time 20-goal scorer, Parenteau can score goals, but he's at his best when he has room and can pass. Although he spent time in Colorado with dynamic players the likes of Matt Duchene and Gabriel Landeskog, he's never had the same chemistry as he did with Tavares. A guy that has cracked the 45 assist mark before, expect Parenteau to score 15-20 goals for the Isles, but add 40 assists passing to both Tavares and Ladd.
With the additions of Chimera and Ladd and the Isles core of youngers the likes of Anders Lee, Ryan Strome and Brock Nelson, this time around, Parenteau doesn't have to prove he belongs in the league like he did in 2010. While he'll still have to do what he did well his first time with the team, produce on the powerplay and be consistent, it'll be an easier ride. No longer dealing with injuries and reunited with Tavares, Parenteau will return to form. And if he doesn't pan out the way the team expects, he'll be great trade bait at the deadline.