Boston Bruins GM Don Sweeney is now in his second offseason, and his second July 1st 'free agency frenzy' has now come and gone. Both last year and this year he has made big name and big contract signings on the first day of free agency. Last year it was left winger Matt Beleskey and this year it was center, and former St. Louis Blues captain, David Backes.
On Friday the Bruins signed 32-year old Backes to a five-year $30 million deal with a $6 million AAV through all five years. Backes is a 10-year veteran who is a proven leader in the locker room and can score points regularly when he is on his game.
One year ago Sweeney signed up-and-coming, 27-year-old Beleskey to a five-year, $19 million deal. For the first four years of the deal he earns $4 million, and in the fourth season he will make $3 million. The deal includes a no-movement clause for the first two seasons.
Comparing Backes and Beleskey
When you bring up Backes and Beleskey for comparison, one word comes up each time to describe them both, grit. They are both very physical forwards who love to play the far gone 'Big Bad Bruins' game. Backes is a sizable, good body checking center, while Beleskey works more in the corners but can also crash the net sufficiently. They would probably play well together if put on the same line combination.
Backes has more experience in the league than Beleskey does, being in the NHL longer and being the St. Louis Blues team Captain since 2011, but Beleskey is on the rise in Boston. Backes may have had the worst regular season of his career last season, but the season before Beleskey signed with the B's, he also had an underwhelming regular season with the Anaheim Ducks.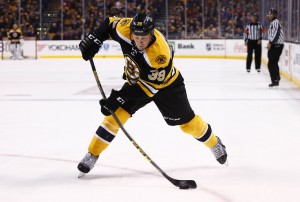 This past regular season with the Blues, Backes put up very pedestrian numbers, recording only 21 goals and scoring 45 points in 79 games. Discounting the 2012-13 shortened season, the 21 goal total was his lowest since the 2009-10 season when he scored 17 and his point total was his lowest since his second season in the league, 2007-08, when he had 31 points.
Beleskey didn't do too well with the Ducks the season before signing with the B's either. Beleskey played in only 65 games and though he did score 22 goals and 32 points, most of that came in the second half of the 2014-15 season when he was on another level. That second half of the season he made his name known.
Recent individual playoff success
Despite their shoddy regular seasons before signing with the Bruins, both forwards had their best and very impressive postseasons. Backes is coming off a playoff run where in 20 games he put up seven goals and seven assists. The 14 points was his best playoff performance in his career but he also played in more games than in any of his other playoff runs.
Beleskey had the same type of playoff run that Backes did the season before he signed with the Bruins. Beleskey continued his hot second-half into the playoffs and in 16 games he scored eight goals with one assist. It was the best postseason of his career and Sweeney surely took notice.
The Future
After Beleskey signed with the Bruins he went on to have arguably the best season of his career. Last season in the black and gold, he played 80 games and scored 15 goals and 37 points. He scored seven less goals than the season before even though he played 15 more games, but he did better work overall under head coach Claude Julien. He is working towards playing a better all-around game and with a season on the team under his belt, he will for sure be improved next season.
Since Backes is a lot like Beleskey, but with more experience, he will be able to get his career back on track with the B's. Julien works best with players like Backes and it seems like this could be the beginning of a nice partnership between the two. Backes also will not have to wear the 'C' for the Bruins, which should lift an extra load off his shoulders.
The success of the Beleskey signing is still up in the air, but if Beleskey continues to improve his play and Backes lives up to his $6 million AAV, they could make Sweeney look like a very smart July 1st buyer.