There were GM's present from all four of the NWHL teams at the league's free agent camp in Buffalo, but for Sydney Kidd and Hayley Williams (who both played in the league last season) they were mostly both trying to impress and earn a contract with the Buffalo Beauts.
Williams played for the Beauts last season and picked up five points (1g-4a) in 17 games, and now lives in Buffalo and works at the Harbor Center (where the Beauts play and the Buffalo Sabres practice) now. Kidd played for the New York Riveters last season, registering four points (all assists) in 15 games, and the Ontario-native would like to stay closer to home as she finishes up her Masters Degree.
Williams was the only player to attend each of the league's two camps (the first took place in New Jersey), and it's becoming harder to fathom how she could not be a part of the Beauts 2016-17 team in some way, shape or form. Buffalo still has seven roster slots available, as well as six spots on their practice squad and the ultra-popular Williams likely finds a way into one of those 13 spots.
📝🏒🔵✅ as of 7/2:@ksteadman9@SBram13@Skeatsyy@kourtneykuni@Hbrowne24 @janigs94 @lchesson11@ona_ramPAIGE @scasorso @MandyLeveille29

— Buffalo Beauts (@BuffaloBeauts) July 2, 2016
"I think they (the two camps) were pretty similar, maybe the talent level here might have been a little bit higher; more balance across the line," Williams told The Hockey Writers. Like the last camp, there were four players attending that had played in the league last season (the other two being Taylor Holze and Amanda Makela), but the camp was a tad bigger and the talent on display, as she noted was a step up from NJ.
For Williams, with the camp in her own backyard, maybe she had a slight advantage — not only knowing the rink, but also being able to sleep in her own bed throughout the camp.
"Maybe a little," she said with a smile, "I played here for the whole season, so it's not like I'm walking into a rink for the first time. I'm used to the bounce off the boards and how the ice feels. I don't have to go back to a hotel and just waste time all day; I can just go home and go about my regular day. It's a lot more comfortable."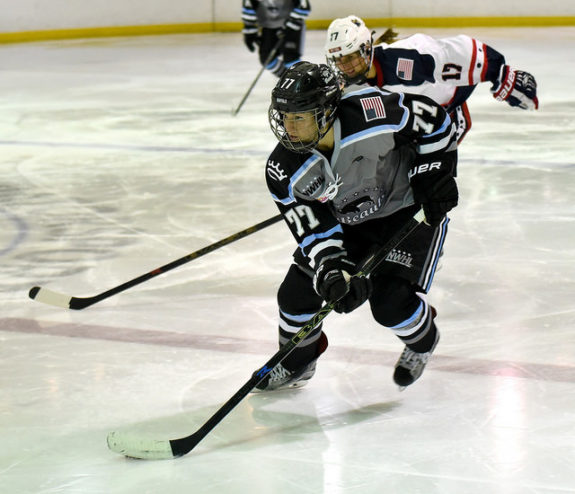 "I really want to earn my spot. I don't think I'm going to get any better by tomorrow," she added with a chuckle. "I know what I want, and I'm doing whatever I can to get there." She also had a slight advantage that weekend in knowing the drill sergeant, err, drills coach, who happens to be Buffalo's co-coach/GM Ric Seiling, who was her coach last season.
"Some of the drills in the skills session I know the things they used to tell us, or the pointers like: don't over-handle the puck, when you are going to come around the circle and shoot, don't stick-handle. Just come around, get momentum, and shoot," Williams explained. "I was noticing some girls were stick-handling too much, something that I might have done last year without having him giving me these pointers throughout the season."
Free Agent Camp is underway from @HARBORCTR! We even spot a few familiar faces! pic.twitter.com/AtQShBz4TA

— Buffalo Beauts (@BuffaloBeauts) June 24, 2016
"Yeah, we're competing, but help me-help you. I like constructive criticism and I feel if I can help somebody, I'm going to help them," Williams said of the girls she was competing with, and against, for an NWHL contract. "Maybe they're going to have the best weekend of their whole next year of playing and the coaches see just that. But the coaches have seen me play for a full season, so I think I am held to higher standards because they know my ups, they know my downs; they know my strengths and weaknesses."
The coaches also know Kidd's game from last season, but during the camp there were certain aspects of her game that she wanted to display. "I wanted to be more of an aggressive defenseman, I think. I've played forward and defense (in the past) and ended up playing defense for New York last year; I feel I played a more stay-at-home role there but I wanted to show that I could do both still. If anything I was trying to pinch and create offensive chances as well."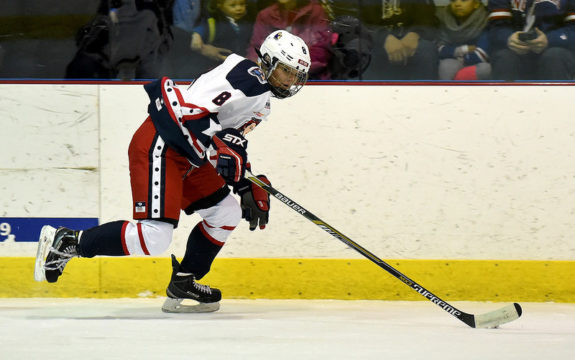 "I would love to sign a contract with Buffalo honestly," Kidd admitted to THW, "that's what I'm here for. I would consider the CWHL; their draft is in August. I haven't put my name in or anything because I'm really hoping to play in Buffalo. I've played with a couple of girls on Buffalo before — Devon Skeats and Paige Harrington — and we work together at a hockey camp up north in Ontario. I love the potential chemistry that could happen here. But I'm also committed to finishing my Masters; I took a year off, and that's in London, Ontario. The commute to New York would be a little bit of a stretch."
"I just want to keep playing until someone tells me I'm not good enough anymore," Kidd said smiling following the second day of the camp. "To be alive at this moment in history when this is finally happening for women is pretty remarkable I think. I just want to stay the course and work hard."
For all of the women that played during the inaugural season of the NWHL, they will go down in history as pioneers, laying the groundwork for future generations who won't have as much of a struggle to be paid professional hockey players. During the season it was likely hard to put that into perspective as they were living in the moment and preparing for games every week. It was no different for Syd the Kidd, who's season got off to a rough start with her visa issues.
Donut abt u but donuts make me skate faster…🙈 Have a few for me @DunkinNYTri ! #NWHLRunsonDunkin #NationalDonutDay pic.twitter.com/rQAnf0GczW

— Syd Kidd (@SydtheKidd4) June 3, 2016
"It was a blur; even afterwards I was kind of like 'was that a dream?' 'did that actually happen?'. I was there (New York) from November through March, and there was Japan in between that (late December) – I might have been jet lagged for half the season," Kidd said while grinning. "I'm not really sure. But no matter what happens from here on out – the people who played last year always will be the first and that's a pretty cool feeling to know that you got to be a part of something so special."
Dan Rice is in his 9th year of reporting for THW & has covered NJ Devils home games for 15+ years at various websites. He began his journey working for legendary broadcaster/writer Stan Fischler from 2002-04 & completed an internship at the ECHL; he also has been writing features for the NWHL (nwhl.zone) website since 2016.