Last season with the Buffalo Beauts, Hayley Williams was not only one of the trailblazing pioneers of the NWHL, but she quickly became a fan favorite in the Western New York city and the feeling was mutual.
She was a part of a team that had an amazing end to their season in somewhat unexpectedly reaching the Isobel Cup Final, and giving the eventual champions all they could handle in two hard-fought, close and entertaining games. Once the season ended, like all of the players in the league, Williams became a free agent, able to sign with any team.
Some players have already signed new contracts, some have even signed with a different team than the inaugural team they played for, but for others like the 26-year-old Williams still looking for a job, there are a few free agent camps that the NWHL is holding, beginning with the one in New Jersey from June 9-11.
She truly is a rink rat, as she mentions below — jumping at any opportunity to get on the ice, and her enthusiasm is very infectious, not just for the game, but life in general. Williams may not be the fastest player, nor the tallest or most talented, but she is always working hard and giving her all — setting a great example and inspiration for the younger generations to follow; she's someone you really want to see do well and pull for in whatever she does.
See how happy she is? What's happening here is far, far bigger than ourselves. #honorarycaptain #nationalanthem pic.twitter.com/PfMWTjZCu9

— Hayley Williams (@haywilliathlete) December 11, 2015
Following the first night of the camp in New Jersey The Hockey Writers spoke with Hayley Williams about a myriad of topics including graduating college, the city of Buffalo and coming back to the scene of the end of her season with an opportunity to start a new journey in the upcoming NWHL season.
The Hockey Writers: Obviously the goal is to earn a contract at this free agent camp, it's only day one, but are you pleased with how things went?
Hayley Williams: It's really good to be on the ice with a group (of players) of this caliber, again; after taking a few months off. I've played in men's leagues, and camp I can get on the ice with…squirts, Bantams, whatever. It's fun.
Beauts… Well 2 out 3 aint bad. pic.twitter.com/i68tGD6jUO

— Five Holes (@five_holes) May 2, 2016
THW: Do you know anyone else here, other than the girls you played against last year in the NWHL?
HW: I know one of the girls that wasn't in the league last year, who's from Illinois; we played youth hockey. It's good to see familiar faces from when we were younger. Hockey brings people together like that, it's awesome.
Thank you @NWHL for a great first day of free agent camp! Lots of talent out here! Goodnight! 😴

— Hayley Williams (@haywilliathlete) June 11, 2016
THW: The last time you were here in New Jersey, in this building, it wasn't a good experience for you. Can you talk about that a bit and recap your team's season?
HW: It was good, but it was bad (grins). Coming to the rink today there were no hard feelings. We pushed hard as a team all year last year and we got to the Finals and that was a big accomplishment; bigger than anyone would have expected. No hard feelings since the season is over. It's just: get back into it and train for next season and do better.
THW: What's it going to take for someone to beat the Boston Pride next season?
HW: A lot (laughs). A lot of hard work and a lot of unity. Resilience. Boston obviously has the reputation that they have all the talent and skill, but really what it come down to is who wants it most. You can have all the skill in the world, but if the other team is working harder than you than anything can happen.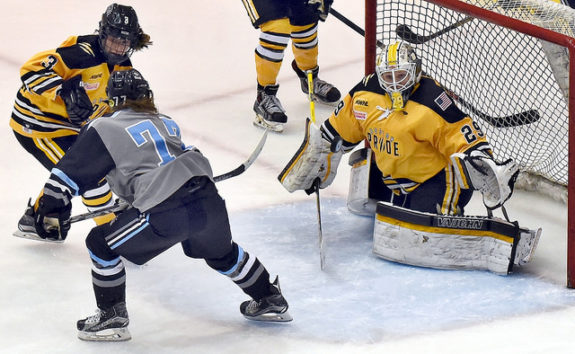 THW: Do you think playing in the league last year gives you any type of advantage over the other girls here in this camp that haven't?
HW: I think everybody here is high-caliber, and just like everybody else I have to prove myself out here. Just because I was in the league last year doesn't give me a spot; I just have to work hard like everybody else.
THW: Do you, maybe deep down, feel like you should have a spot? Some of the other girls that played in the league last year have already signed (new deals).
HW: I've put in as much effort as I possibly can and I'm doing everything I can. Whatever the outcome is, I've done everything that I could, so I won't have any regrets no matter what. I hope to get a spot. Definitely. I'm still working on it and I won't stop working until there is nothing else to give.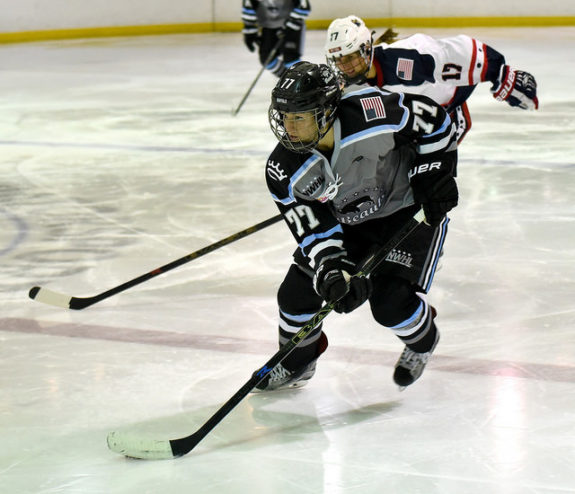 THW: Do you have any preference of team? I mean, anyone who follows you on social media knows you have a lotta love for Buffalo.
HW: (Smiles wide) I have a huge loyalty to Buffalo now. I love it. I'm living there full-time, I just love the community; I want to be there and that's all that's really on my mind. But, if the opportunity arises where I get an offer somewhere else that's not Buffalo, then I'll have to think about it.
THW: Did you speak with any of the GMs before this camp started today?
HW: I did, I had a little bit of minimal contact with Buffalo and New York. But like I said, minimal, so it's all up in the air.
I just love him so much! #dad pic.twitter.com/f1ZZ8ukvci

— Hayley Williams (@haywilliathlete) May 18, 2016
THW: Since the end of the NWHL season in March you graduated college, can you tell the readers/fans about that? Also, what was your major?
HW: I did, yeah (huge grin). Sports Leadership and Management from Miami University; it was a long road (laughs). I graduated high school in 2008, so eight years later I finally got my degree; that was something that I had to work hard for and I got off on not the best foot when I first originally went to Bemidji State (University). Things happen and it's how you react to things and what you do after and how you overcome things that makes a difference. I'm happy, and I just got a job at the Harbor Center in Buffalo. I'm excited to be able to use my degree right away and doing something that I love, working with hockey.
No chance without these two. #thankyou 🎓🏒 pic.twitter.com/yXlYQzkRVR

— Hayley Williams (@haywilliathlete) May 15, 2016
— Hayley Williams (@haywilliathlete) May 14, 2016
THW: Did you have a day job last season like a lot of the girls did in the NWHL?
HW: Not really no, I wanted to see how I would balance playing hockey and a normal job, and now that I know how the season goes, what the schedule is. I did work at a breakfast restaurant, I'm making good money there. Hopefully (one day) I can start my own camp, an annual summer camp for girls. As well as, I do clinics for the Buffalo Bisons and I'm going to be running the Learn To Skate program at the Harbor Center.
THW: We got to know New Jersey Devils prospect Blake Coleman a little last summer, who's also a fellow Redhawk from Miami University and a recent graduate; did you know him at school?
HW: I didn't know him, no, but I do know the name of course. Love and honor (smiles). Miami. We're bound even if we've never met, if we saw each other and said: hey, you're from Miami — we'd have a bond that we wouldn't have had if we both didn't go to Miami. The commencement this year that was one of the main points that they circled around was: twenty years down the road you might be interviewing with somebody that graduated from Miami and just because you have that Miami-bond it might give you the advantage over someone else.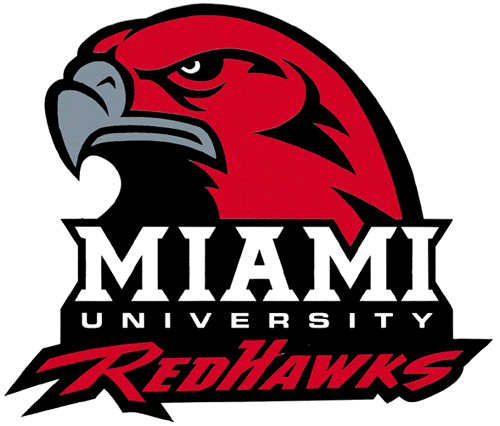 THW: What are you looking forward to over the next few days here at this camp?
HW: It's fun. Like I said (earlier) it's fun to get on the ice with girls of this caliber. The fast pace. The competition. The physicality. Just being involved with the NWHL is a blessing and an opportunity that not a lot of people get. It's definitely a privilege and I'm really thankful to have this opportunity.