Last weekend in New Jersey the NWHL held the first of it's three 2016 Free Agent Camps (the next two will be held in Buffalo and Boston) as the four teams' GMs look to fill out the rest of their rosters before the second season in league history gets underway. With 22 players on the ice there was lots of talent on display, including a few familiar faces.
#FAFrenzy roster checks ✅ https://t.co/eUK76tLnwb

BOS: 6/17
BUF: 9/17
CTW: 8/17
NYR: 12/17 pic.twitter.com/7gk3miwpAd

— NWHL (@NWHL) June 13, 2016
In all there were four players at the camp that had played in the League last season: defenders Gabie Figueroa and Elena Orlando (New York Riveters) as well as forwards Hayley Williams (Buffalo Beauts) and Danielle Ward (Connecticut Whale). Not only were those players there looking for jobs, but they were also giving the other hopefuls a glimpse of what they could be in store for if they are fortunate enough to earn a contract.
Did those four players have any advantage, having played professionally for a year against the best of the best? Perhaps, but obviously none of them has signed yet, so there is some competition for sure. "A little bit; because I know the level of what it takes," Ward told The Hockey Writers following the first night of drills. "It is a step higher than college. Coming out of college, you thought that was pretty hard and then getting here – the talent is even higher. You know what to expect."
The 1st Free Agent Camp of summer concluded yesterday @NJDHockeyHouse https://t.co/q302B0Iqou

Photo by @TroyParla pic.twitter.com/q78O7GfOac

— NWHL (@NWHL) June 13, 2016
Figueroa and Orlando were on the same team during the second night scrimmage, and their familiarity with one another showed on the ice in just about every situation. "On the penalty kill we were talking about just doing our (Riveters) system penalty kill," Orlando said with a smile before adding, "we know what we're doing."
Williams for one, isn't taking anything for granted despite having one year of professional experience under her belt. "I think everybody here is high-caliber, and just like everybody else I have to prove myself out here," she told THW. "Just because I was in the league last year doesn't give me a spot; I just have to work hard like everybody else."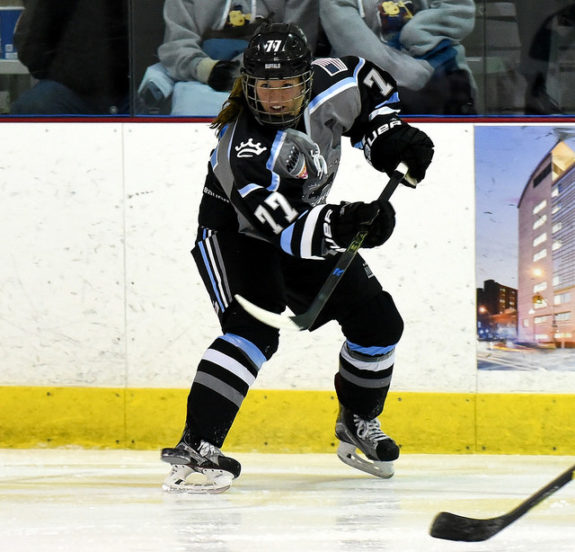 "To be honest I kind of think it's exciting," Figueroa said of the challenge to win an NWHL job, again. "the League has grown so much already in one year and there's great talent coming into the league. We're just trying our best to stick in it."
Dakota Woodworth is one of those players that was in the camp that is trying to win a spot in the pros after playing for Boston University last season. "Watching it (last season) was super-competitive and really exciting to watch — being that it was the inaugural season and I was a senior, I had something that was established to look forward to (following graduation)," she told THW. "But obviously you know that you have to earn your spot, everywhere you go."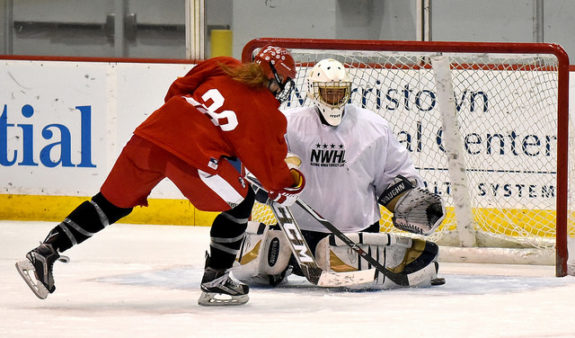 We Talkin' Bout Practice (Players)?
These players are also competing for spots to be a practice player for one of the four teams, which isn't necessarily the worst thing in the world. Last season Kelley Steadman began the season as part of the Beauts as a practice player and all she did was go on to finish third in the NWHL in goals (13), fifth in points (20), tied for first in PPGs (5) and second in shorthanded goals (2). So while just being a part of and involved with the league is cool and all, there will likely be opportunities to contribute.
The GMs know the importance of not only having a strong squad on the ice, but also having solid practice players as well during a long season. With the talent pool widening as the league shifts into season two, there maybe another Steadman or two lying in the weeds, waiting for an opportunity to present itself. "Practice players played a huge role in our league last year," said Connecticut GM Lisa Giovanelli. "With so many injuries, they were stepping in a lot. I think it's very important for us to have strong practice players, and that's what we're seeing here."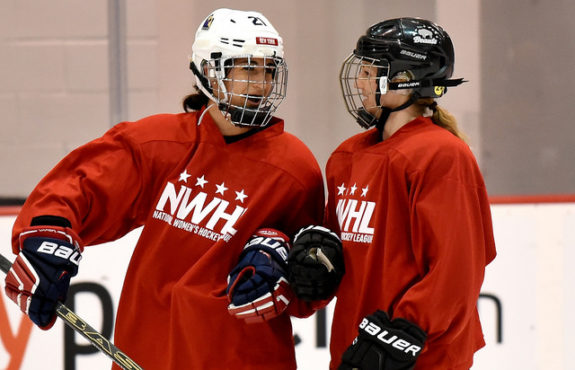 Having an open mind will be helpful for players that may or may not find themselves on the fringe of a roster, and unlike their NHL counterparts, they can't just necessarily pack up and leave their day jobs behind, so that could narrow their options/hurt their chances. "I'm hoping to be with the Riveters again," said Figueroa who lives and works in NYC, "whether it's with a contract or as a practice player. I believe so much in Chad's system, and I'm so happy for the players he's got coming in next year; between the talent, and the team run by Chad, they're going to give Boston a run."
New Look New York
Chad would be Chad Wiseman of course, New York's second year coach and first year GM who has 12 of his 17 roster spots accounted for as of June 13, including adding superstar forward Amanda Kessel and signing two players from the Whale, Kaleigh Fratkin on defense and Jaimie Leonoff in-goal. "We have a few roster spots available, a couple on forward and one on defense," he said following the second night of camp.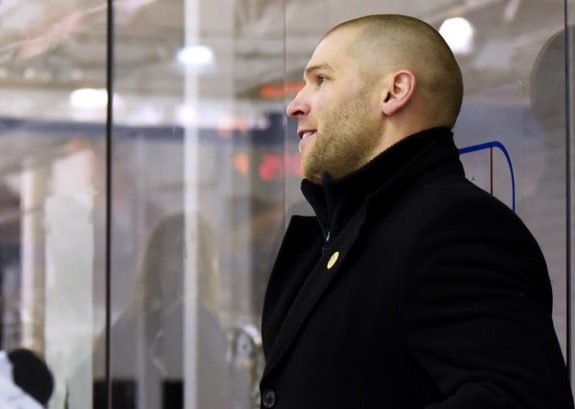 "We're just trying to fill those holes right now with players that we need; maybe not necessarily a different style, but players that fit the mold of what we're looking for. There were definitely some good options out there today and I'm looking forward to the Buffalo camp where there will be a bigger roster and more game-like situations, so we'll get a better feel after the Buffalo camp."
"I was pleasantly surprised with a lot of players out there," Wiseman told THW. "A few that I knew of that I wanted to see, were what I thought they were going to be and a few that I didn't know much about kind of caught my eye. I was also impressed with our players from last year, Orlando and Figueroa, you can see that one year of experience out there. They played at that level. They know that tempo. You could see that everything was a little quicker in their game; they played that year of pro hockey and the other girls are coming out of college."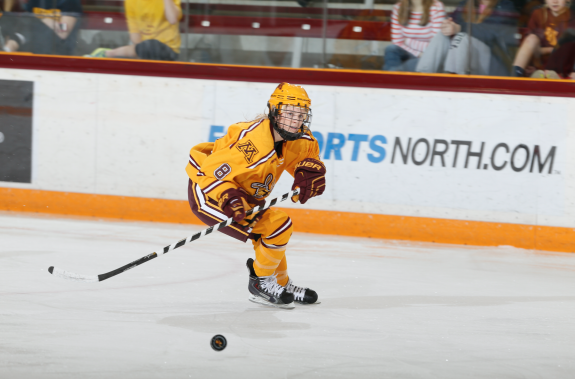 We asked Wiseman how excited he was when the Riveters were able to sign Kessel, because not only will her name garner some attention for the second-year NWHL, but she's also a world-class talent. We also asked him if he gave a fist pump once the deal was finalized. "She's great. We went after her pretty aggressively, we spoke a lot and were able to work something out. She was easy to work with, she did her own contract with me, no agent. It was nice, we kind of got to build a small relationship before the season starts. Anytime you can attract a player like that it's going to attract other better players as well. We're happy to have her, she's going to be a big part of our offensive core."
So no fist pump, eh?
"I probably had a beer," Wiseman said while smiling and laughing.
Dan Rice is in his 9th year of reporting for THW & has covered NJ Devils home games for 15+ years at various websites. He began his journey working for legendary broadcaster/writer Stan Fischler from 2002-04 & completed an internship at the ECHL; he also has been writing features for the NWHL (nwhl.zone) website since 2016.