Mathew Barzal may not be one of the biggest names when it comes to young hockey rookies, but he's a talented forward who's more than ready to show his utility as the Islanders' second line center.
In October 2016, Barzal made his NHL debut with the Islanders, but didn't bring much to the table. The then-19-year-old recorded zero points and six penalty minutes in two games. Islanders fans will likely remember the interference call after he touched the puck while sitting in the box.
After that less than perfect start he was returned to the Seattle Thunderbirds of the WHL, where he served as the minor league team's captain.
He finished the 2016-17 AHL season with 79 points (10 goals, 69 assists) along with a 20 penalty minutes and a plus-32 rating with the Thunderbirds, who went on to win the 2017 WHL Championship. Accordingly, he was named the WHL Playoff MVP after tallying 25 points (7 goals, 18 assists) in 16 postseason games.
All Eyes on Barzal
It seems like Mathew Barzal may be closing in on an Islanders' roster spot sometime soon. When asked if he had done enough to make the roster, head coach Doug Weight gave TSN a simple "yes." Weight also said that adding Barzal and Josh Ho-Sang to the power play unit could provide the team with a spark this season.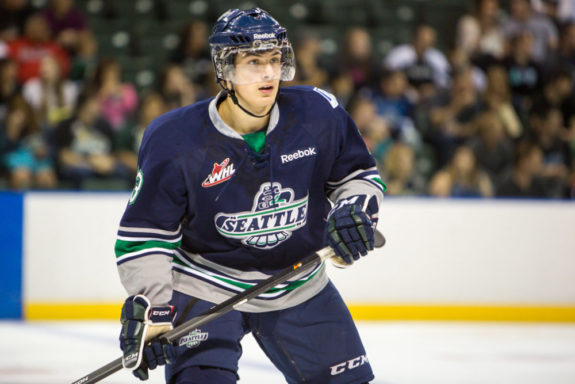 "Especially with their skill set, you use the word dynamic and it's so quick," Weight told Newsday. "Both of them have the playmaking ability and the vision to make those plays. I think you found a couple times today that they found some guys who maybe weren't ready for it and that's something we've got to get used to. Those guys are distributors and they're going to find the open man."
With three goals so far this postseason, Barzal currently leads the Islanders. His latest goal came against the Devils on September 25 while on the team's top power-play unit.
Why the Islanders Must Consider Barzal
The Islanders picked up a 3-1 win in a preseason road game against the Sabres at KeyBank Center on September 29. There were a couple of noteworthy takeaways from the game: Jordan Eberle's beautiful first goal as an Islander; Anders Lee's first goal of the preseason; Jaroslav Halak's almost perfect performance; and Barzal's team-high three assists.
Barzal continues to prove the Islanders why he belongs with the Blue and Orange. He currently leads the team with seven points (three goals, four assists) in five preseason games thus far.
He said that he feels more comfortable as the camp goes on and the Islanders are building chemistry. He got along with veteran forwards Andrew Ladd and Josh Bailey on the team's top power-play unit Friday.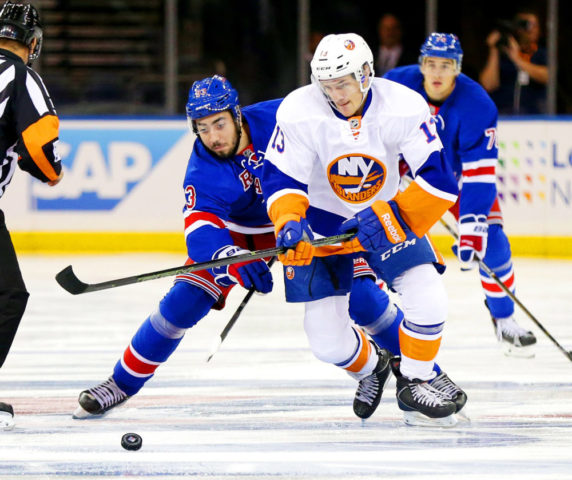 "I thought everyone had a little bit of chemistry with everybody, so it was just nice to come in here and get a win," Barzal told Cory Wright of NHL.com. "They were playing a lot of their starters, so it felt a bit like an NHL game."
Weight placed Barzal on the first line between Andrew Ladd and Jordan Eberle in the Islanders' final preseason game against the Flyers on October 1.
Fans witnessed the action among the two rival teams in the second period. Brandon Manning hit Barzal from behind, but Josh Ho-Sang defended his fellow teammate by roughing up the perpetrator. Jakub Voracek also slashed Barzal in the final seconds of the period.
Barzal picked up his fourth assist of the preseason as his pass paved its way to Anthony Beauvillier, who one-timed it into the net on the power play for his second goal of the game early in the third period.
The Islanders eventually won the action-packed game, 5-2, over the Flyers.
Bottom line is, the Islanders must consider Barzal because he's an offensive-minded forward with tremendous skating abilities. He's a solid two-way player who can help the team jump start its offense as a second-line center.
Ana Kieu is a versatile reporter who has a deep knowledge of sports. She grew up as a big sports fan and graduated from San Jose State University in 2015. She got her start as a San Jose Sharks beat reporter for Inside Hockey and has moved on to other media outlets such as Sports Radio Service, SB Nation and USA TODAY Sports Media Group.