The NHL's reigning heavyweight champion would look good in a Blueshirt next season.
No, the New York Rangers shouldn't look to add impending restricted free agent Ryan Reaves solely for his pugilistic prowess, though that would qualify as a key reason. A deal for the rights to sign the big guy would benefit them in multiple ways and send a clear signal to fans and opponents that they're serious about abandoning the no-physicality approach of the previous coaching regime.
Reaves, traded from the Pittsburgh Penguins to the Vegas Golden Knights on Feb. 23, isn't just by most accounts the best fighter remaining in a league that's moving further and further away from that aspect of the game, he can play. At a bruising 6-foot-1, 225 pounds, Reaves' forechecking abilities and hitting were a disruptive force for seven seasons with the St. Louis Blues before he was acquired by the Penguins before last season. He does even more than that, however.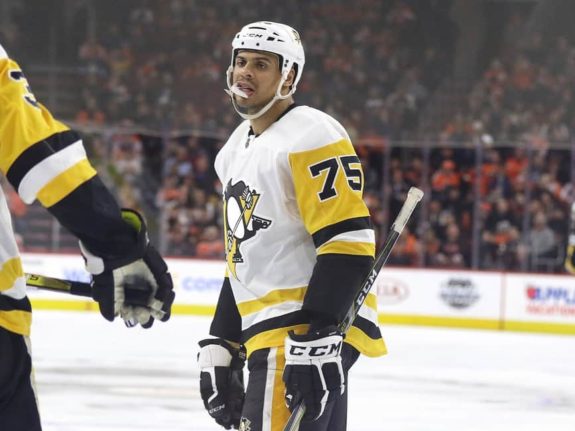 The Blues often used Reaves on a checking unit, sometimes going against opponents' top lines, and he can score a little too. He had seven goals, six assists and a plus-4 rating in 80 games with St. Louis in 2016-17, and he managed four goals and four assists in 58 games with Pittsburgh this season.
The Rangers adding his combination of skills to the mix would also represent a bold statement about where they are trying to go in the post-Alain Vigneault era.
Related: Spooner, Namestnikov & the Rangers' Rebuild
Vigneault Lost Interest in Physical Play
Vigneault either forgot or had selective memory when it came to physical players after his first two seasons of 2013-15. Those Rangers teams took full advantage of versatile, grinding fourth lines during the playoffs in 2014 and 2015. Dominic Moore, Brian Boyle and Derek Dorsett/Daniel Carcillo agitated, threw the body around and sometimes matched up with No. 1 forward units in the run to the Stanley Cup Final that first season, while Moore, Tanner Glass and James Sheppard provide a disruptive edge as the club reached Game 7 of the Eastern Conference Final in 2015.
Vigneault even seemed to ignore the effect Glass – also a tough guy who can do more than fight – had during his seven playoff games in 2017. With his standout forechecking, hitting and willingness to go to the front of the net, he recorded a goal and three assists, and he was so effective against the Ottawa Senators in the second round that coach Guy Boucher was forced to put fading enforcer Chris Neil in the lineup in an attempt to neutralize the physical advantage Glass brought.
The combination of just the right amount of physicality to complement Vigneault's speed-and-skill approach benefited the Rangers in those postseasons. Glass departed after last season, though, and rather than try to replace that aspect of the game, AV relied on a lineup of four essentially homogenous forward lines in 2017-18.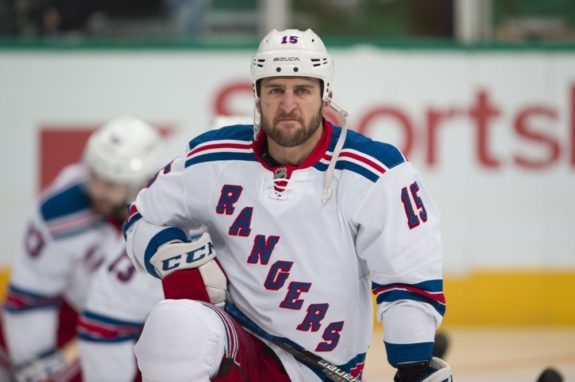 The lack of grit has been an issue for the Rangers for years, and reports that the club was told to avoid physical confrontations seem to confirm that the Rangers' former coach was no longer interested in that element of hockey in his final seasons. The Rangers being pushed around by opponents who saw no downside to going after their top players – the failure to protect Ryan McDonagh during the past several seasons was nothing short of embarrassing – became a regular occurrence.
Perhaps the low point was a 5-2 loss to the Nashville Predators on Feb. 3, when Predators Alex Emelin and Filip Forsberg delivered cheap shots to the heads of Marc Staal and Jimmy Vesey, injuring both. Only Brady Skjei, not in the NHL for his fighting skills, was willing to drop the gloves with Ryan Johansen after the hit that bloodied Vesey and forced him to leave the game.
While Vigneault's emphasis on speed and skill is certainly where the league is headed, the idea that hitting, physicality and even intimidation are no longer relevant in the NHL is a myth, especially come playoff time. There's, of course, little or no room for one-dimensional enforcers anymore; the modern tough guy needs to be an actual hockey player.
That's why Reaves fits, and general manager Jeff Gorton apparently agrees that reversing the cleansing of toughness from the roster is on his offseason to-do list.
"It does have to be addressed," Gorton said in a radio interview earlier this month. "We do want to be a team that plays harder and in the last couple of months we were void in that area and it became more and more clear and it's something that will be addressed."
Adding Reaves Could be Part of the Solution
Picking up Reaves would make it clear that the Rangers are willing to fight back.
The eight-year veteran was largely miscast with the high-flying Penguins, who wanted someone to protect stars Sidney Crosby and Evgeni Malkin during matchups against physical rivals like the Washington Capitals and Columbus Blue Jackets. While he served well in that assignment, Reaves still had a difficult time cracking the club's loaded lineup.
"It was a little frustrating for me coming to a team where my role and my responsibility was a lot less," Reaves told the Pittsburgh Post-Gazette after being traded to Vegas, in part to make the money work for the Pens' acquisition of center Derick Brassard. "But when you have that much talent, it's hard to get everybody on the ice. I understand that.
At the same time, I had a blast. I made a lot of friends. It was all positive from that standpoint."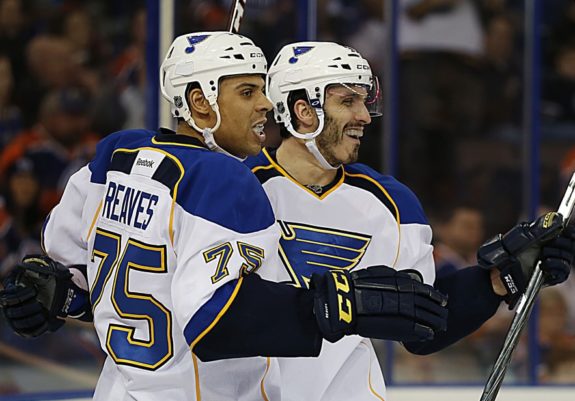 Considered a class player and consummate teammate, Reaves could be the first move in building another hard-hitting, versatile fourth line that the Rangers deployed to great success during their recent seasons of Cup contention. He stated in the Post-Gazette interview that he sees himself as a better fit in the heavier Western Conference, but acquiring him and increasing his responsibilities on Broadway might convince him to change his mind and sign for multiple years.
Related: 7 Biggest NHL Players in Today's Game
Could it Hurt to Ask?
As an RFA, of course, Reaves wouldn't have much of a choice but to embrace a trade back to the Eastern Conference.
The Rangers might not be interested in him, such an addition would hardly be the highest priority for this rebuilding club, and he might not be available if Vegas is determined to re-sign him. Reaves, though, didn't play in the Knights' first-round playoff sweep of the Los Angeles Kings. His game is exactly what the Rangers need if they're determined to start forging a harder-edged identity, and his rights would hardly cost much in a trade. Would it kill them to find out?