The sports world is careening towards hockey season, with only a few weeks separating us from the beginning of training camp. Despite that very exciting news, Jaromir Jagr remains unsigned, which is very unexciting news.
There are a plethora of teams that Jagr can help including one of his (many) former teams, the New York Rangers.
Still Productive
There are probably a ton of questions revolving around Jagr, and the vast majority of them are about his age. The man is 45 years old, and to ask him to play most of a season, as well as the playoffs, is a big risk. However, Jagr still has plenty left in the tank.
Jagr has played 161 of a possible 164 games the last two seasons for the Florida Panthers and still has been a solid contributor when he is on the ice. He netted 66 points in 2015-16, good for first on the team, en route to a playoff spot. His point total dropped to 46 last season, but the Panthers were a much worse team. Those 46 points were fourth most on the team and he was still one of their better players, despite their overall dip in talent.
Jagr is still a very productive player, and that goes beyond the point totals he has put up the last two seasons. According to his HERO Chart, he is still a first-line winger:
Despite his age, he still puts up first-line numbers on both offense and defense. At this stage in free agency, all of the players of this caliber are elsewhere; it's exceedingly rare for a team to sign a first or second line talent in September.
He is good, while worse players have been signed to contracts and brought into training camps on PTOs so far this offseason. While it is possible that Jagr is asking for an exorbitant amount of money (or a lengthy deal), his unemployment status is likely due to his age. But that should not stop anyone from signing Jagr to a deal, the Rangers included.
Jagr's Fit on Broadway
At first glance, Jagr's fit on the Rangers is questionable at best. Another winger on the Rangers? Especially after trading their first line center, and not bringing in much depth down the middle? That doesn't fix the forward problem, right? Well, it does. In a way.
Signing Jagr would allow the Rangers to put J.T. Miller back at center and Jagr would replace him on the wing. That is something Jagr could do rather seamlessly, and may even give the Rangers an upgrade there: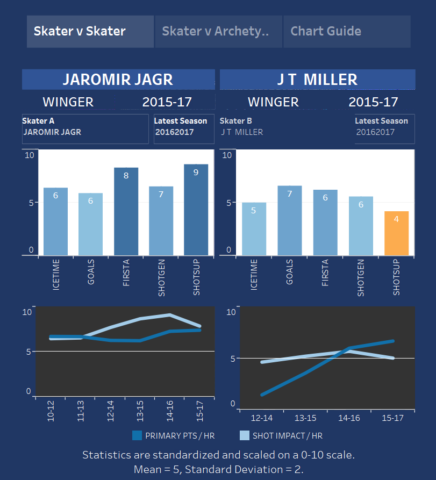 Jagr is a much better facilitator and shot suppressor than Miller, and would provide a quality replacement on the wing while Miller fills their depth issue at center. Moving Miller back to center is probably not the best move, but it is the best thing they can do this late in the offseason, save for a surprising trade.
Jagr's ability to create offense would also help the Rangers a lot, though that is hardly exclusive to the Blueshirts. He would go a long way to helping a forward group that has gone through some upheaval this offseason. One look at his heat map from last year shows how strong a contributor he can be in his own zone: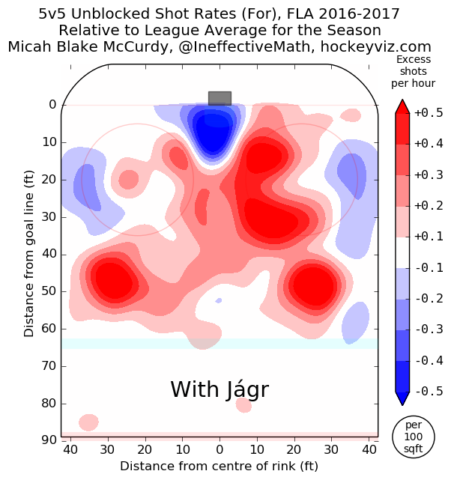 He created a ton of offense on a rather bad Panthers team last season. He would undoubtedly raise his point total from 2016-17 and would help the forwards and the new and improved blue line get better offensive chances. Jagr would also do a good job of stabilizing a few of the younger lines in New York. Both Kevin Hayes and Miller would be well-served by having someone as good and as experienced as Jagr on the ice with them.
Signing a 45-year-old is risky, no matter how you slice it – the majority of players do not play that late in their lives for a reason. However, Jagr is, obviously, a special case. He is still productive and is not an injury risk.
The Rangers and Jagr have a history. He was their captain from 2006-2008 and scored 319 points in 277 games with the team, including his incredible 2005-06 season in which he earned 123 points and scored 54 goals. He led the Rangers to the playoffs for the first time since 1996-07, ending one of the darker periods of Rangers history. A reunion with Jagr would serve both the Rangers and Jagr.
Turned his Bachelors of Arts in English to write about baseball and hockey. Passionate New York Rangers fan who just wants to see Henrik Lundqvist win a Stanley Cup. Believer in sabermetrics and advanced statistics to give us a better understanding of incredibly intricate games. Follow him on twitter @ThomasHendo52 for sports opinions and live-tweeting.