Three months after winning the 2017 Mastercard Memorial Cup, the Windsor Spitfires are about to embark on a new journey – a complete roster rebuild. The process started this week as the team opened its 2017 training camp.
The vision of the club is different from this time last year. Then, general manager Warren Rychel was building a veteran roster that could compete against the best in Canada. Now, the focus is on a younger roster that is eager to learn.
On Monday morning, 52 hopefuls, including 11 returning veterans and 41 players brought in through drafts, free agency or trades, laced up the skates and hit the ice for practices and scrimmages. With several players graduating from last year's team, this was the perfect chance for new arrivals to show the Spitfires' brass that they deserved a roster spot.
Hungry Players, Open Spots
Coming to a new club isn't easy for players, especially when you're trying to make a solid first impression. On Monday and Tuesday, there were two practices and two scrimmages each, while on Wednesday there was a scrimmage in the morning.
Players took a bit of time to adjust, feeling out the process, but quickly found their legs.  As the tempo picked up, fans could hope that success wasn't far off.
Rychel, head coach Trevor Letowski and the rest of the Spitfires' staff didn't make any cuts until after Wednesday's morning scrimmage and evening blue-and-white game. This allowed plenty of time for each player to make their mark.
By the end of Wednesday, though, the team had decisions to make, trimming the camp roster to 27. Among those released were all players from the Under-18 draft, including forward Evan Benwell and defenceman Gianluca Pizzuto, as well as 2017 sixth-round pick Austin Brimmer and free agent defenceman Joey Trifone.
As expected, all returning veterans remain. Players such as goaltender Michael DiPietro, defenceman Tyler Nother and forward Aaron Luchuk will be counted on this season to lead the way. Their experience, production, and leadership will be crucial on a young roster.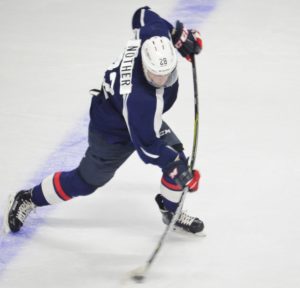 Also, remaining are four free agents – 19-year-old forward Igor Larionov Jr., 19-year-old forward Louis Latta, 19-year-old forward Joseph Mizzi and 18-year-old forward Davis Teigen-Katsumi.
Larionov played last season with the Quebec Remparts but was limited due to injury. Latta saw regular ice time with the Sarnia Sting. Mizzi saw brief action with the Cape Breton Screaming Eagles in 2016-17 before moving to the OJHL. Teigen-Katsumi was also in the OJHL last season as a regular with the Pickering Panthers.
Spitfires Drafts Paying Dividends
The rest of the remaining hopefuls are made up of players from trades, the 2015-17 OHL Priority drafts and the 2017 CHL Import Draft. Included in that list of players are defenceman Lev Starikov, goaltender Brock Baier and forward Matthew MacDougall.
At 6'7″ 200 lbs, Starikov was the Spitfires' second-round pick in the Import Draft. The 16-year-old comes from Tolpar Ufa of the MHL where he put up 10 points in 39 games. He's known as a slick skater who loves using his giant frame.
Baier, 18, is ready to make the jump to the OHL. Drafted by Windsor in 2016, Baier excelled during the 2016 training camp and was called up to the team at Christmas. While he didn't play, he's the frontrunner to be the backup for goaltender Michael DiPietro this season.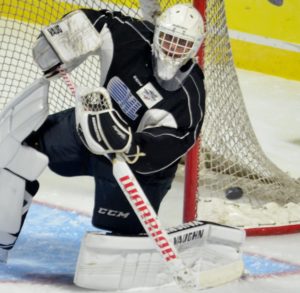 MacDougall, 17, was acquired from Barrie in the off-season. The 5'9″ 165 lbs left-winger put up 37 points in 58 games for St. Andrew's College in 2016-17.
Following Wednesday night's Blue-White game, the Spitfires also signed forwards Daniel D'Amico, Jordan Frasca and William Sirman. D'Amico and Frasca were drafted in the sixth-and-seventh rounds of the 2017 OHL Priority Selection, respectively. Sirman was a 14th round pick in 2015.
Finding the Right Balance
Any rebuilding team is going to have a vital mixture of youth and experience. While you want to have a young team that grows together over multiple seasons, veterans always bring assets to the table that youth cannot.
Of the remaining players in camp, the Spitfires have a mixture of ages and the ratio is spread among 17-year-olds, 18-year-olds and 19-year-olds. There are still several cuts to be made and only a select number of roster spots to be had.
The Spitfires travel to Buffalo, NY this weekend for the OHL Showcase. Six teams play three games each making it a perfect chance for new players to show they belong. Following the tournament, the team is off until mid-September when they play Sarnia in a home-and-home series to wrap up the pre-season.
The home opener is scheduled for Thursday, Sept 21 versus the Saginaw Spirit at 7:05 pm.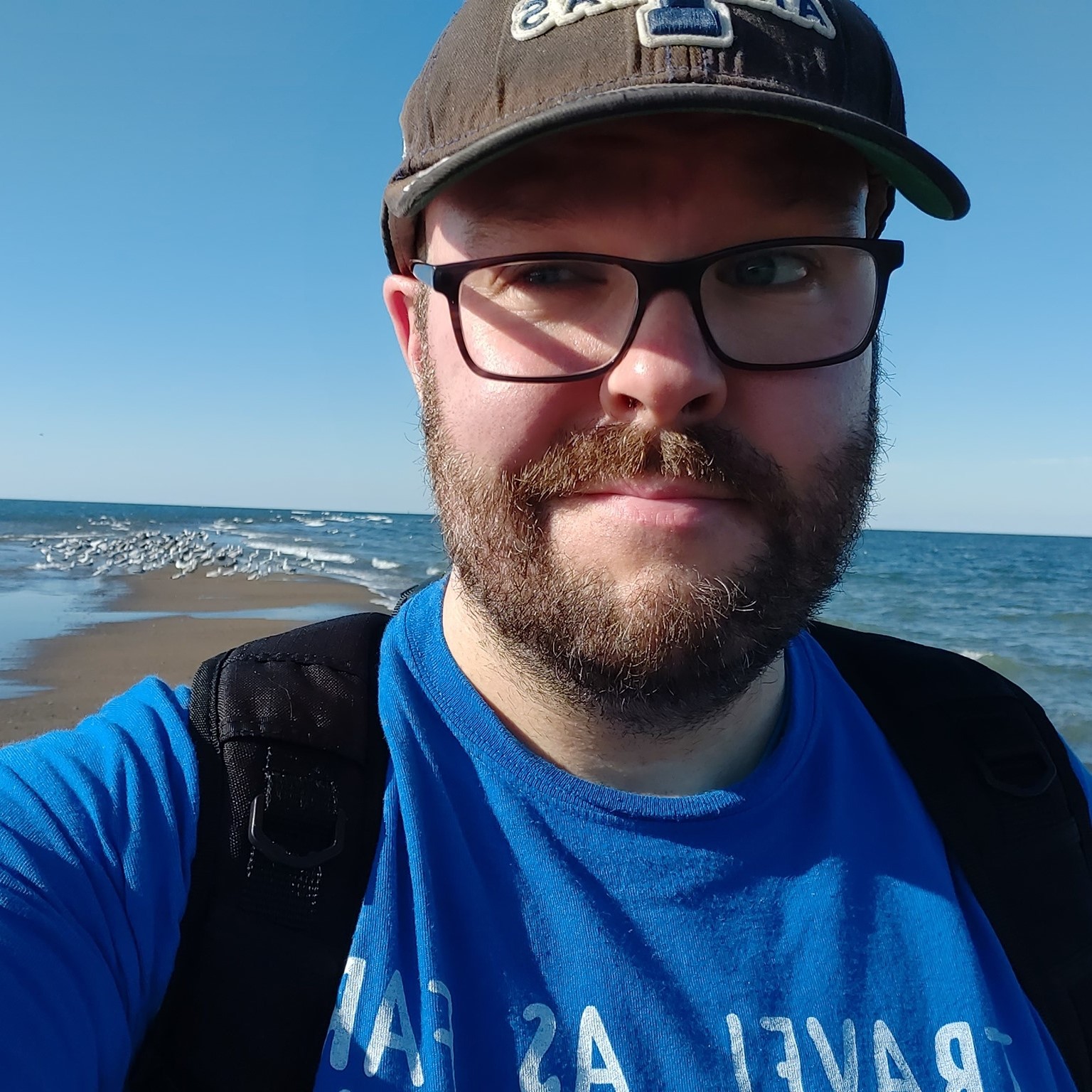 I'm a resident of Windsor, ON and a graduate of St Clair College Journalism and New Media program as well as the University of Windsor Communication, Media, and Film program. I've been a junior hockey fan (specifically the Windsor Spitfires) for 30-years and have written about/photographed junior hockey since about 2005.