There was the first whisper of fall this week. In September the hockey world reawakens. Development camps are completed, and rookie and training camps are just around the corner. This year, there seems to be quite a lot of pessimism among Habs fans. You can hear it in the decidedly un-dulcet tones of the Montreal-based TSN 690 crew. While taking a more upbeat tact, even Brian Wilde referenced the concerns in his inaugural Habs 365 podcast. In short: fans should expect a worse team, likely to finish with fewer wins in 2017/18.
This pessimism has been building since last summer, of course. Many haven't forgiven Marc Bergevin for the Subban trade. Some never will. Losing out on Radulov couldn't be helped perhaps, but the unceremonious departure of Andrei Markov left many scratching their heads. On paper, the Habs today are older, slower, and worse overall on defense, no better down the middle, and have fewer blue chip prospects. More than that, it is not clear to anyone what exactly the plan is. Nathan Beaulieu for nothing? Ales freaking Hemsky? For a growing number of fans, it is hard to see the method in the madness of King Marc. Now that Julien has replaced Therrien, it may be now or never for Marc Bergevin.
These concerns are likely to populate column inches and animate talk radio this fall. Beyond watching Canadiens stalwarts Carey Price, Shea Weber, and Max Pacioretty, here are 5 things fans can get excited about.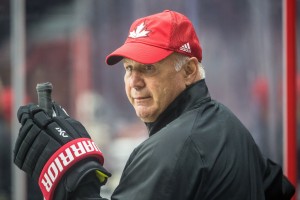 1. Claude Julien
Claude Julien became the Montreal Canadiens 26th coach last year. Julien returns to the city where he coached from 2003-06, after spending 10 years with arch rival the Boston Bruins. Julien, 56, won the Jack Adams Trophy as coach of the year in 2009, and a Stanley Cup in 2011. He is perhaps best known for a defensive style of Hockey. During his years in Boston, Julien's style focused on gaining and keeping possession and limiting scoring chances from the front of the net.
Habs fans might be concerned that when the Bruins fired Julien, the B's were among the worst in the league at creating offense. The inability to create offense is a problem Canadiens fans know all too well. The biggest immediate issue facing Julien in Montreal this fall is the Center Ice Sweepstakes. Offensive threats Jonathan Drouin and Alex Galchenyuk are likely to both get a chance at center this fall. If Julien remains true to form he will expect his centers to cover large patches of territory in the defensive zone, roaming down low to help their defensemen, and sealing off passes to the slot.
Questions remain but Habs fans should be happy the Michel Therrien era is over. Out is the blender approach to juggling lines, poor player development, and poor coaching and personnel decisions. It is a more deliberate defensive system and a more adaptable and adept approach to lines and player development.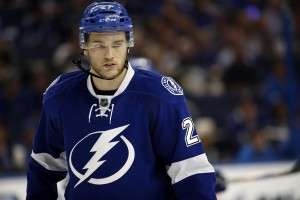 2. Jonathan Drouin
Nothing should excite the fan base more than a French Canadian all star hockey player in the lineup. Since being traded to the Habs this summer by the Tampa Bay Lightning, Drouin has signed a six-year contract with the Habs with an AAV of $5.5 million. He is a Hab for the foreseeable future and brings speed, playmaking ability, and energy to the Bell center.
Much has been made of the fact that Drouin will get a chance to play center and that he has been working out with Max Pacioretty. Wherever he ends up, Drouin is poised to play a more important role in Montreal than he did in Tampa, a team chock full of talent in the top 6. Last season, Drouin had 53 points in 73 games for the Lightning. Marc Dumont predicts closer to 60 points in 2017-18. It is possible that he will thrive in Montreal and that increased minutes will mean more goals. If he plays with sniper Max Pacioretty, he could improve on his assist total as well.
3. The Comeback Kids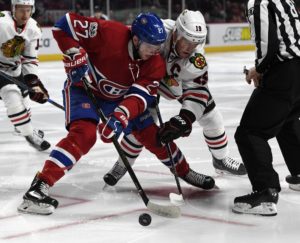 There is the potential for some serious improvement among some fan favorites in Montreal. During the 2015-2016 season, fans may recall Galchenyuk centered the Habs top line and finished with 30 goals and 26 assists. Last fall, he built on that success scoring 23 points in the first 24 games of the season. Then he got injured, was shuffled from center to wing and back again. There is little doubt that the Habs are better when he plays center. With a new contract and something to prove, Galchenyuk should come back stronger, hungrier, and prove his 30 goals were the norm, not an aberration.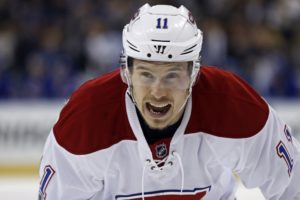 Speaking of aberrations, last year was Brendan Gallagher's worst since his rookie year. Simply put, last year he was a different player. His meager 29 points after three consecutive seasons of 40 or more points can be explained in large part by the fact that he took 2 slap shots to his hands in just over a year. The first from Johnny Boychuk in November 2015 broke two fingers on his left hand and kept him out for 17 games. The second from teammate Shea Weber in January of 2017 fractured his left hand and kept him out of the lineup for nearly 8 weeks. This season should give Gallagher a chance to get back to his pesky, persistent, and productive ways. Remember when EA predicted the Nashville Predators would end up in the Stanley Cup Final? They were right then and I think they may be right about Gally in 2017. Don't play coy with us BG!
4. Habs Defense
Beyond the question of who will start at center for Montreal this year, the next biggest issue is on Defense. It is hard to doubt that the Habs are weaker at Defense than at any time in recent memory. Over the summer the Habs signed Karl Alzner, Mark Streit, and Joe Morrow. In addition to acquiring David Schlemko, the Habs signed a one-year contract with Jakub Jerabek and invited veteran defenseman Éric Gélinas to a professional tryout. This is in addition to Brandon Davidson, Jordie Benn, Jeff Petry, and the Man Mountain himself, Shea Weber.
Fans should be excited because while it is not clear who will fill top 4 D roles, this long list of potential defenseman offers Claude Julien numerous options to build a core capable of adhering to his defensive system. Julien has long preferred that Defensemen stay within the dots in the defensive zone, and not take chances trying to spark an offensive rush. During his years in Boston, Julien's style focused on gaining and keeping possession and limiting scoring chances from the front of the net. Such an approach will complement the likes of Shea Weber, Jordie Benn, Karl Alzner, and Joe Morrow.
However, it is in stark contrast to the move by many other teams to build fast, smart puck moving defensive cores, like Nashville modeled last year. While the Habs are going in the other direction, there will always be a role for players who can make tape-to-tape first passes out of the D-zone. Petry, Schlemko, and perhaps Jerabek are the most likely to drive the play from the back-end to generate scoring chances. It will be fascinating to see the defensive pairings that emerge following training camp, and whether Julien's system can compensate for the relative lack of defensive skill.
5. Cap Space
While it is difficult not to agree that the cap situation is just the latest "embarrassing" sign that Bergevin is in over his head, fans should try and stay positive. With 8.5 million in cap space, Marc Bergevin has some room to prove the growing number of his doubters wrong. What will it be? A smart puck moving defenseman who can play top minutes alongside Weber? A solid second line center to give the Habs some more depth down the middle? Both? Some serious hockey folks think this amount of cap space opens the door to make a play for a generational player like John Tavares. Other options may be more realistic.
Whether MB spends now or early in 2018, the Habs have the cap space to improve this team and build on what we have today: a great coach, an elite goaltender, a seriously tough defender, and some exceptionally talented wingers. With luck, Bergevin won't use the 8.5 million to pick up just a few more bargain basement defenseman and fourth liners.
When Marc Bergevin hears about free agent depth defensemen and 4th liners. #MontrealCanadiens #Habs #JoeMorrow #FreeAgency pic.twitter.com/swm8w0MdaH

— All About The Habs (@AATHabs) July 1, 2017
Past performance, unfortunately,  is a good indicator of future folly. It is still September, though. There is still time for Habs fans to dream.
Criminologist by training. Hab fan for life. Aspiring Beer League hockey star.