On July 4, the New York Rangers inked veteran centerman David Desharnais to a one-year, $1 million contract. The move is an incredibly low-risk signing—if he works out, it is very cheap and provides good value on the dollar, and if he does not, it is a contract that is easy to bury in the AHL.
While it is clear that he is not a Ranger to replace Derek Stepan, who was dealt to Arizona on the day of the draft, he is certainly on Broadway to replace Oscar Lindberg. Lindberg was taken in the NHL Expansion Draft as a restricted free agent, and subsequently signed, by the Vegas Golden Knights.
Whether Desharnais takes Lindberg's role as the fourth-line center, or if he slots in the third line, will tell a major story about the state of the Rangers' (currently) dubious center depth.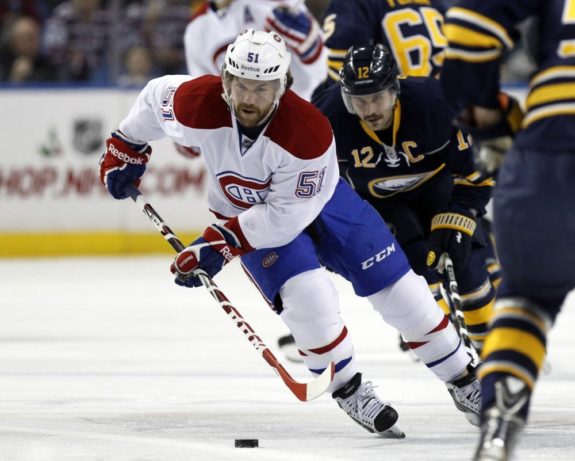 Desharnais' Solid Career
Desharnais, who will be 31 by season's start, brings a wealth of experience to the Rangers but has seen a steady drop in point totals the last three seasons.
The long-time Montreal Canadien has played in 453 NHL games, notching 81 goals and 173 assists (254 points), scoring as many as 60 points in 2011-12. He is also no stranger to the postseason, playing in 51 Stanley Cup Playoff games, and notching 17 points (four goals, 13 assists). His point totals have decreased over the last four years, however.
In 2013-14, he notched 52 points. That fell to 48 the next season, followed by 29 and finally just 14 points last season, split between the Habs and the Edmonton Oilers (10 with Montreal, four with Edmonton). He's also played in consecutively fewer games—in 2013-14, he dressed 79 times, then up to 82 the next season. After that, he fell to 65 games in 2015-16, and just 49 games in 2016-17.
While this sounds like a worrying trend, he still did some positive things. He won 51.2 percent of his faceoffs last year and has been above the 50-percent mark in four of his last seven seasons. In two of those sub-50-percent seasons, he came in at 49.7 percent and 49.5 percent, just barely missing the cutoff. That will help a Rangers team that had a 48.4 percent faceoff percentage last season. Faceoffs are far from the most important thing, but being above the 50-percent mark is a positive.
He also does a good job of creating high-danger shots, as his heat chart shows (Note: the heat chart is from his time with Montreal last season, since it is a much larger sample than his time with the Oilers):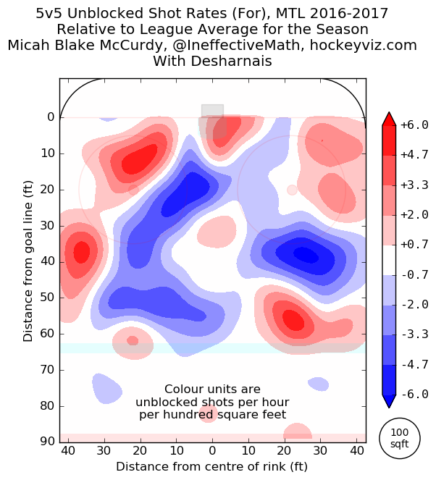 As you can see, he creates a lot of chances in front of the net. And, when you compare this to his shot location chart, it is easy to see how involved he is in those chances: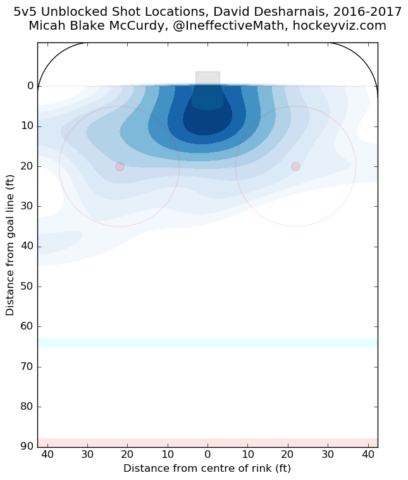 He makes a concerted effort to be in front of the net and take his shots up close. He is a bit undersized, coming in at 5-foot-7 and 174 pounds, but his desire to get into the tough areas in front of the net is evident. Having someone not afraid to be in front of the net allows for more tip-in and rebound goals. Those kinds of high-danger attempts put plenty of pressure on the opposing goaltender, even if he is centering the fourth line.
Third or Fourth-Line Center?
Desharnais is a solid, low-risk signing that has the ability to look excellent a year from now. He certainly has the potential to bounce back from a 14-point season—his ice time dropped to 12:28 on average last season, nearly four minutes lower than his career average time on ice. He also went from his natural position at the pivot out to the wing last year. A chance to be back in his natural position can only serve to help Desharnais. On top of all those changes, he suffered a rather significant knee injury last season—a healthy knee and a fresh start may be what the doctor ordered.
Despite his rather tumultuous 2016-17, he still compares rather well to Oscar Lindberg, the man he is replacing in the lineup: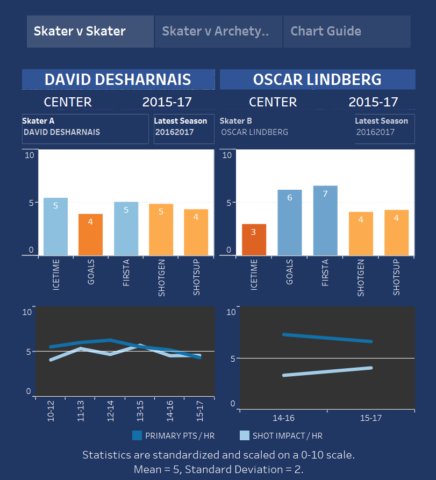 Oscar Lindberg provided a lot of offense relative to his time on ice, but everything else was rather average for a fourth-line center. Desharnais suppresses the same amount of shots and actually generates a tick more. He scores fewer goals and assists less with more ice time, but the rest of his profile fits nicely.
Desharnais, by the HERO chart standard, would be an above-average fourth-line center: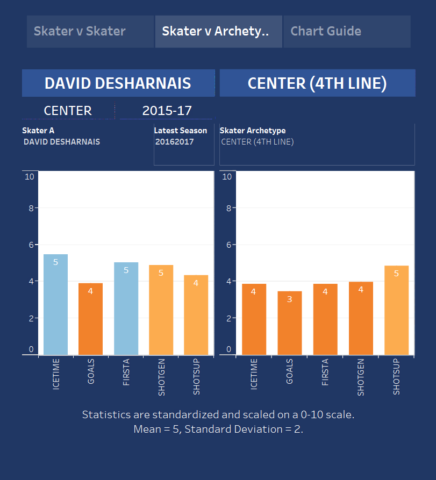 Desharnais is the prototypical fourth-line center. He is a little worse in terms of shot suppression, but he makes up for it with his offensive contributions. In this role, he would be perfect for the Rangers. However, as the roster is currently constructed, he might be the third-line center. And that might not be the best thing for him: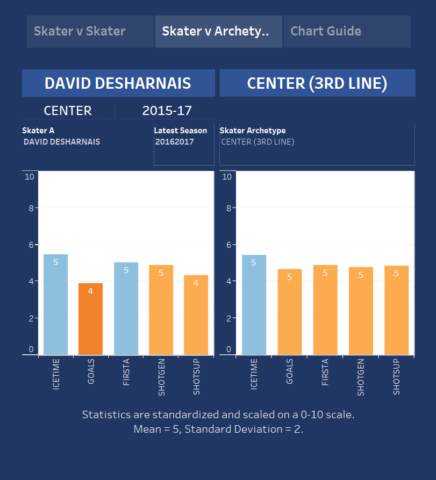 He got third-line center ice time last year, but he was more of a fringe third liner than a steady one. He is about even in everything except for goals and shot suppression. While that will hardly kill a team, a team with Stanley Cup aspirations would like to be stronger down the middle.
On top of that, him being a fourth-line center means the Rangers will have acquired a center to play above him either through a trade or by a different means. If he is playing on the third line, it is likely that one of Boo Nieves or Lias Andersson is playing on the fourth line.
Rangers' Depth Problems
Boo Nieves played one game in the NHL last year before being held to 18 points in 40 games with the Hartford Wolfpack of the AHL. The Wolfpack were, admittedly, a disaster, so it is hard to tell if those 18 points were because he was stuck on a team with no offensive firepower. He did seem to get a long look in training camp last year.
Andersson was the Rangers seventh overall pick in this year's draft, and he has been playing in the top Swedish league as a teenager. His point totals are unimpressive (19 in 42 games last year), but he was a regular on a championship-winning HV71 team—his talent is evident, especially considering his age in a men's league.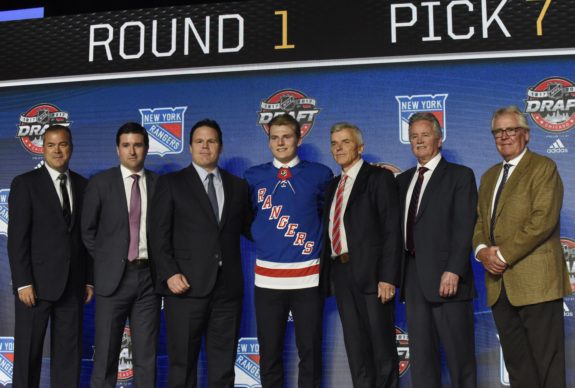 These players are certainly young, and in Andersson's case very exciting, but they are far from a sure thing. To have Desharnais have to play up to the third-line center role, and have an NHL unknown behind him, is a risky proposition for a team trying to contend.
While Desharnais is nothing more than a nice depth piece for the Rangers, his place in the lineup says a lot about the rather shaky center depth they have right now. Mika Zibanejad is an exciting player who has top-line center talent, and Kevin Hayes is another young and talented player, albeit one who saw some struggles last season. Behind those two, there is not much depth.
If Desharnais is playing third-line minutes, it is likely that the Rangers' center depth will be left wanting, something a Stanley Cup hopeful does not want. Conversely, if Desharnais is able to be their fourth-line center, then it likely means a top-six center was brought in to help ease the pain of losing Stepan.
It is also entirely possible that Desharnais ends up as the 13th forward, or that his somewhat worrying offensive trends continue and he regresses even more. Be that as it may, where he slots into the lineup is a fun litmus test of the Rangers' newfound center depth as hockey is in the doldrums of summer.