With the 2013 NHL Entry Draft a day away, hockey fans might be wondering which masked men will be selected when June 30th rolls around. Part I of "The Goalie Edition" explored some more well known 2013 draft eligible netminders, and Part II will hopefully continue where Part I left off.
While goalies such as Zach Fucale, Spencer Martin, and Eric Comrie could wind up being some of the first goalies selected on Sunday, there are still a number of interesting netminders that could be pursued by a number of teams.
NHL Draft 2013: The Goalie Carousel Continues
Brendan Burke (WHL – Portland Winterhawks)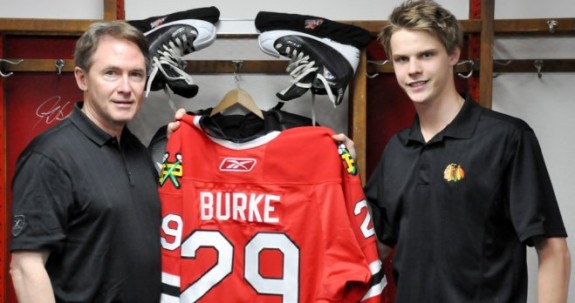 Looking to follow in the steps of his father, Brendan Burke will go into the 2013 NHL Entry Draft with an interesting resume. Sean Burke played for a number of teams throughout his NHL career and has been able to impart his knowledge on Phoenix Coyotes goalies such as Ilya Bryzgalov and Mike Smith. While Sean Burke has had success as a player and a coach, Brendan Burke still has some work to do before he can start working on surpassing his father's feats. Burke is one of the bigger goalies available in the draft as he stands at 6'3″, but he could still stand to fill out his frame a bit as he is only 175 pounds currently. More will be known about Burke as he builds upon his craft in the future, but for now hockey fans should expect the netminder to draw some interest as he will probably be considered a project goalie by many teams.
Alex Fotinos (OHL – Barrie Colts)
Alex Fotinos is a developing goalie out of the OHL and could be up for selection in the late rounds of the NHL Draft. Fotinos is only listed at 6'0″ and 165 pounds, which means that the prospect goalie will have to fill out his frame a bit more in the coming years. Fotinos has played in a total of 33 games (14-13-2 overall record) for the Barrie Colts over the last two OHL seasons and a bit more playing time would enable hockey fans to get a better look at the goalie's strengths and shortcomings.
Michael Giugovaz (OHL – Peterborough Petes)
Giugovaz is another developing goalie in the OHL who has shown some pretty good upside while playing for the Peterborough Petes. Despite the fact that Andrew D'Agostini appeared in more games than Giugovaz, the latter goalie has shown some good puck tracking and play reading skills. Even though Giugovaz had a 3.81 GAA and a .896 Save Percentage, hockey fans should remember that the goalie is making a transition from the OJHL to the OHL. As long as Giugovaz can secure some more playing time for Peterborough next season, he should be able to make the necessary improvements to his game.
Domenic Graham (QMJHL – Drummondville Voltigeurs)
Graham has played three seasons of hockey with the Drummondville Voltigeurs and has been thoroughly tested over the span of 110 QMJHL games. While Graham received more playing time (56 GP) in 2011-2012, his statistics have taken a hit over the last two years. Graham has his worst statistical season (27 GP, 3.58 GAA, .861 Save Percentage) with the Voltigeurs during the '12-'13 campaign, but hopefully a move to the Chicoutimi Saguenéens will bode well for the goalie and his prospects of being drafted.
Jared Rutledge (USHL – Green Bay Gamblers)
After playing in the NCAA for one season with the University of Michigan, Rutledge committed himself to playing the USHL for the 2013-2014 hockey season. Rutledge has shown progress in the USHL and USDP before as he was a member of the USNTDP Juniors and U.S National U18 Team since 2010. While Rutledge might have had some sub-par statistics in the NCAA this season, hockey fans must remember that the goalie only appeared in ten games for the University of Michigan, so there is not much of a sample size to accurately judge his performance in his most recent hockey season. At 5'11", Rutledge might not be the tallest goalie available in the 2013 draft, but he is certainly one that has showed promise when given a chance to play regularly.
Hunter Miska (BCHL – Penticton Vees)
Much like Jared Rutledge, Hunter Miska has developed in the USHL and USDP as a member of the USNTDP Juniors and U.S National U17/U18 Team. Over the last two years, Miska has shown steady improvement in both leagues, but is still a work in progress. Miska will probably be a long shot to get selected on Sunday, but if he puts forth a solid effort in the BCHL, then the goalie's prospects of getting drafted might just increase in the very near future.
Janne Juvonen (SM-liiga – Pelicans)
Juvonen is an interesting Finnish goaltender that has quite an extensive resume for an eighteen year old. Juvonen has split time between various leagues over the last few seasons, but he has shown an ability to adjust and succeed in various settings. Not only has Juvonen appeared on the international stage as a member of Team Finland's U16, U17, and U18 teams, the goalie has made good transitions from Jr. B SM-sarja to the Jr A SM-liiga, and has shown an ability to compete in a limited sample size of games in the SM-liiga. Juvonen might not be drafted until the later rounds of the 2013 NHL Entry Draft, but his resume has certainly shown that the goalie has the mental composition necessary to make the transition from various leagues and levels of play.
Joel Lassinantti (SHL/Allsvenskan – Lulea/Asploven)
Much like Janne Juvonen, Joel Lassinantti has quite an extensive hockey-playing resume – except Lassinantti's experience is rooted in Sweden. Over the last four years, Lassinantti has represented Sweden in a multitude of U16, U17, U18, U19, and U20 contests. Lassinantti has excelled on the international stage and in Sweden's SuperElit league, but the goalie seems to be scheduled to split time between Sweden's Allsvenskan and SHL leagues for the 2013-2014 hockey season. Lassinantti might be a bit undersized as he stands at 5'9″, but the goalie has shown an ability to successfully play past his height disadvantage while improving in various competitive hockey leagues throughout Sweden.
Antoine Bibeau (QMJHL – Prince Edward Island Rocket)
Bibeau is another QMJHL goalie that should be given some strong consideration for selection during this year's NHL Draft. As a member of the PEI Rocket, Bibeau recorded a 2.81 GAA and .911 Save Percentage in 46 games played during the 2012-2013 QMJHL season. Bibeau also played in six playoff games for PEI, but his numbers in those several games did not reflect his efforts from the regular season – something that was definitely a product of a small sample size. Bibeau's efforts gave PEI a chance to win on a nightly basis, and the goalie should draw some serious interest in the mid-to-late rounds of the 2013 NHL Entry Draft.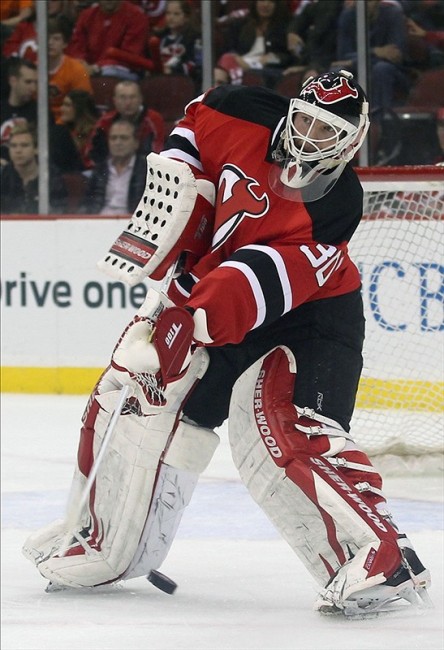 Much like Sean Burke, Anthony Brodeur seems to be following in his father's footsteps. Brodeur recently spent two seasons refining his craft in Shattuck St. Mary's Midget Prep and is committed to playing his 2013-2014 hockey season in the QMJHL as a member of the Gatineau Olympiques. Brodeur plays a hybrid style and has drawn some comparisons to his father's style of play, but the prospect also has areas of his game that could stand to use some improvement. It is likely that Brodeur could be selected in the later rounds of the draft, and all signs point to a potentially positive outcome for the Brodeur family after this Sunday's events pass.
Ebbe Sionas (AIK – SuperElit)
Sionas is another interesting international goalie prospect that has had a plethora of experience on the international stage as well as in Sweden. Over the last three years, Sionas has played in 26 international games as a member of Team Sweden's U16, U17, U18, and U19 clubs. Sionas has quick and efficient movements that allow him to play well in the crease and maximize his 5'11" frame. While Sionas might not be the most hyped up Swedish netminder available at this year's draft, the goalie should be a late round selection in Sunday's proceedings.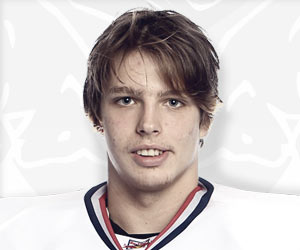 If hockey fans don't know about Luka Gracnar, then they might just become familiar with the goalie after the 2013 NHL Entry Draft is over. Gracnar has put forth some strong play over the past six years in Slovenia and Austria, and the goalie has done everything in his power to increase his draft stock through his play. Gracnar has appeared in international tournaments as a representative of Slovenia's U18 and U20 teams, but his solid play in the Austria and RBHRC U20 leagues has shown that the goalie has constantly improved over various stages of his hockey career. While Gracnar might not be one of the first goalies selected at this year's NHL Draft, he has a good chance of being selected in the mid-to-late rounds of the draft.
Ivan Bocharov (HC MVD Jr. – MHL)
Unlike last year when Andrei Vasilevski and Andrey Makarov were representing Russian goaltenders at the NHL Draft, Bocharov will likely be the only Russian goalie with a chance of being drafted. Bocharov had a good season in the MHL as he compiled a 2.72 GAA and a .911 Save Percentage in 41 games played. Bocharov also had success in some limited opportunities on the international stage, but the goalie seems to have a lot to offer. At 6'2″ and 172 pounds, Bocharov could stand to gain a few pounds, but the goalie seems well on his way to either being drafted this year or increasing his draft stock for future years as he continues to contribute solid efforts to his MHL team.
*** Feel free to leave a comment or message if you thought that any draft-eligible goalie prospects were omitted in these two lists.
In his third year with The Hockey Writers, Toli covers all things related to the New York Islanders. Focusing on the Islanders, the NHL Draft & draft-eligible prospect goalies, and hockey history, Toli can be contacted on Facebook by searching/messaging Toli Metter and on twitter by searching @ToliMetterTHW.