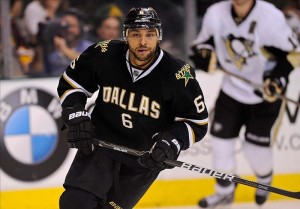 Trevor Daley has missed just 20 out of 357 regular-season games for the Dallas Stars since the 2008-2009 season. Recording an overall plus-16 rating in those five seasons, he's arguably the team's best pure skater and currently stands as the second-longest tenured Star remaining from the early-2000's (Stephane Robidas).
So, why trade him?
With the Stars having zero playoff appearances since 2008, this season's focal point could rely on the opportunity presenting itself to hand over significant playing time to prospects Kevin Connauton and Joe Morrow on the Dallas blueline.
Connauton, 23, was acquired at this year's trade deadline from the Vancouver Canucks in exchange for C Derek Roy. His most highly sought out attributes include his smooth skating stride and the ability to make quick plays from the blueline with tremendous poise. Showcasing his blistering 99 mph slap-shot in the AHL Skills Competition, he's bound to be given the opportunity to bolster the Stars power-play where he's considered to be most effective on the ice. Connauton recorded 31 points in 69 American Hockey League games with the Chicago Wolves and Texas Stars in 2013.
Morrow, 20, was also acquired this past season in a trade from the Pittsburgh Penguins in exchange for former captain Brenden Morrow. While moving at a superb top speed, he appears to have quite the unique set of offensive skills and puck-moving abilities as well. Morrow has been scouted to have infinite offensive upside with magnificent puck-distribution ability. His hockey IQ is said to be far beyond his years and could earn him consistent NHL playing time as soon as this season.
Both prospects have skills the Stars have desperately longed to replace since the retirement of D Sergei Zubov in 2009 (sorry to name drop). Since, the Stars have struggled to regain any power-play threat from the point position. In the 2011-2012 season, they tied the 1997-1998 Tampa Bay Lightning for an NHL-record low 33 power-play goals in an 82-game season.
So, what I'm saying is Morrow and Connauton just come in and fix everything, right?
No, probably not immediately at least.
Although, while Trevor Daley's heart and passion for the Stars will be forever remembered, he's set to make almost $10M over the next three seasons. What would be the fifth or sixth defensive choice for Dallas, strapping the Stars with a cap hit of $3.3M per year hints that some changes could be brewing from general manager Jim Nill if the opportunity presented itself.
Projected Lineup:
Gonchar ($5,000,000) – Goligoski ($4,600,000)
Dillon ($900,000) – Robidas ($3,300,000)
Daley ($3,300,000) – Connauton ($683,000)
Morrow ($863,000) / Oleksiak ($1,369,000) – Rome ($1,500,000) / Larsen ($1,025,000)
With Joe Morrow, Kevin Connauton, Brenden Dillon and Jamie Oleksiak's salaries averaging a grand total of $953,000 per year, it gives the Stars more financial flexibility than most teams in the NHL can say they have at this point in the offseason. Shaving off  $3.3M in this year's cap leaves plenty of reason to believe the Stars can turn Daley's yearly wage into a highly coveted free-agent signing, or two. While trading Daley may be the best financial solution for Dallas, the Stars lack of NHL playoff experience throughout the entire lineup tells me that Nill only trades him if they're in a position to make multiple UFA offers.
F Nathan Horton, F Jarome Iginla, F Vincent Lecavalier, F Ryan Clowe, F Danny Briere, D Rob Scuderi and D Douglas Murray will all be on the Stars radar as they are expected to be prime buyers come July 5. This season's UFA class appears to be the perfect mix of players that could fill the Stars needs with just one or two additions up front. If Dallas lands one of the top UFA options, I expect another to follow their lead. My guess? If it's a defenseman, he'll be a big bodied "stay at home" type of player. If it's a forward, I'd like to think he can score goals from the wing and center position. Ideally, a playmaking asset for F Jamie Benn and F Loui Eriksson.
While I do not expect to see a compliance buyout on Daley's contract, keep in mind the trade market for him could be limited given his yearly salary. However, I do see teams with extra cap space such as Calgary, New Jersey or Winnipeg to be vying for Daley's services in the near future to add depth and speed on defense.
The best case scenario is Dallas making a move to acquire more late-round draft picks in exchange for Trevor Daley. In doing so, giving the Stars up to around $13.4M in UFA spending money. If the Stars are unable make a trade, worst case scenario is having closer to $10.1M come July 5. Meanwhile, welcoming Daley back for another season in Big D (not so bad).
Daley's contract situation leaves him forever on the trading block, but who knows? Maybe Lindy Ruff's new system in Dallas will be the rejuvenation to his career as a Dallas Star.
At the dollar amounts given per season, one can only hope.