The NHL has talked a lot about head shots and dirty hits in the last few years. The league has also taken a lot of heat to make sure that they are doing everything they can to protect their players, either through rule changes or heavier consequences (whether they are or not is a different debate). And while big hits and fighting in the league appeals to a section of the fanbase and may not be going anywhere, no one ever wants to see a player get hurt or have their career ended because of an injury.
Financially speaking, a career-ending injury could blow up a player's plan. If they are injured while playing for their NHL club then yes, their contract will continue to be paid out. But what if they suffer a freak accident away from the game and are unable to play? What about the future contracts they might have been able to sign?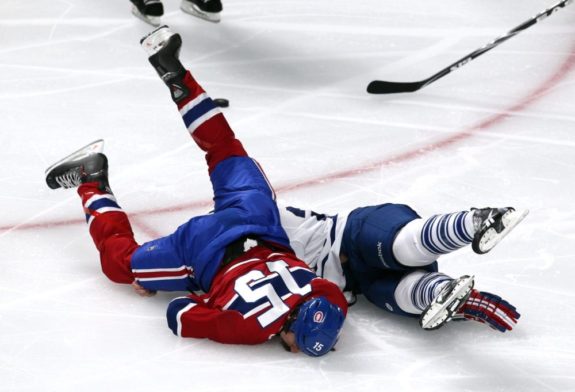 Athlete Disability Insurance
There is a program that players use to protect themselves financially from a career-ending injury (or illness): Athlete Disability Insurance. Most people are familiar with disability insurance. Some have it through their employer, some buy coverage privately, while others don't have any coverage at all.
However, typical disability policies are different from an Athlete Disability Policy. Rather than locking in coverage to pay out future monthly payments (used to replace all or a portion of income while unable to work), athletes' policies are structured to pay out one sum, and in some cases that can be 10s of millions of dollars.
Why are these policies so big? Because of their overall objectives. Athlete's use this insurance as a tool to cover their contract and to protect their potential earnings. There are two main types of coverage: 24-Hour and Off-ice. As you probably guessed, 24-Hour provides coverage related to their NHL duties as well as the activities enjoyed during their personal time. Off-ice coverage only accounts for activities and time unrelated to their NHL employment.
Young players will typically blend a combination of both as their contracts are much smaller in size and length, whereas veterans on long-term deals might focus on Off-ice coverage, as their contract size and duration provides financial protection from NHL-related injuries.
The clubs and the NHLPA also provide players with two levels of disability insurance coverage for injury or sickness (one is for serious disabilities) that might end their playing career. The main coverage is a fixed amount based on the player's age at the time. 
Insurance Playing a Role in International Competition
Insuring athletes is an important risk strategy not only for NHL teams and their players but also for international competition. This was a big discussion point in the NHL's recent decision not to send their athletes to the 2018 Olympic Winter Games. Not only were owners concerned about their players getting hurt, but also who would pay to insure the clubs from the financial losses they would incur by losing star players to injury? 
There were also rumours that this was a major reason John Tavares didn't attend the 2018 World Hockey Championship with Canada and it makes sense. As an unrestricted free agent this summer looking to sign a major long-term deal (and who has been injured in international competition before), he would be taking a financial risk by exposing himself to injury. If he did attend, he would need coverage somewhere in the mid-8 figures.
While the safety of players is always the top priority, looking inside the business of hockey, the protection of players from a financial standpoint is also very important for the athlete, their family, team risk management and even decisions to attend the Olympics.