The Winnipeg Jets, like all other NHL teams, have four forward lines. Right now, though, only one line is producing. In the playoffs, that's a problem. The bottom-six forwards especially have been bottled up lately.
Players not named Mark Scheifele — who's scoring at a ridiculous rate and chasing down a decades-old record — are stuck in a nasty slump.
Secondary Scorers Have Been Silent
There's a pile of players who haven't done much in the first four games of the Western Conference Final against the Vegas Golden Knights.
The seven players who make up the Jets' third and fourth lines—Joel Armia, Andrew Copp, Bryan Little, Adam Lowry, Mathieu Perreault, Jack Roslovic, and Brandon Tanev—have a total of nine goals in 16 playoff games. The septet scored 70 in the regular season.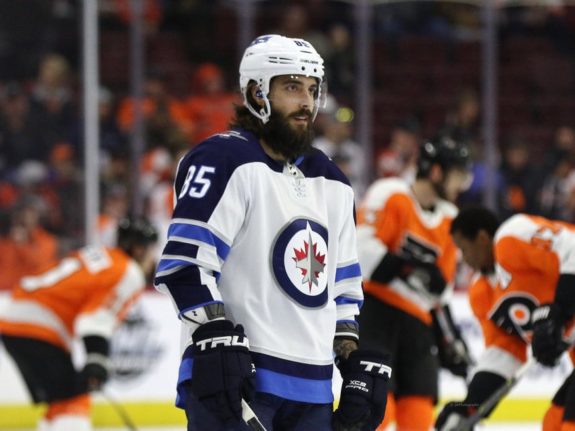 In the Western Conference Final, they've combined for just one goal — and it was scored by accident when a puck went in off Joel Armia's skate in Game 1. In fact, they only have two points between them in the entire series.
The bottom-six has shown signs of life lately, though, especially in Game 4. Perreault and his linemates, Jack Roslovic — who replaced Joel Armia — and Bryan Little, buzzed all around the offensive zone and generated some good chances. Roslovic, in particular, used his speed and soft hands to create a few nifty chances off the rush.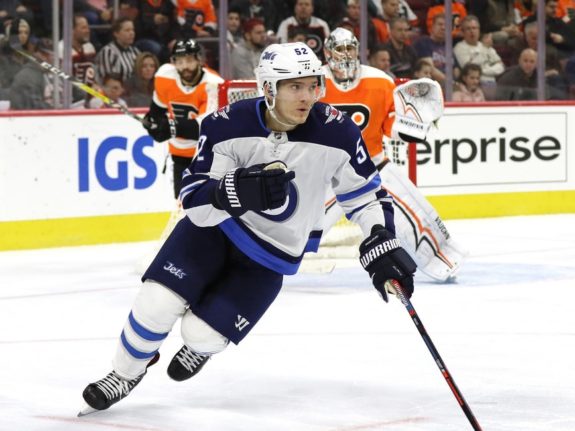 That line finally hit pay dirt in Friday night's third period. After the top line hemmed the Golden Knights in their defensive zone with tremendous pressure, the Perreault line followed it up with the game-tying goal (even though it was scored by Tyler Myers, the 21-year-old Roslovic had an assist and the line did good work on the play.)
Jack Roslovic is having a very good game so far. His line, with Bryan Little and Mathieu Perreault, is buzzing.

— Mike McIntyre (@mikemcintyrewpg) May 19, 2018
"We've had some good chances last few games," Adam Lowry said before the Jets hit the ice for Friday evening's Game 4. "Now it's about chipping in. We can't just rely on Mark's line to be carrying the bulk of the offensive load. You need depth scoring in the playoffs. Hopefully we're going to be able to chip some in in the next few games."
Talk is cheap, though — Lowry and his line went pointless again in Game 4. The time to improve, jell, and learn to navigate rough seas is the regular season. Playoffs are a time to produce, plain and simple.
Jets Need More Than Scheifele to Score
The Jets' well-stocked offensive arsenal was one of their strengths throughout the 2017-18 season. They showed a balanced attack and the ability to roll four lines. Having anyone be able to pot one at any time struck fear in the hearts of opponents and changed the complexion of many of their games. Coming into the series, the Jets appeared to have the edge over the Golden Knights when it came to forward depth, but that edge hasn't shown at all.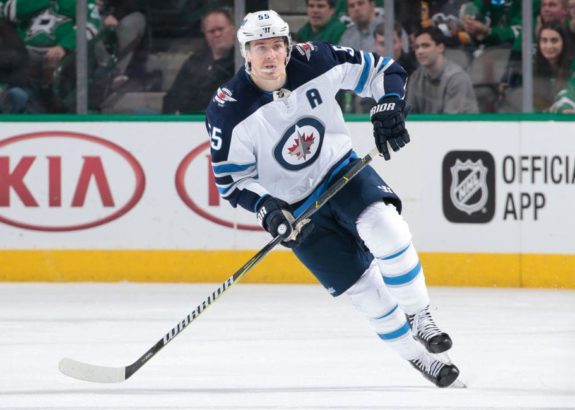 One telling stat: Scheifele's 14 goals represent 26.92 percent of the Jets' total scoring. The Golden Knights aren't — and shouldn't be — scared of any line but Scheifele's right now.
Having Scheifele as the lone lamp-lighter isn't a legitimate strategy or a recipe for success. Case in point: the Jets are on the brink of elimination, down three games to one.
Bottom Six Needs to Sort Things Out — Now
The Jets' bottom-six needs to shape up now. They simply need to find their 'A-game' right away.
The Jets cannot go bust again. They need to run the table, three straight, to advance to the Stanley Cup Final. They won't do that if they continue to be the one-line team they've been so far in the series. They need everyone to bring it come Sunday's Game 5, or else they'll go home.
It's not a matter of having bad cards; their hand is strong. Right now, though, the team doesn't look like a confident card shark sitting upright at the table. They look like they're under it, scrambling to pick up the cards scattered in a game of 52 pickup.