In today's NHL rumor rundown, one insider believes the Toronto Maple Leafs have three players the Seattle Kraken might be keying in on for the NHL Expansion Draft. In Edmonton, does Ryan Nugent-Hopkins hold more value around the league than he does to the Oilers? Is there a trade fit between the Boston Bruins and Vegas Golden Knights? Finally, are the Philadelphia Flyers still interested in Patrik Laine?
Kraken with Eyes on Three Maple Leafs Players
NHL insider Luke Fox joined the Lead Off show to discuss who the Seattle Kraken might be keying in on when it comes to the Toronto Maple Leafs and the Kraken's NHL expansion selection. Fox noted that there were three players Seattle might target but two in particular that should be either excited to start with a new team or worried they may not be Leafs when all is said and done.

Fox notes, "I think the main guys Seattle could be circling on are Justin Holl and Travis Dermott." He adds that even though defense is not a strength of the Maple Leafs roster, "Ironically, I think they're going to target the Leafs defense."
The other name Fox mentioned was Alexander Kerfoot. He said:
"Alternatively, the Leafs could expose a guy like Alexander Kerfoot if he doesn't have a great season and they maybe want to shed some of his salary. That's another option."
Our own Eugene Helfrick takes a bit of a deeper look at these three options for the Kraken here.
Related: Matthews & McDavid Together: 'Pipe Dream' Dream Team
Pacioretty Trade Not Progressing, Unlikely Fit With Bruins
There have been some proposals floating around trying to connect a Max Pacioretty trade to the Boston Bruins. Jesse Granger of The Athetic discusses in a recent mailbag segment the idea that the Boston Bruins and Vegas Golden Knights might be a fit as trade partners.
The proposed trade would be Vegas moving Max Pacioretty but retaining $1 million for Jake DeBrusk, plus pieces. Granger says no to the proposed trade.
Noting that DeBrusk is under contract for $3.675 million for this year and next, he is still an RFA afterwards. While he admits that Pacioretty has scored more goals, he is also over 30 and his cap hit is almost double that of Debrusk. Grangers adds:
For cap-strapped teams like Vegas and Boston, young, cost-effective players like DeBrusk are valuable. I don't see Boston swapping him for Pacioretty, and especially not throwing in 22-year-old Senyshyn and a draft pick.

source – 'Examining Max Pacioretty trade rumors, WJC prospects: Golden Knights mailbag' – Jess Granger – The Athletic – 12/17/2020
Granger goes on to say that sources have said that trade talks involving Pacioretty (as well as Marc-Andre Fleury and Jonathan Marchessault) haven't progressed. It doesn't seem like GM Kelly McCrimmon is doing anything more than gauging the market.
Nugent-Hopkins Worth More Outside Edmonton?
Allan Mitchell of The Athletic writes that Ryan Nugent-Hopkins and his agent are likely aiming higher than the Brendan Gallagher ($6.5 million times six years) deal that Gallagher just signed. But, the Oilers are keen on trying to keep Nugent-Hopkins deal lower because of the uncertainty surrounding the NHL salary cap.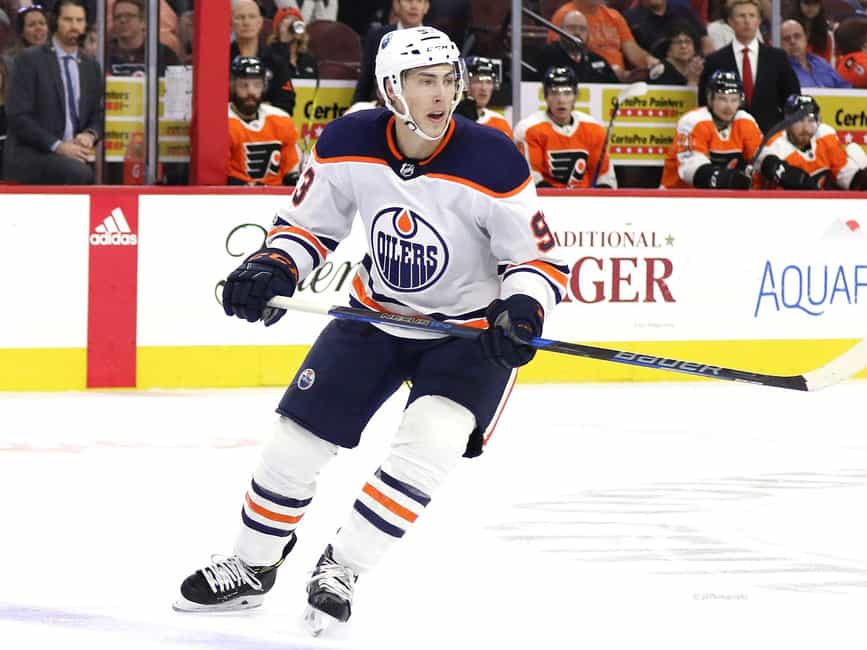 Mitchell asks what Nugent-Hopkins is really worth to the Oilers and suggests:
Ironically, Nuge could be worth more to another NHL team than Edmonton. A natural centre, the Oilers have him playing wing. He's a ridiculous power-play quarterback but is playing a role as opposed to being the key link in the chain.

source – 'Lowetide: What if Ryan Nugent-Hopkins doesn't sign with the Oilers?' Allan Mitchell – The Athletic – 12/17/2020
He wonders if the Oilers will give him close to $7 million times seven years since that what he'll get on the open market even in a Covid summer.
Related: Oilers 12 Days of Hockeymas: Ranking 8 Hall of Famers…After Gretzky
Flyers Still Interested in Laine?
Among the potentially interested parties, Jordan Hall of NBC Sports Philadelphia cites a source who claims the Philadelphia Flyers "have had interest" in Winnipeg Jets winger Patrik Laine. Hall also points to comments from The Athletic's Pierre LeBrun that the Flyers and Jets, at one time, held discussions about a possible deal.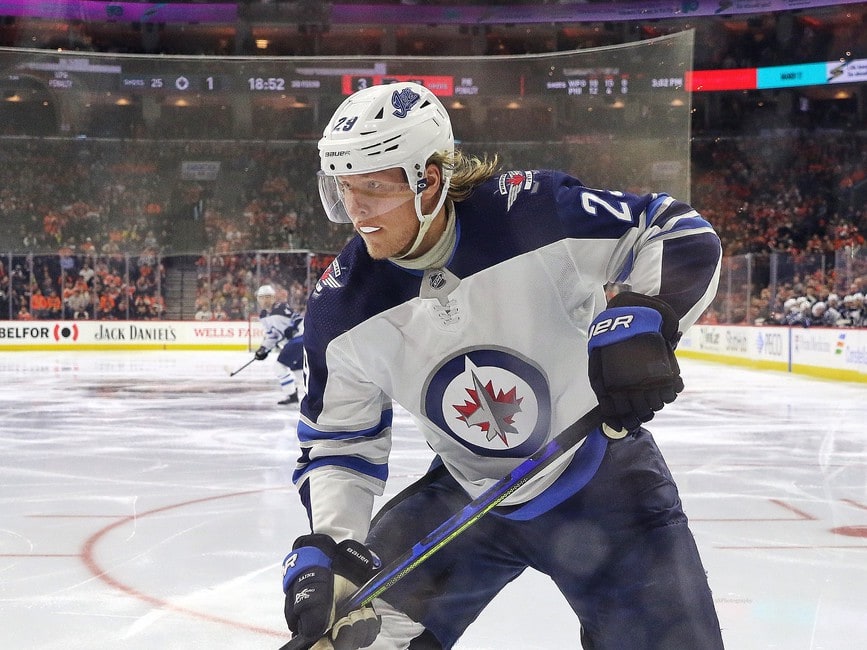 The Jets have set a high price for Laine, especially after adding Paul Statsny almost exclusively to help make Laine more comfortable. If they do move him, it won't be for cheap and it is believed the Jets will want a top-pairing defenseman in return or a young blueliner with top-two potential as part of a package deal. Jets GM Kevin Cheveldayoff would likely ask for Ivan Provorov straight up or for Philippe Myers to be part of any package deal.
---
---
Catch up on all the latest NHL Rumors