In today's NHL rumors rundown, with pending UFA veterans and little cap space, the Tampa Bay Lightning may have little choice in retooling his roster. Meanwhile, Dmitry Orlov is open to staying with the Boston Bruins but reports are that his priority would be to go back to the Washington Capitals.
---
---
Reports are there are players in Calgary who have already rescinded trade requests, and why are the New York Rangers looking at Joel Quenneville?
Lightning Will Need to Retool Their Roster
As per Ryan S. Clark and Kristen Shilton ESPN.com: 'The Lightning won't have much cap space to wield this summer. The first priority will be figuring out how to get more — or maximizing what they have." They add that the team will need to make decisions on pending UFAs in Alex Killorn, Corey Perry, and Ian Cole and the organization has "basically no draft capital to trade in the 2023 draft."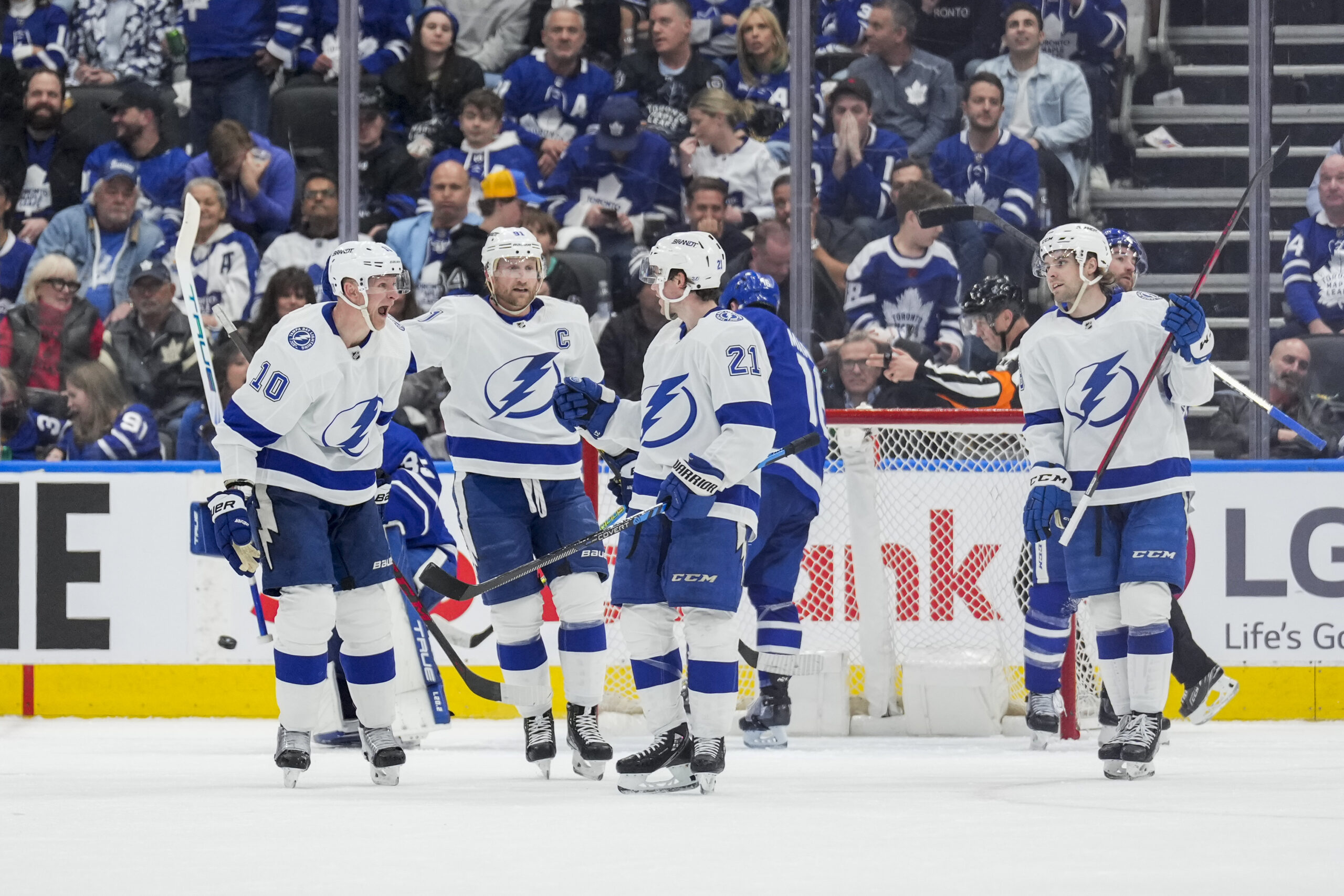 Corey Perry has already made it clear he's looking to play another season. He told the media, "I've still got more in me. I still want to play. We'll see where it goes over the next few weeks and then take it from there." When it comes to Killorn, Lightning beat writer Chris Krenn quotes Lightning GM Julien BriseBois, who said, "I know it's going to be a challenge. I think what helps us is that I know Alex loves it here. He wants to stay here. We'd love to have him here. He's coming off a career season and means so much to our organization, both on the ice and off the ice." Killorn also noted that he didn't want to leave and his priority would be to re-sign.
Orlov's Preference Would Be To Return to the Capitals
As per a report by The Boston Globe's Matt Porter, defenseman Dmitry Orlov sounds hopeful that the Washington Capitals would be open to the idea of bringing him back as a pending unrestricted free agent. Porter tweeted, "Orlov sounds like he wants a deal with the Caps. Open to Bruins, certainly, but a lot of years there."
---
Latest News & Highlights
---
He also quoted Orlov who said, "It's my last contract." suggesting that perhaps the most important thing is that he sign somewhere that he's comfortable. He played the first 11 seasons of his NHL career in Washington and it's clear that the team is going to try to stay competitive as long as Alex Ovechkin is chasing Wayne Gretzky's scoring record.
Friedman confirmed he's also heard the news about Orlov going back to Washington, but noted that part of the reason he didn't re-sign there was because the Capitals weren't willing to meet Orlov's contract demands. Has that changed?
Some Flames Players Have Rescinded Trade Requests
Frank Seravalli of Daily Faceoff reports that following the removal of Darryl Sutter as the head coach of the Calgary Flames, some of the players that were vocal about his methods are much calmer. Seravalli adds that a couple of players potentially already rescinded their trade requests.
Related: Calgary Flames' Free Agent Targets: Boston Bruins
"In talking to various people around the league that have connections to Calgary, the sentiment was any trade requests that were out there, or demands so to speak, have been rescinded now that there's been a coaching change. So that, I think, opens the door for some players who might have been hesitating to eventually re-sign… that'll of course be the call of whoever's the next general manager.. that's part of the reason why it was so important from a competitive standpoint. It doesn't really make sense to throw away an $83.5 million roster, whatever next season ends up being, on the basis of a $4 million coach."
It's not entirely clear who exactly Seravalli was talking about, but the belief is that Mikael Backlund might be among them.
Could Quenneville Help Panarin?
Elliotte Friedman noted that one of the reasons the New York Rangers might be looking at Joel Quenneville as a possible head coaching replacement is because the team is concerned about the lack of production from Artemi Panarin. Saying that Panarin was really solid when Quenneville was his coach in Chicago, having these two back together might spark Panarin.