In today's NHL rumors rundown, Mike Babock may have already stepped into trouble as head coach of the Columbus Blue Jackets. A story of questionable conduct has already surfaced there, but, as of yet, there is nothing official from the team on the matter. Meanwhile, Clayton Keller shoots down rumors he demanded a trade or has any knowledge of him being discussed in a deal to Toronto. The Boston Bruins might have their sights set on a Tampa Bay veteran, and the St. Louis Blues might have just lost Torey Krug for part of the season.
Mike Babcock Already in Hot Water with Blue Jackets?
Newly appointed head coach Mike Babcock has landed in the spotlight for all the wrong reasons in Columbus. Despite a previous tarnished reputation, he was granted a second chance by the Columbus Blue Jackets for the 2023-24 season. Even before the season's commencement, unsettling reports are emerging about his conduct.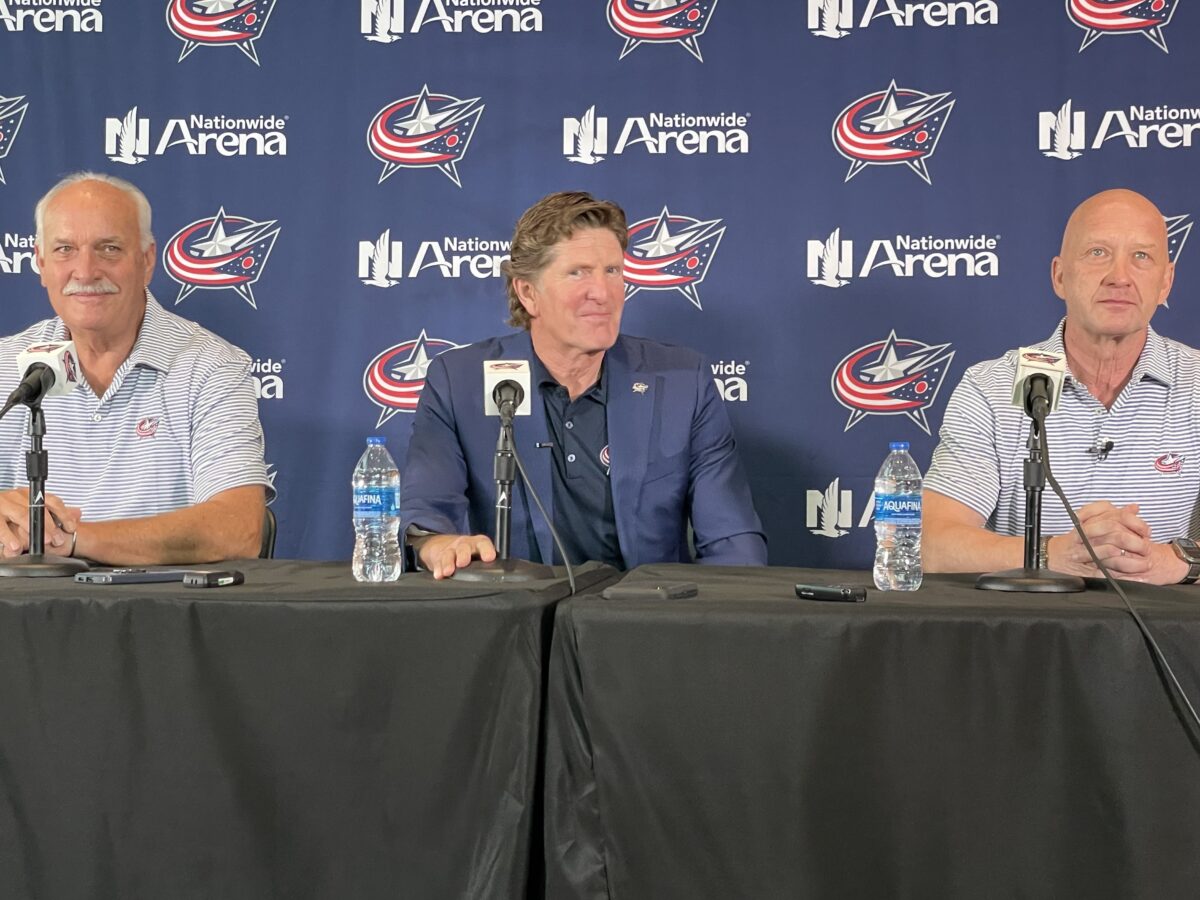 On a recent Spittin' Chiclets podcast, allegations surfaced regarding Babcock's behavior within the Blue Jackets organization. According to sources, a concerned player contacted Paul Bissonnette, asking if he had heard about the brewing controversy. The story suggests that Babcock summoned Boone Jenner to his office, demanding access to the captain's cell phone to scrutinize his personal photos in an attempt to assess his character.
Sign up for our Daily NHL News & Rumors Substack newsletter

Aaron Portzline, a reporter for The Athletic, quickly addressed the situation on Twitter, revealing that the Blue Jackets were investigating the allegations without an official response. Babcock and Jenner remained silent in response to interview requests. Bissonnette later confirmed the accuracy of the allegations on social media, further fueling the controversy.
Keller Denies Trade Request, No Knowledge of a Deal to Toronto
In May 2023, hockey insider Elliotte Friedman made a significant revelation during an episode of "32 Thoughts: The Podcast." He disclosed that Clayton Keller's agents had held discussions with the Arizona Coyotes regarding the franchise's future direction. The team had been grappling with issues like poor attendance, competitiveness, and no clear path to a new arena. Rumors began circulating that Keller might consider requesting a trade.
---
Latest News & Highlight
---
However, during an on-ice conversation with PHNX Sports, Keller responded to inquiries about trade demands and the rumor that he might have been discussed in a deal that would send him to Toronto for William Nylander. Keller responded with a chuckle and clarified, "No, that's not true. I'm solely focused on my game and our team here. I genuinely love this group of guys, and this is where I want to be right now."
Would the Bruins Look at Steven Stamkos If He Shakes Free From Tampa Bay?
Kevin Paul Dupont, a writer for the Boston Globe, has raised an intriguing question about Steven Stamkos' future with the Tampa Bay Lightning. He suggests that it might be premature to speculate on Stamkos's post-contract plans but raises the possibility of the star player exploring free agency. This prospect could make Tampa Bay fans uneasy, especially after losing veteran player Alex Killorn to the Anaheim Ducks.
Related: 6 NHL Teams That Got Worse During 2023 Offseason
Dupont articulates in his piece:
"If Stamkos decides to test free agency waters, there would be considerable interest from numerous teams, including the Boston Bruins. Like Patrice Bergeron and David Krejci, Stamkos is a right-shot center who showcased his skills with a career-high 106 points just two seasons ago. While he has logged significant ice time over the years, he remains a valuable and elite contributor who could maintain his performance level for another 3-4 years."

source – 'Catching up with Morgan Geekie, who is excited for his first Bruins training camp' – Kevin Dupont – Boston Globe – 09/09/2023
This contemplation adds an element of uncertainty to Stamkos's future with the Lightning, even though the consensus thinking is that he probably has no desire to leave Tampa Bay.
Torey Krug Injured Training for Season
St. Louis Blues President of Hockey Operations and General Manager, Doug Armstrong, delivered disappointing news today. Key defenseman Torey Krug, crucial to the Blues' lineup, has suffered a right-foot injury during preparations for the 2023-24 NHL season. This announcement raises uncertainties as Krug plays a significant role in the team's defense, with lingering questions about potential trade discussions left unanswered.