The St. Louis Blues have announced that defenseman Torey Krug sustained a right foot injury while training for the upcoming season. He is scheduled to be re-evaluated on Oct. 1, according to Blues general manager (GM) Doug Armstrong. This is tough news for Krug as he was set to enter this season with a rebound campaign on his mind, but that will be delayed for the time being.
While I don't want to speculate on what the overall timeline could be for Krug, it seems like he will miss some time after being re-evaluated just a week or so before the season begins. He's been a somewhat controversial figure amongst Blues fans over the past few months with his refusal to waive his no-trade clause to go to the Philadelphia Flyers in the original Kevin Hayes trade, but I believe Krug was well within his rights to not waive his no-trade clause. With this injury comes more opportunity for defenseman Scott Perunovich.
Krug & Perunovich Have Similar Skillsets
Both Krug and Perunovich play a similar style as they are both undersized, puck-moving defensemen. Those two were likely to enter the season as the quarterbacks of both power play units, but now Perunovich should have the opportunity to run the top unit with Krug sidelined.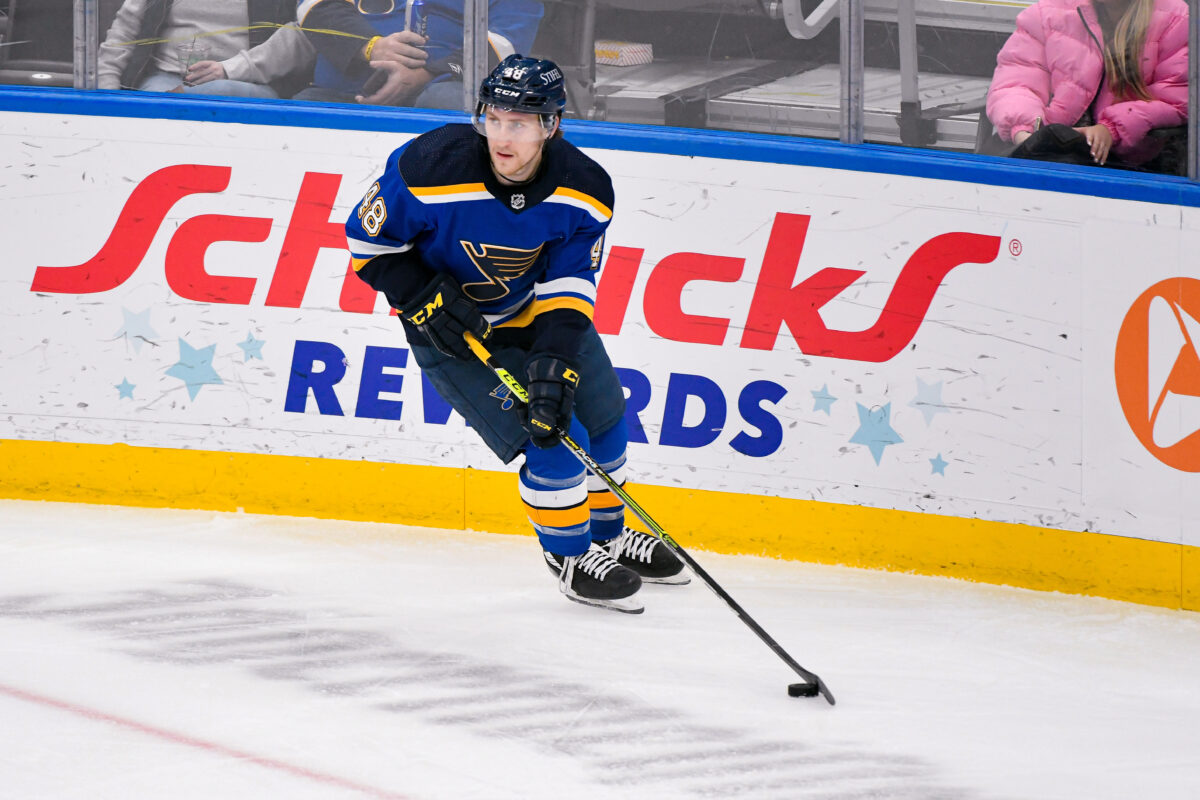 In limited NHL minutes, Perunovich has shown his vast offensive skillset with elite vision and puck skills. Similarly to Krug, he has also struggled to stay on the ice. In 2022, Perunovich underwent two surgeries with wrist surgery in March and shoulder surgery in October. He hasn't been on the ice for the Blues since the 2022 playoffs, but he looked solid in those efforts. However, his production in both college and the American Hockey League (AHL) shows that he's too good for those levels. Krug's career-high in points came in 2017-18 with the Boston Bruins, where he scored 59 points. If Perunovich can reach 35 to 40 assists this season, that would be more than ideal and could indicate a breakout season.
Perunovich Could Finally Break Out This Season
In his time with the Blues, fans have been waiting for Perunovich to break out and become one of the best puck-moving defensemen in the league. That hasn't happened yet, but there have been flashes of things to come. In 2021-22, he had six assists in 19 games with the Blues and four assists in seven playoff games. With the Krug injury, Blues head coach Craig Berube and his staff must trust Perunovich to play big minutes. It's going to help him grow and it would be difficult for his defensive numbers to be worse than Krug's. They have almost nothing to lose by replacing Krug with Perunovich, which seemed like their plan all along after they tried to trade him this summer.
Related: 5 Player Predictions for 2023-24 Blues
---
Latest News & Highlight
---
A breakout season for Perunovich would require him to both stay healthy and put points on the board. He played under 16 minutes of ice time in his 19 games throughout the 2021-22 season. He will have to get more ice time this season and that comes down to trust from Berube. While other left-handed defensemen like Calle Rosen and Tyler Tucker could get opportunities with Krug out, the main priority should be giving Perunovich the keys to the power play.
Overall, the Krug injury is tough for him, but the Blues need to use it as a chance to let Perunovich loose. I anticipate Krug returns to the ice sometime before the end of the calendar year, but his role remains to be seen based on how Perunovich and others perform. Don't be surprised if Perunovich finally produces and breaks out this season.