St. Louis Blues fans have a lot of angst towards Torey Krug right now. After three less-than-stellar seasons in the Gateway City, Krug used his no-trade clause (NTC) to prevent a rumored blockbuster deal to the Philadelphia Flyers. Krug, who is entering the fourth season of a seven-year, $45.5 million contract signed with the Blues shortly before Alex Pietrangelo's departure in 2020, has become something of a lightning rod for criticism in his tenure. And now, after blocking the deal, he is likely to be in the fans' crosshairs all the more.

But everyone, from the front office to Krug himself and especially the fans, should hope for a rebound season. Whether he plays out his contract here or is traded in a later move that he'll accept, a rebound is the only way for a positive solution to this situation for all parties involved.
Forgetting Krug's Refusal
First and foremost, Blues fans must move on from Krug's refusal to accept a trade. The Blues' defense is a tangled mess of bad contracts, and Krug's is only one piece of the puzzle. Meanwhile, the rumored trade would have brought back Travis Sanheim. While fans might believe he's younger and better than Krug, he is entering the first season of an eight-year, $50 million extension he signed at the start of last season. The Blues would have been adding a lot of salary and term to a defense that already has too much of both — there's no guarantee that the trade Krug prevented would have been a good one for St. Louis.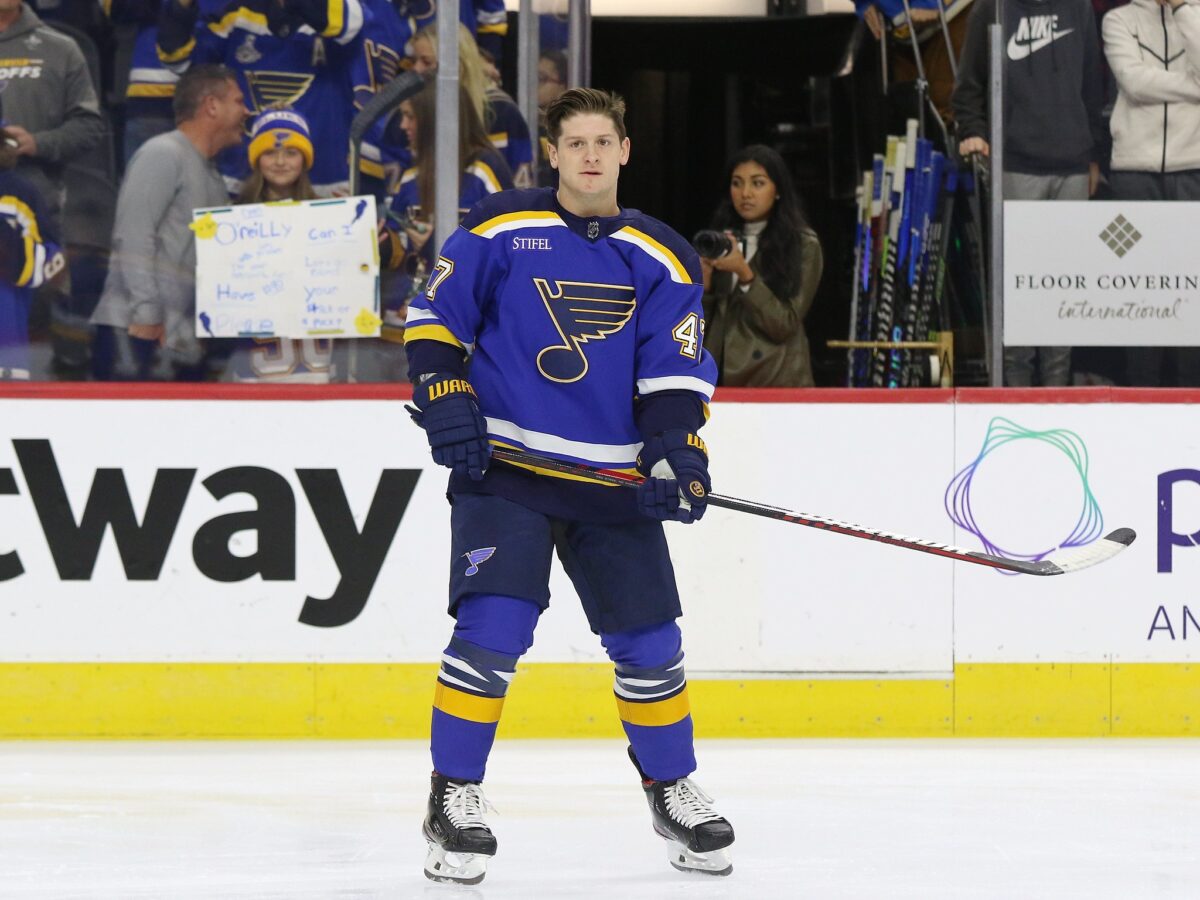 But beyond that, Krug is entirely within his right to use the no-trade clause general manager Doug Armstrong gave him. And while it may irk some fans who wanted to be rid of him, there might be a positive side to it as well. It could signal that Krug is happy in St. Louis or that he believes in the future of the organization. In either case, what's done is done, and now it's time to move on. Because the 2023-24 season is pivotal for the organization.
Krug's Future Depends on This Season
It's tough to overstate how important this season is for the organization. Krug is not the only player desperately in need of a comeback: pretty much everyone else on defense needs to take a big step forward, too. Colton Parayko, Justin Faulk, and Nick Leddy are all coming off bad seasons, and the goaltending picture is cloudy at best. But after all the rumors in the offseason, with Scott Perunovich hopefully healthy and on the rise, Krug's situation is especially precarious.
Related: Blues Need Parayko to Bounce Back in 2023-24
---
Latest News & Highlight
---
What does a successful season look like for Krug? His advanced stats over the last three seasons don't indicate a significant decline in his overall output: he remains a plus offensive-defenseman who excels on the power play and struggles in his own end. The biggest mark of success for Krug will be whether he can stay healthy and contribute on the scoreboard. He hasn't played more than 64 games in any of his three seasons with the Blues, and after finishing his time with the Boston Bruins averaging 53 points over his last four seasons, he hasn't climbed above 43 in St. Louis.
Last season, the Blues' power play ranked 11th-worst in the league with a success percentage of 19.3. Head coach Craig Berube has not consistently relied on Krug to be the power play quarterback — puzzling given his history and player profile (he once told the press, "special teams wins you hockey games"). If Krug can revive the power play, stay healthy, and set a new high in points with the Blues, he'll have a successful season. The questions about his future from there will have to be answered at another date.
A Fresh Start for Everyone
There will be some fans who will scapegoat Krug for all the team's struggles going forward. But he deserves a fresh start. Last season was one everyone in St. Louis would rather forget. Holding a grudge now does no one any good. The best outcome for everyone, for Krug and the rest of the roster, is a massive bounce back in 2023-24.