The shootout has lost its flare. There, I said it.
I have watched too many great games be decided by a shootout when they could have easily been solved by additional overtime minutes. When the shootout was introduced in 2005, it added a skill element that the game previously lacked.
Whether it was Pavel Datsyuk's magic hands, Sidney Crosby popping the water bottle in his first game, or Marek Malik going between his legs, the shootout has undeniably had some magnificent moments. It was fun for a while, but the charm of deciding games one-on-one has run out.
Ten years after introducing the shootout, the NHL altered their overtime (OT) format yet again, to a five-minute 3-on-3 period. Not only has the 3-on-3 led to some terrific and exhilarating hockey since its debut in 2015, but it has made our desire for the shootout obsolete.
I am calling for the NHL to increase the 3-on-3 to 10 minutes, allowing for significantly more games to be determined by gameplay rather than a one-on-one situation. The NHL's current point system uses regulation and overtime wins or ROW as a tiebreaker, which practically renders a win in the shootout as secondary as an undesired result.
Changing the point system would also make a significant amount of sense, with three points for a regulation win, two for an overtime win, and one for an overtime loss. But the easiest way for the NHL to increase excitement while avoiding the shootout is by increasing the length of overtime.
Benefits of Extending 3-on-3
Star Power
Overtime, particularly 3-on-3 overtime, allows fans to witness the best players from both sides show off their unbelievable talent with an exorbitant amount of open ice. We have watched the NHL's greatest players tantalize us during the extra frame since 2015.
Exhibit A: Crosby undressed the Edmonton Oilers defense during an overtime win in 2018. There's no telling what the league's elite will do when given time and space, forcing all eyes to stay peeled on the television screen or ice surface.
Stars will forever be the game's biggest draw, and no stage allows them to showcase their talent like the 3-on-3 OT. Extending it to 10 minutes almost ensures that one of these players will make a play that seals the OT victory.
Wins Decided By Game Outcomes
Part of the disdain for the shootout is that games are determined by what is essentially a skills competition. Yes, I just raved about the skills on display during the 3-on-3 OT and how great it is to grow the game, but that skill is contained in real game situations.
The shootout result does not take into account the team's play, and some teams carry specialists who seemingly score at will in the shootout. Then, there is the opposite end of that spectrum: goaltenders who dominate all facets of the game besides the shootout, such as Robin Lehner.
Lehner, a Vezina Trophy finalist for the NHL's best goaltender, has a .515 career save percentage in the shootout. Listen to him discuss how ridiculously unfair the shootout is, especially for a goaltender who has the 15th highest career save percentage in NHL history at .918:
The sad part is, he is not wrong, and the NHL has the ability to extend 3-on-3 and produce more wins through actual gameplay, which should please players and fans. We can all recall a game that was tied late in the third when both teams sat back and graciously accepted the one point rewarded for reaching OT.
Imagine a scenario where a third point is on the line for a regulation win. Those same teams would attack up to the buzzer!
More Skill and Excitement
In a day and age when professional sports are criticized for not exciting their fanbase enough, the extended 3-on-3 overtime is a formula for exhilarating offensive-minded hockey. The open ice leads to a plethora of grade-a scoring chances when a near-miss at one end leads to a glorious scoring chance at the other.
Watching 3-on-3 OT, your heart beats exorbitantly fast. I vividly recall a New York Rangers-Pittsburgh Penguins matchup when Henrik Lundqvist stopped both Crosby and Kris Letang on breakaways in OT, and the former attempt led to a miraculous chance at the other end.
Unfortunately, five-minutes of OT wasn't enough, and that game was forced into the shootout. Had there been an additional five minutes of 3-on-3, not only would the fans have been treated to some amazing hockey, but someone surely would have scored.
In most overtime games now, teams that fail to capitalize on their opportunity watch as the opposition goes in on an odd-man rush on their netminder. It is fast-paced and great to watch, and the NHL should give us more of it.
The Downfall of Extending OT
Health is paramount for success in sports, but healthy athletes are essential in the NHL. The league's main source of revenue is gate receipts (in a COVID-free world), and healthy stars will draw hordes of fans to the arena each night.
By extending 3-on-3 to 10 minutes, yes, you are forcing star players to exert more energy, which could increase injuries or deterioration as a full, 82-game season progresses. Wear and tear will be evident regardless of an extended OT or not, but the additional 3-on-3 minutes will speed up that process.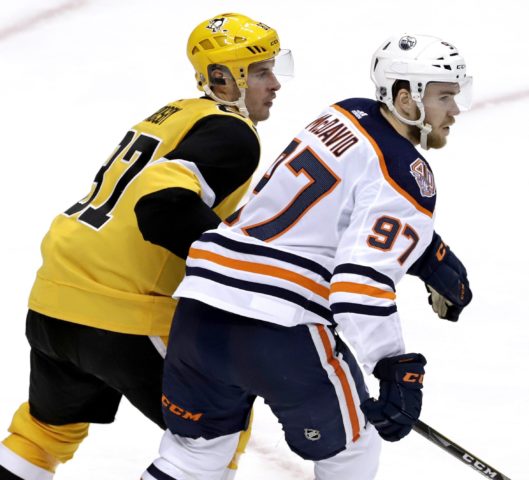 But, if that was the paramount concern, wouldn't the league do away with overtime and re-institute the tie? Since that does not seem like an option, the best way to avoid getting to the shootout is to extend the current OT period from five to 10 minutes, or even two five-minute periods.
This would phase out the shootout, which would, hopefully, become a safety valve if a game remained undecided in the OT time. Sure, staggering the point totals will help the issue as well, but for the NHL's ratings and revenue to continue to trend upward, the 3-on-3 OT should be extended to 10 minutes.
---
---