Prior to the 2021-22 season beginning, I put lists together on the top 10 players for each position, as well as coaches. It goes without saying that it is a very tough list to do given how subjective it is, but nevertheless I am here to do it once again.
Related: NHL's Top 10 Goalies for 2021-22: Midseason Update
With the 2021-22 season now half way through, there are some players who have lived up to their rankings, some who have dropped off, and some who have forced their way on with great play. With that being said, here are the top 10 centers for the first half of the season.
10. Mika Zibanejad
From his lofty standards, Zibanejad got off to somewhat of a slow start with the New York Rangers, but has picked things up as of late and currently sits with 13th in league scoring with 49 points through 47 games. The Rangers have turned into one of the leagues best teams in 2021-22, and the 28-year-old Swede is a big reason why.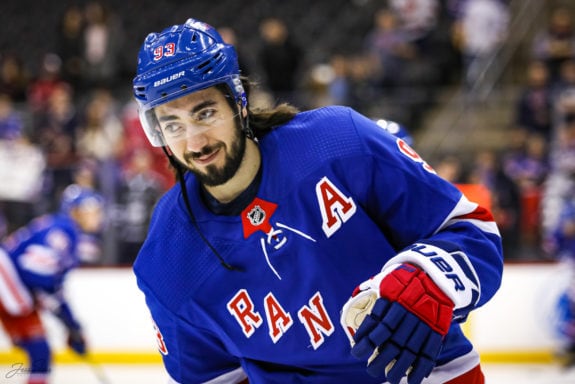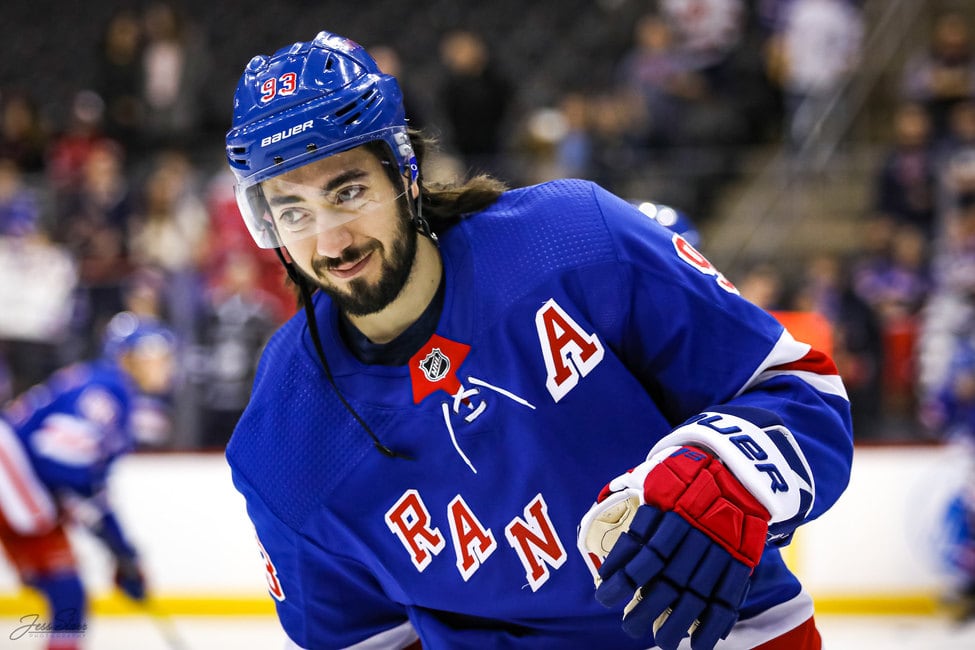 Zibanejad's playmaking abilities have been on display this season, as he has helped Chris Kreider already score a career high 33 goals with nearly half a season remaining. Though he still remains somewhat underrated throughout the league, that will soon change if the Rangers continue to dominate through the second half of the season.
9. Evgeny Kuznetsov
After two straight disappointing seasons, some questioned if Kuznetsov's time with the Capitals was coming to an end. Despite management reportedly being frustrated with him, they chose to give him another shot and it has paid off in a big way.

With Nicklas Backstrom being forced to miss the first two and a half months of the season, Kuznetsov stepped up as the team's number one centerman and is still going strong with 46 points through 45 games. His great play has had a lot to do with the incredible season we are seeing from Alex Ovechkin, and it appears he is back to being one of the games premier players as he was just a few short years ago.
8. Sebastian Aho
You'd think being the top line center on arguably the best team in the entire NHL would get you quite a bit of recognition, but that isn't the case for Carolina Hurricanes' Sebastian Aho. The 24-year-old has quietly become one of the games better 200-foot players over the past five seasons, but rarely gets brought up when discussing the NHL's elite talents.
Through 41 games this season, Aho has managed 19 goals and 46 points, both of which lead the Canes. If he stays healthy, he has a chance to crack both his career high in goals (38) and points (83), though you can bet he cares much more about leading his team on a deep playoff run this year.
7. Sidney Crosby
Without Sidney Crosby in the lineup to start the season, the Pittsburgh Penguins were sluggish and did not have the look of a playoff team. The same could be said when Crosby first returned, as they continued to sit well shy of a playoff position. That, however, has changed in a big way over the last two months.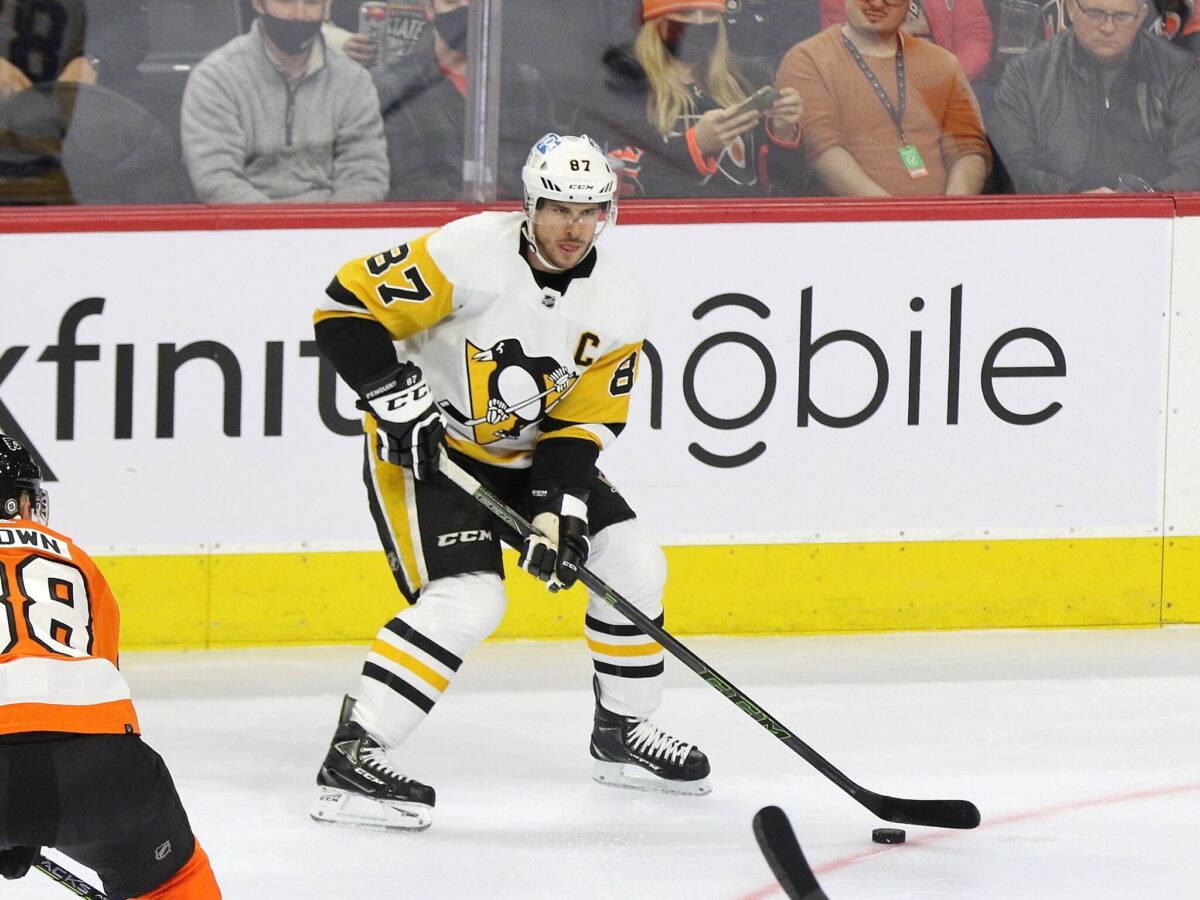 After taking some time to get back into his groove, Crosby has been excellent as of late, recording multi-point outings in five of his last eight contests, and he now has 41 in 35 games on the season. Had he not been forced to miss so much time, it is likely he would be higher up on this list, and it wouldn't surprise anyone if he is one of, if not the best centermen in the NHL for the second half of the season.
6. Aleksander Barkov
Like Crosby, Barkov has been limited to just 34 games due to injury. When he has been in the lineup, he has been flat out incredible, and is already up to 21 goals after putting up 26 all of last season. On top of that, he is continuing to be his great defensive self, and could very well win his second straight Selke Trophy once the season is complete.
This season, the Florida Panthers have turned into an offensive juggernaut, as they currently sit with a league best 192 goals and are averaging over four a game. Barkov is obviously a huge part of that, and deserves a ton of credit for both Anthony Duclair and Jonathan Huberdeau having the best seasons of their careers. This team is talented enough to win a Stanley Cup this year, and if they are able to do so Barkov will start being talked about more often, which he deserves.
5. Nathan MacKinnon
It has been a bit of a frustrating 2021-22 campaign for MacKinnon, who missed roughly three weeks earlier this season with a lower-body injury and is currently out with a concussion and facial fracture after taking a massive hit from Boston Bruins forward Taylor Hall in late January.
When MacKinnon has played, he has been his usual excellent self with 43 points in 31 games. His nine goals are less than one would expect, but it doesn't matter a whole lot when he is setting up as many as he has this season.
4. Auston Matthews
While he didn't start the season off as hot as he did in 2020-21, Auston Matthews' 31 goals rank just two shy of the league lead despite the fact he has only suited up for 40 games. The 24-year-old has turned into arguably the best goal scorer in the NHL, and will continue to remain in the Rocket Richard Trophy race for the remainder of the season.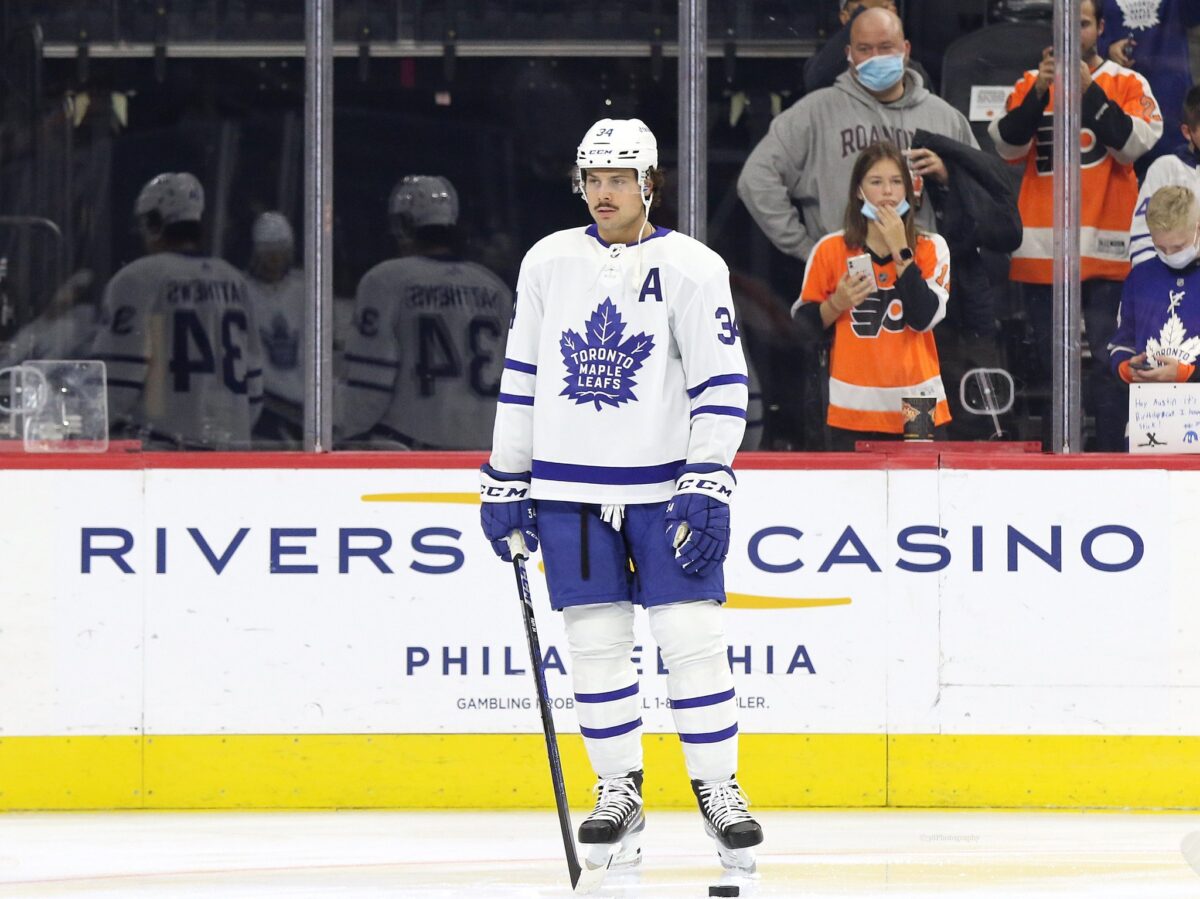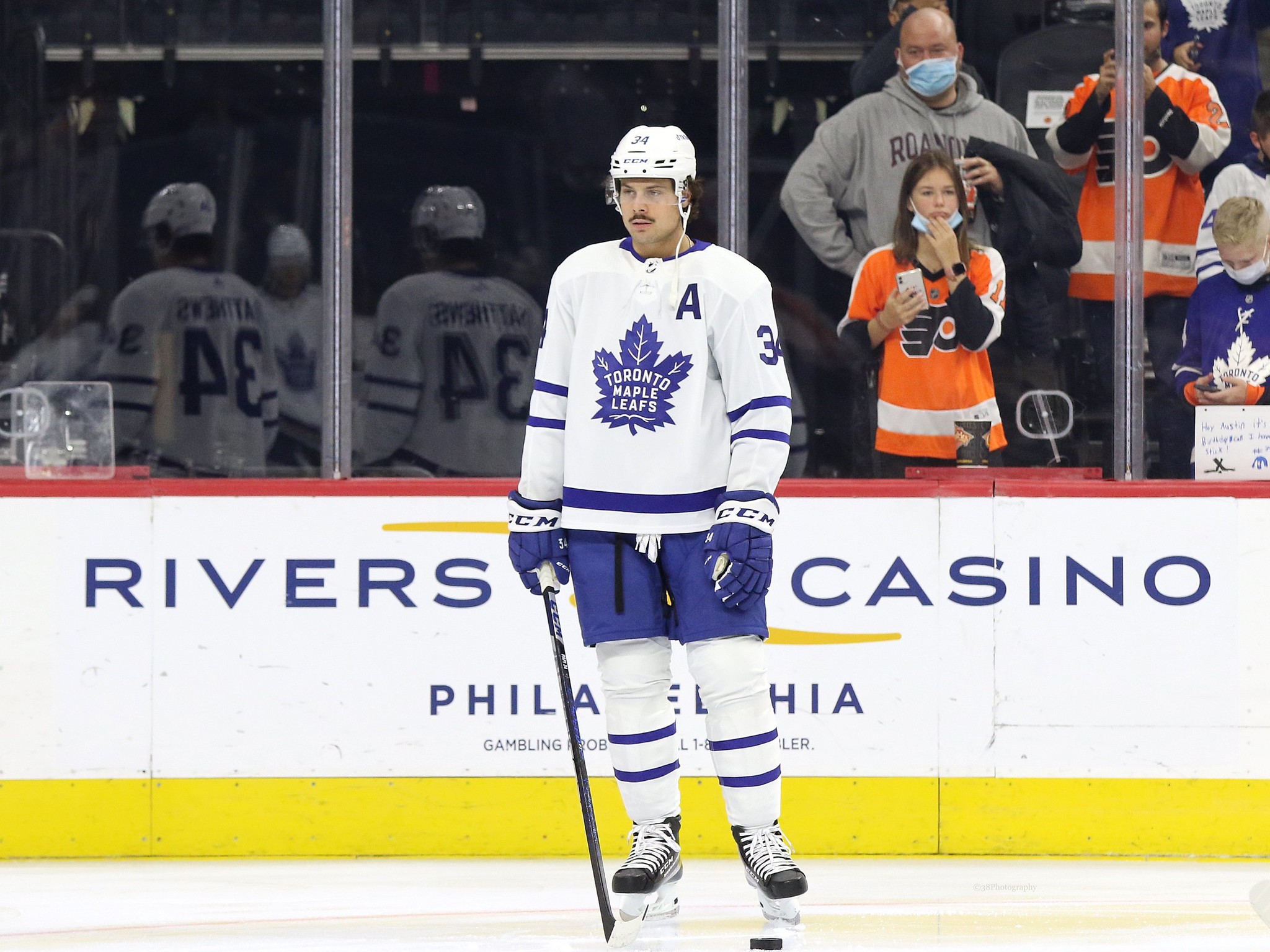 Heading into 2021-22, Matthews had nothing to prove in terms of regular season play. After winning the Rocket Richard last year, everyone knows just how talented of a player he is. However, until he is able to have some success in the playoffs, some will continue to doubt him. He has a chance to silence many of those individuals this spring.
3. Connor McDavid
Make no mistake; Connor McDavid is the best player in the NHL. Through the first quarter of the 2021-22 season, he was having the best season of any player. However, the 25-year-old phenom has struggled by his standards as of late, recording just eight points in his past 11 games.
Everyone knows that this slump won't last much longer, as McDavid has proven over his seven seasons in the league that he is too good to be slowed down. He will need to snap out of it soon, however, as his Edmonton Oilers are currently on the outside looking in when it comes to the playoff picture.
2. Nazem Kadri
Who in their right mind would have expected Nazem Kadri to be the second best center in the league at the midway point of the 2021-22 season? The 31-year-old has always been regarded as a solid two-way player capable of putting up 50-60 points a season, but in 2021-22 he is already at the 60-point mark through just 41 games.
With MacKinnon having to miss plenty of time this season due to a number of injuries, Kadri has stepped up in a big way for this Avalanche team and has been the MVP of a team who has a 32-8-4 record. Barring injury he will smash his career high in points and with 19 goals has a great chance at breaking his career best 32. Even better for Kadri is that this great season is coming during a contract year, and he is raising the value of his next deal every day.
1. Leon Draisaitl
Though Draisaitl's power play production has dipped in recent months, he is still putting up big numbers at even strength and as a result finds himself tied for first in both the goals and points department. His 33 tallies are tied for first place with Kreider, while his 64 points is number one alongside Huberdeau.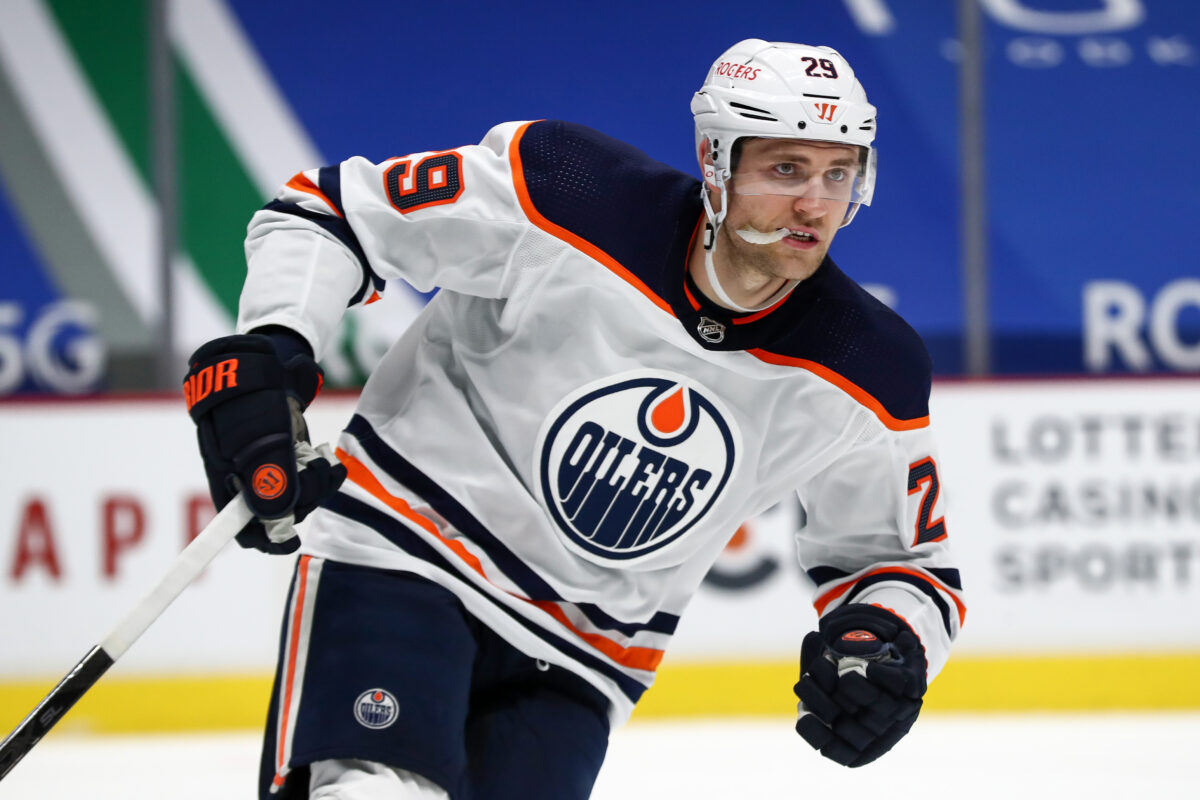 If the Oilers power play is able to get back to being anywhere near as successful as it was through the first quarter of the season, Draisaitl should be rivaled by only his teammate in McDavid for the Art Ross race, and will have a very good shot at winning his first ever Rocket Richard. Even without that dangerous man advantage however, he remains one of the games best offensive talents, and has been the NHL's best centerman through the first half of the 2021-22 season.
Plenty of Season to Go
While some names on this list are the same as they were prior to the season, there are some new ones as well, proving just how much parody there is in today's NHL. By the end 2021-22, it is likely this list will once again need revamping, though which players may fall off or be added on remains unknown.
Colton Pankiw is a former Jr. A hockey player who now provides his knowledge of the game through writing. He's been a very active and reliable source for nearly two years at The Hockey Writers. He is a credentialed writer for the Calgary Flames but also does features on other teams throughout the league. Other writing contributions include: Yahoo Sports, Las Vegas Chronicle, Oil On Whyte, and Markerzone.com. Colton is also a co-host of both Oilers Overtime and Flames Faceoff podcasts. Any interview requests or content info can be made through him on Twitter. Take a look at his work here.