Junior hockey leagues are always looking to find ways to improve the safety and environment for its players. On Tuesday, the Ontario Hockey League made a major announcement to help enhance this effort.
At its Annual Meeting of the Board of Governors, the OHL approved three new partnerships that will help enhance the player environment in the areas of health, safety, communication and education.
"On behalf of the Ontario Hockey League I commend the leadership of our Board of Governors, Athletic Trainers, and Academic Advisors who continually strive to make the OHL the best development league for players on and off the ice," said OHL Commissioner David Branch. "We look forward to working with our partners and utilizing their services to make the OHL a safe and positive environment for players to succeed."
These partnerships, which include Privit, Athlex and GradeSlam, will help players, coaches, staff, billet families and parents deal with the biggest issues in a player's environment.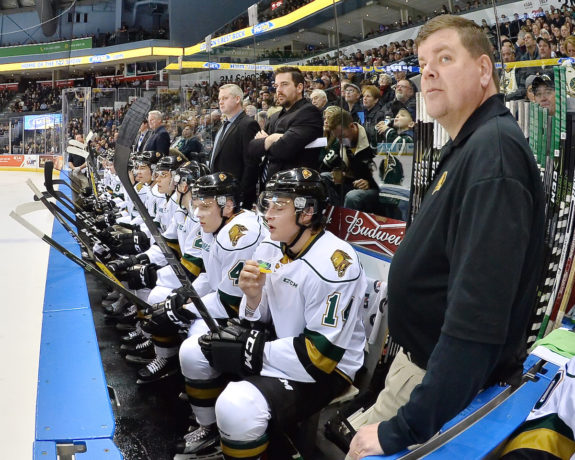 Privit
Based upon a recommendation by the league's Athletic Trainers Committee, all 20 OHL member clubs will implement the Privit Profile for the 2017-18 season.  The Privit Profile is a digital solution for distributing, managing, and analyzing health and data for athletes.  Its patented, cloud-based platform is PIPEDA & HIPPA compliant, and will better manage the personal health of each player assisting teams to respond quickly and correctly to medical issues.
Privit can help teams do a variety of things they couldn't do before. For example, the Privit profile allows coaches to have emergency information at their fingertips, allowing them to contact athletes and parents if anything arises in a moment's notice.
Privit also helps the athletic trainer better take care of their athletes. They can make real-time updates to an athlete's profile, which includes the ability to document injuries, notes and photos on the fly.
For more information on Privit, you can visit their website here.
Athlex
An emerging leader of communication software for elite sports organizations, the OHL will leverage Athlex mobile technology as part of a CHL wide partnership, to significantly improve communication methods with its members including players, coaches, staff, billet families, and parents.  The league may use Athlex to distribute important information to its members while teams share the opportunity to improve their internal operations by centralizing its communication, scheduling, and information, directly on their members' mobile devices.
Athlex uses a private platform that allows teams to have a central hub where it is easy to send messages in real-time to a particular group or individually, share files and videos, see the team's upcoming activities and store important information on the users profiles.
For more information on Athlex, you can visit their website here.
GradeSlam
Based upon a recommendation by the league's Academic Advisors Committee, the OHL has introduced GradeSlam as a tool for all student athletes.  GradeSlam powers personalized learning by providing students with 24/7 access to a private tutor for any subject, any time, through the chat-based service.  The platform gives teachers insights on which students seek help, the specific topics they struggle with, and how students can improve.  The service is customized according to the individual needs of every school.
https://www.youtube.com/watch?v=QeI1h1E-w5c
GradeSlam uses an instant messaging network that allows students to seek help in areas they don't understand in a confidential environment. In other words, help is always available at the stroke of a couple of keys on the computer. This encourages increased student engagement both inside and outside the classroom.
For more information about GradeSlam, you can visit their website here.
In addition to the new league partners, adopted Notices of Motion from the August meetings include updates to the league's Anaphylactic Policy through improved communication and training of team staff in dealing with life threatening allergies.  In the area of concussion protocol, the league shall amend its current policy to adopt the recently updated SCAT 5 concussion assessment tool. The league continues to crack down on illegal hits especially head shots.
OHL Training Camps are underway with the first set of games scheduled for Friday Sep 1, highlighted by the six-team OHL Showcase in Buffalo.
I am a fully credentialed writer who covers the Columbus Blue Jackets, Cleveland Monsters and Erie Otters as well as the Ontario Hockey League and NHL Draft. The 2021-22 season will mark eight seasons with the Hockey Writers. I am also the site's Credentials Manager.