With hockey season fast approaching, the London Knights got back to the grind on Tuesday for the start of their 2017-18 training camp.
Coming off a short playoff, in which they defeated the eventual Memorial Cup winning Windsor Spitfires in seven games only to lose to the OHL Champion Erie Otters in another seven-game series, the Knights got back to the ice with quite a few new faces looking to make an impression as team management looked on.
Divided into four mini teams, the invitees played a morning and afternoon scrimmage. As such, those in attendance were treated to a little bit of everything on the opening day of camp. From goal scoring to those using a physical element as part of their audition, the fans in London, Ontario, have a lot to look forward to as management look to set their opening night roster.
Veterans Demanding Respect
Coming into camp, there are 20 players spread across the four teams that played at least one game with the Knights in 2016-17. While some of them might not be guaranteed a spot on the club's opening night roster, there's a number of them that will be there when the puck drops to kick off the 2017-18 season.
Of the 20 players, 14 of them were mainstays in the Knights' lineup last season. That leaves little room for the new faces to squeeze in amongst them. And on Tuesday, the veterans of the OHL's Knights weren't making it easy on their prospective teammates during the scrimmages.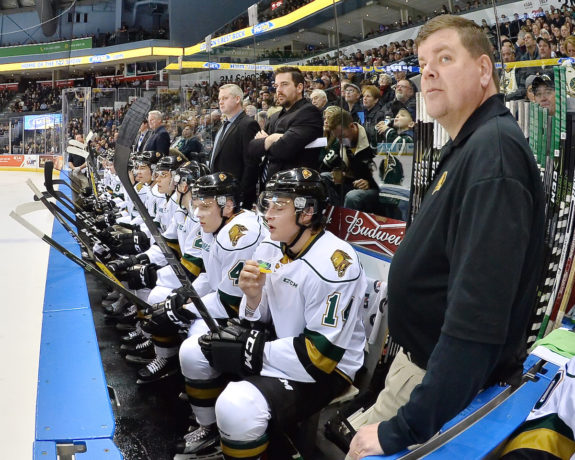 Sam Miletic, who led the team with 37 goals last season, picked up where he left off scoring on two individual efforts during the afternoon scrimmage. The goals came on some accurate wrist shots former Flint Firebird Connor Hicks who looked shaky in the afternoon session.
While Miletic was filling the net, other veterans got into the mix – in a more physical way. Cliff Pu filled some of the younger players in on how it works in London with a couple of face-to-face meetings with both Wil Murray and Lucas Rowe. While Cole Tymkin – who had 71 penalty minutes in 45 games last season – dropped the mitts with newcomer Ian McKinnon in what ended up being a spirited affair.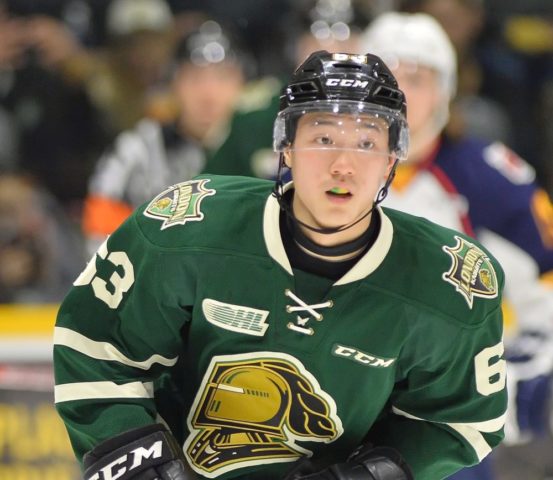 While the veterans set the tone on the first day, there was a number of new faces that also left their mark in the first two scrimmages.
New Faces Looking to Be Knighted
While he isn't exactly new to the Knights, Jordan Kooy looked poised and ready to take on a full-time gig with the club this coming season. The 17-year-old goalie didn't allow a single goal in his morning scrimmage and came up with some big saves standing tall in his net.
He played at the edge of his crease cutting off angles and making himself look much bigger than his six-foot-one stature would suggest.
Jason Stachelbeck also made himself known to management – netting a couple goals in the morning scrimmage for Team Green. He left a mark on a few of his opponents throughout the scrimmages as well as he added a physical component to his game early on.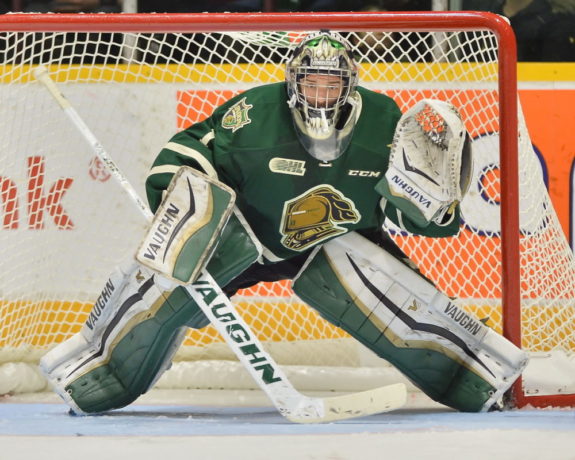 Stachelbeck spent last season with the Guelph Hurricanes of the GOJHL where he notched 13 goals and 26 points in 48 games, as well as 46 penalty minutes over that span.
But like all of the players who skated on the first day of training camp, Stachelbeck is among a group of young players who hope to leave a lasting impression on management – enough to get a chance to play for the storied OHL franchise.
And in case anyone forgot how well the Knights groom their players for future success, some of their alumni took to the ice midday for a full practice in front of the young future London stars.
Knights' Alumni Take to the Ice
As an intermission to their scrimmages, the Knights opened up the ice at Budweiser Gardens to a number of their former players.
Some are currently overseas or in the American Hockey League (AHL), but others that took to the ice donned the colours of their current NHL clubs.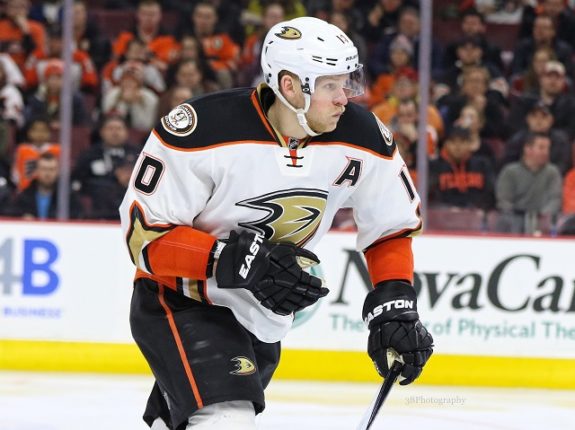 Among them were Corey Perry, Nazem Kadri, Olli Maatta, Dylan DeMelo and former London Jr. Knights defenceman Drew Doughty.
The players took part in some full practice drills before setting up a four-on-four scrimmage of their own. The team will open the ice again on Wednesday to former players around midday for another alumni skate and scrimmage before camp closes on Thursday.
Quick Hits From Day 1
Max Jones was not present for the first day of camp. The Knights' forward – who racked up 36 points in 33 regular season games last season – suffered an injury while at Team USA's World Junior Summer Showcase. He will also take part in training camp with the Anaheim Ducks and likely won't be back with the Knights until the big club decides on the 19-year-old's future.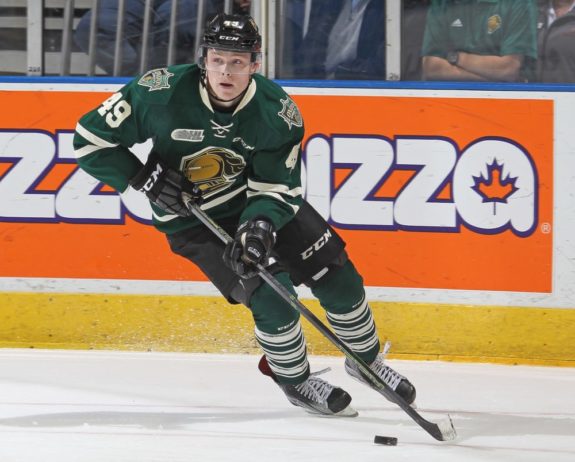 Victor Mete took to the ice donning a Knights emblem on his jersey. But, for those Montreal Canadiens fans, he was sporting his blue helmet and his red, white and blue gloves. The 19-year-old defenceman is a fourth-round pick (100th overall) for the Canadiens from the 2016 NHL Entry Draft.
The Knights have a number of goaltenders, but Tyler Johnson and Kooy could be the two to beat thus far. Johnson posted a 12-6-0 record last year for the Knights in 26 games with a 3.25 goals against average and .900 save percentage. Kooy finished with an 8-2-0 record in 11 games for the Knights posting a 2.45 goals against and .927 save percentage.
Stay tuned for more from Knights camp as the countdown to the OHL season is on.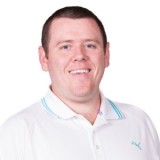 Andrew is in his 8th year reporting for The Hockey Writers covering the Toronto Maple Leafs. He began his broadcasting with CBC's Hockey Night in Canada team as well as being part of their coverage of the 2014 Winter Olympic Games in Sochi. He's the former play-by-play voice of the London Jr. Knights for Rogers TV and currently hosts the Sticks in the 6ix podcast. You can follow him on Twitter at @AndrewGForbes.