With the continued growth of junior hockey coverage here at The Hockey Writers, some of our most tenured OHL writers decided to band together to deliver our readers some power rankings – for at least one of the CHL's leagues for now.
With that in mind, here's how it works. Our team of OHL writers involved in the ranking process each rank the OHL's 20 teams individually. Those rankings are taken into account and from there, we release our final rankings for the week.
The team is made up of myself, Dave Jewell and Matt Wilson – with the hopes that Mark Scheig will be joining us for our next edition of the OHL power rankings. Together we'll look to provide OHL fans with a ranking that will let them know which teams to keep an eye on as their favourite clubs continue their regular season.
Individual Rankings
Here's a look at how our writers broke down the 20 OHL teams in this week's power rankings.
| | | | |
| --- | --- | --- | --- |
| Rank | Forbes | Jewell | Wilson |
| 1 | Sarnia Sting | Barrie Colts | Owen Sound Attack |
| 2 | Owen Sound Attack |  Owen Sound Attack | Sault Ste. Marie Greyhounds |
| 3 | Kitchener Rangers | Sarnia Sting |  Sarnia Sting |
| 4 | Barrie Colts | Peterborough Petes |  Kitchener Rangers |
| 5 | Peterborough Petes |  Sault Ste. Marie Greyhounds |  Peterborough Petes |
| 6 | Sault Ste. Marie Greyhounds |  Kitchener Rangers |  Barrie Colts |
| 7 | Niagara IceDogs | Niagara IceDogs |  Oshawa Generals |
| 8 | Hamilton Bulldogs | Hamilton Bulldogs | Hamilton Bulldogs |
| 9 | Kingston Frontenacs |  Oshawa Generals |  Kingston Frontenacs |
| 10 | Windsor Spitfires | Kingston Frontenacs | Niagara IceDogs |
| 11 | Ottawa 67's |  Windsor Spitfires |  Guelph Storm |
| 12 | Flint Firebirds | London Knights | Flint Firebirds |
| 13 | Oshawa Generals | Ottawa 67's |  Mississauga Steelheads |
| 14 | North Bay Battalion | Flint Firebirds | London Knights |
| 15 | Guelph Storm |  Sudbury Wolves |  Ottawa 67's |
| 16 | Erie Otters |  Guelph Storm |  Windsor Spitfires |
| 17 | Saginaw Spirit |  Erie Otters |  Erie Otters |
| 18 | Sudbury Wolves |  North Bay Battalion |  Saginaw Spirit |
| 19 | London Knights | Mississauga Steelheads | North Bay Battalion |
| 20 | Mississauga Steelheads | Saginaw Spirit | Sudbury Wolves |
---
Related: What Does an OHL Contender Look Like?
---
Final Rankings
20. Saginaw Spirit (2-5-1-0)
A young team, the Spirit have a long way to go. With Damien Giroux and Marcus Crawford leading the way with six points each, Saginaw should use this season as a learning curve.
19. Sudbury Wolves (2-6-2-0)
The Wolves have played 10 games this season – more than most clubs – and still only have two wins to show for it. On the offensive side, Dmitry Sokolov is leading the way, but the team is having its struggles in net with both goaltenders sporting averages over 4.00 to go along with losing records. No doubt the Wolves getting ready for another long winter.
18. Mississauga Steelheads (1-7-0-0)
The Steelheads are one of two teams with just one win so far this season – the London Knights being the other. Following up their OHL Final run from 2016-17, the team and their fans have to be disappointed with this start. Albert Michnac is in his first season with Mississauga and leads the team in scoring (4g-7a), but they still miss Owen Tippett who remains with Florida (NHL).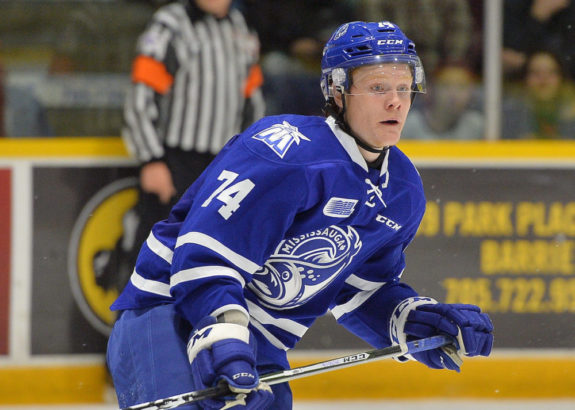 17. North Bay Battalion (3-4-2-0)
They started off hot at 3-0-0, but have since lost six straight with two coming in extra time. So questions surround this team and whether or not their start to the season was just a fluke. After going 0-4 this week, our Matt Wilson has it right – regression to the mean is a cruel mistress.
16. Erie Otters (3-6-1-0)
Coming of a championship season, the Otters lost a number of pieces – including Dylan Strome and Alex DeBrincat. They aren't having trouble scoring, as Kyle Maksimovich leads the team with five goals and 13 points, but they can't seem to keep the puck out of their own net either. Only time will tell whether or not they can outscore their problems.
15. London Knights (1-8-1-0)
There was some disagreement in where the Knights rank amongst the OHL's 20 teams. On paper, they should be better with Cliff Pu, Max Jones and Robert Thomas back in the lineup and Alex Formenton on the way. Or can guys like Victor Mete, Olli Juolevi and Tyler Parsons mean that much to a team that won't have them back this season?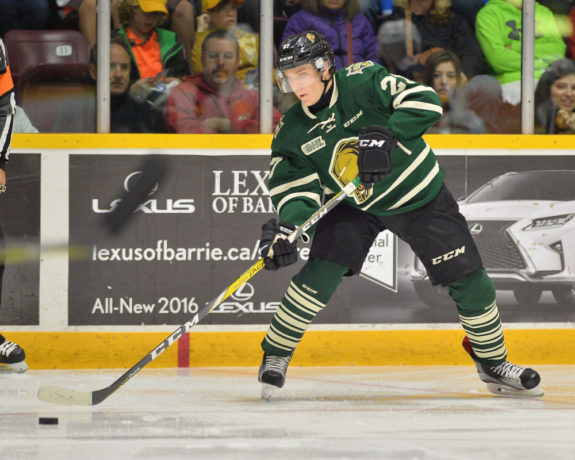 14. Guelph Storm (3-5-0-1)
Ryan Merkley is certainly proving his worth, but what about the rest of the team? Like the Knights, they should be better than their record indicates. Let's see if they can climb out of this early-season hole.
13. Ottawa 67's (6-4-1-0)
A winning record at last. Led by Tye Felhaber, they've been able to get by so far. But they've given up far more goals (54) than they've scored (36) and are one of the highest penalized teams. They've been blown out by both Saginaw and Sudbury which doesn't bode well for the 67's.
12. Flint Firebirds (5-3-1-0)
They're fourth in the West Division – but that could be the toughest division in the league this season. Garrett Forrest has led the way with his 2.90 goals against average and the team seems to be building off of last year's playoff appearance – even if it only lasted five games.
11. Windsor Spitfires (6-3-1-0)
As Wilson says, the season will depend entirely on the play of Michael DiPietro. With him, the Spits could make an incredible run. Without him, they don't stand a chance. The team has scored just 28 goals through 10 games and not many teams win much averaging 2.80 goals per game. The bonus is that DiPietro's 1.82 goals against has held them in every game this season. But how long can that last?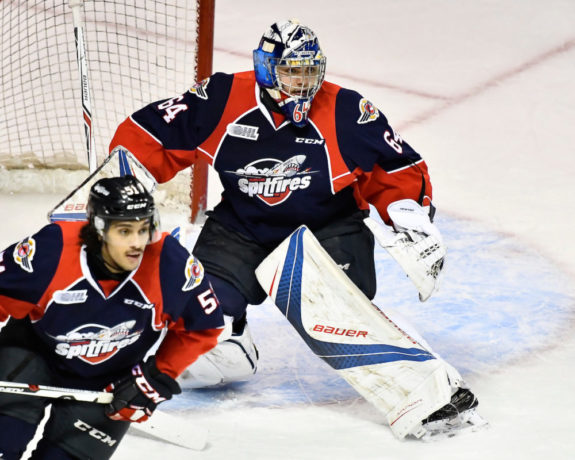 Related: Logan Stanley Making the Most of OHL Demotion
10. Oshawa Generals (4-4-1-0)
They might be a surprise at 10 in this week's rankings, but they have three players in double-digit points through just nine games. While their discipline and defence seems to be their downfalls just now, this team can score. Look for them to tighten up in their own zone and climb the East Division.
9. Kingston Frontenacs (5-2-0-2)
Like Windsor, the Frontenacs aren't going to be the highest scoring team in the OHL this season. The bonus is that both of their goaltenders currently sport goals against averages under 2.75 and have played at least 120 minutes. They were swept in the second round last year by the Petes, but this team could be vying for their third second-round appearance in a row.
8. Hamilton Bulldogs (5-1-1-2)
The Bulldogs could be in for a solid season. Kaden Fulcher is leading the way in net, while Brandon Saigeon and Will Bitten are both averaging a point per game in the first nine games. They haven't reached their full potential yet, but remember it's still early.
7. Niagara IceDogs (6-2-1-0)
If nothing else, this team is intriguing. Akil Thomas seems to be the real deal and leads the way with five goals and 13 points this season. With the Steelheads floundering for air out of the gate, the IceDogs are certainly taking advantage.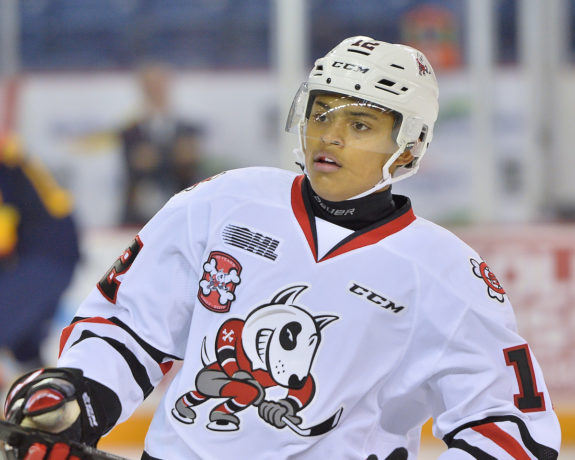 6. Peterborough Petes (7-2-0-1)
They're running away while the rest of the league seems to be admiring the scenery. The Petes have a 6-0-0-1 record in their last seven games and haven't shown signs of slowing down. They're averaging four goals per game and have four players currently averaging over a point per game.
5. Sault Ste. Marie Greyhounds (7-1-2-0)
Boris Katchouk has 10 goals in 10 games to start the season and 14 points overall. Sarnia may be the one team standing in the way of the Greyhounds and a top seed in the Western Conference. Still, the Greyhounds have sped out of the gate and Matthew Villalta is a big reason for that in net.
4. Kitchener Rangers (7-3-1-0)
The pieces are certainly there for the Rangers to contend this year, but GM Mike McKenzie is making it clear that he will not accept failure. Our Wilson notes that coach Jay McKee could be on notice after McKenzie's firing of Matthew Barnaby. Is this the kind of start they were looking for?
3. Barrie Colts (7-2-0-1)
They've scored 44 goals and only allowed 28 through their first 10 games. Oh, and that's as the league's most penalized team with 152 minutes. That could be their youth – coming in as the third youngest team in the league – but that should also change. Either way, it helps having rookie Andrei Svechnikov leading the way.
2. Sarnia Sting (9-1-0-0)
Say what you will about this team, they've come to play so far. While their 9-1 start might not be indicative of what this team is really made of, it has to be taken into account when talking about the potential for this year's Sting.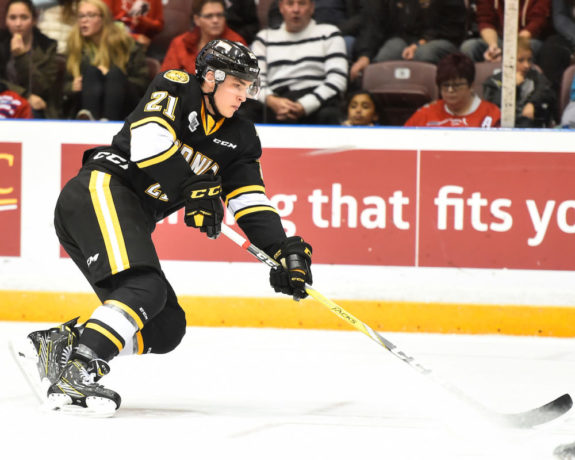 Wilson's Hot Take: They're not this good – even the 2013-14 Storm couldn't sustain a PDO north of 106 – but at 9-1 and with more than twice as many goals scored as allowed, it's time to take them seriously as a 90-plus-point team.
Related: Golden Knights Nick Suzuki Tearing Up OHL
1. Owen Sound Attack (6-1-0-2)
They might not be the obvious choice at number one, but they've got the top two scorers in the league with Nick Suzuki and Sean Durzi. That said, their goaltending could use some work and that might be the reason behind their slightly questionable 6-1-0-2 start. That said, expect them to get better as the season goes on and remain one of the teams to beat.
With all 20 teams ranked and recorded, that's it for this week's OHL power rankings. Whether or not you agree with our writers, we'd love to hear your thoughts on this week's OHL action. Aside from that, be sure to tune in next week to see if your team climbs THW's ranks.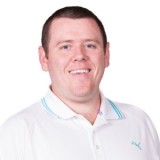 Andrew is in his 8th year reporting for The Hockey Writers covering the Toronto Maple Leafs. He began his broadcasting with CBC's Hockey Night in Canada team as well as being part of their coverage of the 2014 Winter Olympic Games in Sochi. He's the former play-by-play voice of the London Jr. Knights for Rogers TV and currently hosts the Sticks in the 6ix podcast. You can follow him on Twitter at @AndrewGForbes.