The Vegas Golden Knights' second-ever draft pick came at 13th overall in the 2017 NHL Draft, where they selected Nick Suzuki of the OHL's Owen Sound Attack. The pick looked like a smart one for a number of reasons, as Suzuki was coming off of a 45-goal, 96-point campaign despite being one of the draft's youngest prospects.
The 18-year-old then wowed Vegas management throughout training camp and the preseason, adding a goal and an assist in two games before being returned to junior. Upon arrival in the OHL, Suzuki has taken the league by storm as he continues to improve on his smarts and skills each night.
With the importance of draft success as an expansion franchise, general manager George McPhee and his Golden Knights are on the right path early in their existence. Along with Suzuki, Vegas will be keeping a close eye on fellow first-round picks, Cody Glass (6th overall) and Erik Brannstrom (15th overall) throughout the 2017-18 season.
Nick Suzuki Setting the Pace in OHL
Returning as an alternate captain for the Owen Sound Attack this year, Suzuki will be looked on to be one of the league's highest scorers. Finishing fifth in points with 96 and fourth in goals with 45 a year ago, Suzuki will be expected to climb further up the rankings as his game progresses and matures.
A leader for the Attack on and off the ice, Suzuki has all the ingredients in place for a massive season in Owen Sound, on both an individual and team scale. Ahead of the season, the Attack placed second in the CHL Top 10 Rankings, and have since started off with a 6-1-2 record while sitting second in the league in goals scored with 49.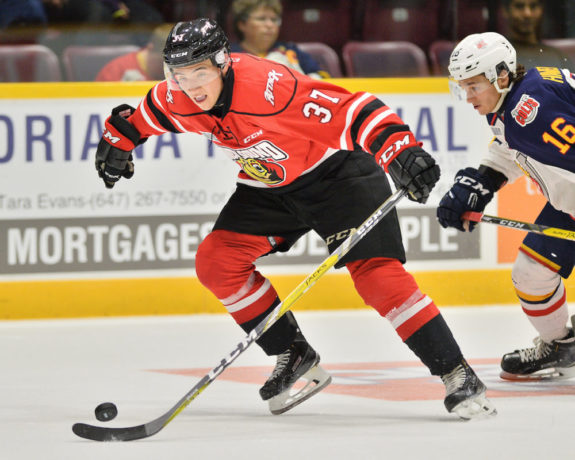 A huge reason for the team's electric start? Nick Suzuki is leading the league with 18 points through niine games, including seven goals. His current pace would improve last year's offensive marks to an outstanding 53 goals and 136 points, which would be the highest OHL total since Patrick Kane hit 145 in 2006-07.
Aside from the unbelievable stats, Suzuki has continued to play a responsible, 200-foot game. He is the hardest worker on the ice with each shift and has been thriving in the faceoff circle with a 54.7% win rate, a 3.8% improvement from last season. As a result, Suzuki was named the OHL Player of the Week for October 1-8.
Praised as one of the most intelligent and sportsmanlike players in the OHL by league coaches, Suzuki flaunts an all-around game with tremendous offensive upside and could be NHL ready by the 2018-19 season.
Related: Golden Knights' Inaugural Game, a Night of Firsts
Projecting Suzuki's NHL Future
Considering his instant success in the NHL preseason accompanied by his ability to dominate the OHL at just 18 years and one month of age, Suzuki could play his way onto the Golden Knights roster for 2018-19.
The native of London, Ontario has all the essential tools for a smooth transition to the big leagues, most notably an innate understanding of the game and a mindset that doesn't lose focus on the defensive aspects. With the Golden Knights prepared to push forward with a mediocre roster for the next couple of years in pursuit of a loaded prospect pool, there should be plenty of opportunity in the top 12 for Suzuki to earn a job.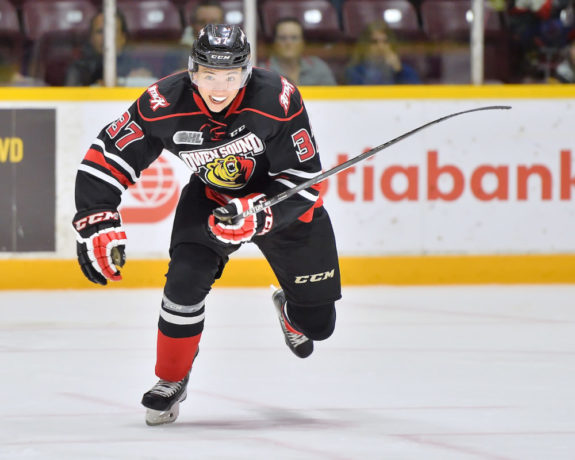 For a grand view of Suzuki's overall game, Elite Prospects gave the following scouting report:
A smart offensive center who thinks the game at a fast pace and makes very good decisions on a consistent basis. He's an excellent skater that knows his own game well. Skilled with the puck and has a high level of hockey sense. This blend of talent and work ethic is hard to come by, invaluable in the long run.
Without a doubt, the Golden Knights have quickly stockpiled several high-end prospects on which they can base their future. As we've seen before, expansion franchises can turn south in a hurry without a surplus of top prospects to use as a building block. But, as of today, it looks as though Vegas will be just fine, with Suzuki as a top candidate to lead the team through several successful years.
Contributor for the Toronto Maple Leafs and Prospects. Scout with the Oakville Blades of the OJHL. For questions, concerns, or comments, contact me at devinslawson123@hotmail.com or on twitter @SlawsonTHW.