The Edmonton Oilers officially hold the 10th overall selection in the 2018 National Hockey League Entry Draft.
With a wealth of excellent prospects available within a deep draft class, the Oilers will boast the ability to add a game-changing prospect to their organization come Jun. 22, 2018. However, it goes without saying that Edmonton must make a calculated and precise decision come draft day, as the franchise desperately needs to add greater offensive skill and defensive depth to its roster.
Related: NHL Draft Guide | 2018 Edition
Fortunately, a vast number of promising young prospects meet this criterion.
So, which prospects should the Oilers look to nab with their first-round choice this year? And, more importantly, which youngsters accurately represent both the current and future direction of the franchise?
Let's take a closer look.
Three Promising Prospects
Noah Dobson
If the Oilers were to land Noah Dobson, the franchise would have to consider itself extremely lucky.
As one of the biggest risers within the 2018 draft-class, Dobson has ascended from the depths of the first-round to the top-10 over the course of the past seven months. Founded upon excellent skating, ample size, and innate defensive abilities, Dobson's stellar two-way game has drawn the eyes of scouts throughout North America.
What's more is that in addition to Dobson's defensive play, the native of Summerside, Prince Edward Island is a force in the offensive zone. As a pillar on his team's blue line, Dobson can hammer his strong yet deceiving shot on goal with regularity — an ability which allowed the youngster to total 17 goals during the 2017-18 season with the Acadie-Bathurst Titan of the Quebec Major Junior League.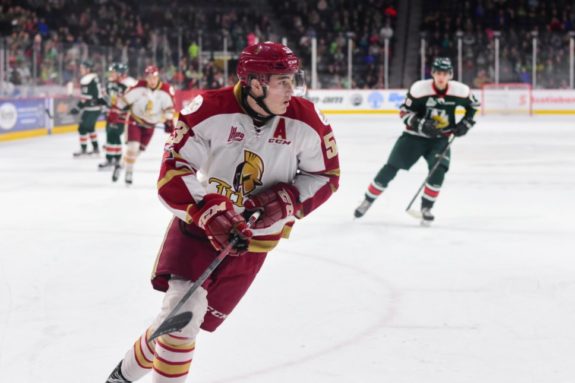 In all, Dobson projects to develop into a sound defensive defenceman and one with the ability to contribute sporadic offence. Given his 6-foot-3 frame, Dobson should become an intimidating force once he adds greater muscle to his lanky yet sturdy frame. In terms of an NHL comparison, a player such as Mattias Ekholm immediately comes to mind — the exact type of defender which Edmonton so desperately requires.
Barrett Hayton
He's drawn comparisons to Patrice Bergeron of the Boston Bruins.
So, to say that nabbing Barrett Hayton would be a clever pick for the Oilers would be an understatement.
Much like Dobson, Hayton sky-rocketed up various draft rankings as the 2017-18 season progressed and now finds himself as a potential top-10 pick ahead of the event. What makes Hayton such an intriguing prospect is his incredibly strong two-way game. Although his offensive total from this past season — 60 points in 63 games played — was not necessarily elite, his play away from the puck more than compensated for this perceived deficiency.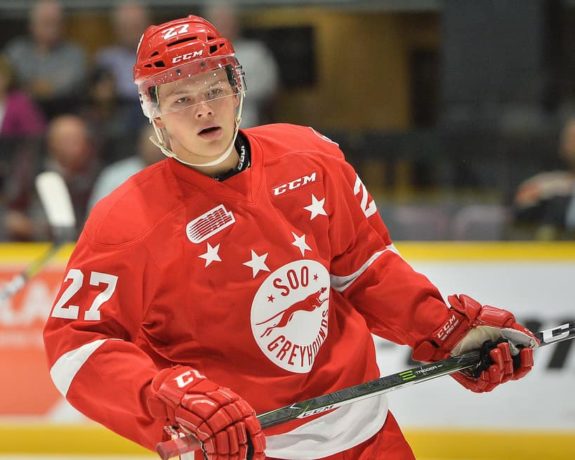 As a natural centre, Hayton is crafty in the faceoff circle and wins draws with relative ease. Once in possession, Hayton is a hound on the puck and can cycle the biscuit with both strength and consistency. Due to his overwhelming ability to possess the puck, Hayton can create time and space for both himself and his teammates before devising and implementing quality attacking plays. With his offence sure to improve over time, Hayton's impeccable and intelligent all-around game stands as the foundation of his on-ice abilities.
When it comes to Edmonton and their 10th overall choice, nabbing Hayton could prove to be an attractive option. However, the Oilers currently stand strong down the middle of the ice, as the team possesses Connor McDavid, Ryan Nugent-Hopkins, and, at times, Leon Draisaitl.
Yet, with this being said, Edmonton's cupboard is somewhat bare in terms of young centre prospects. So, although adding a centre might not be the Oilers' priority, it could be a clever decision given Hayton's massive potential.
Oliver Wahlstrom
Oliver Wahlstrom potted 69 goals this season.
Yes, you read that right.
As a member of the United States National U-18 Team and United States National Team Development Program, Wahlstrom tallied 69 goals in a combined 86 games played — an outlandish total which established Wahlstrom as one of the 2018 NHL Draft's elite goal-scorers. What's more is that Wahlstrom boasts size, too, as the youngster stands an intimidating 6-foot-1 and 205-pounds.
However, Wahlstrom is much more than simply a big-body.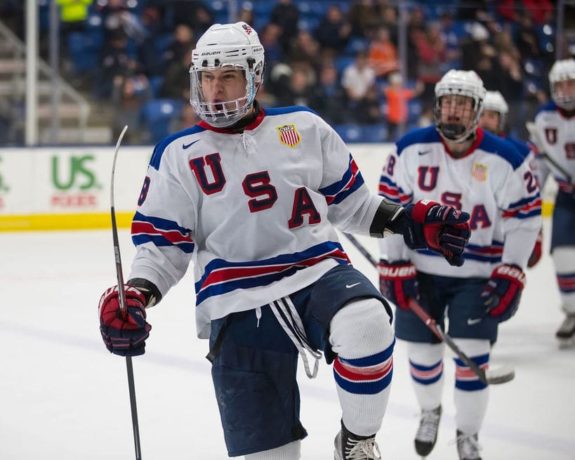 Led by his soft mitts, Wahlstrom reads the play incredibly well as it develops and owns the unique ability to analyze potential outcomes and use them to his advantage. As a consistent threat, Wahlstrom can capitalize on turnovers, dish the puck to his teammates, or blast the puck on net owing to his quick release and its ample velocity.
In short, Wahlstrom could very well become an elite goal-scorer at the NHL-level, and one somewhat similar to Buffalo Sabres star Kyle Okposo. However, when it comes to the Oilers and their potential selection of Wahlstrom, his foot-speed could be an issue.
As a franchise looking to shed weight and gain speed, adding Wahlstrom could hinder Edmonton's transition from a rugged pretender to nimble contender.
Off the Board
Ryan Merkley
If those listed above happen to fall before the Oilers can acquire them, Ryan Merkley could stand as an intriguing alternative.
As a former first-overall selection in the Ontario Hockey League Priority Selection, Merkley has cemented himself as a dynamic offensive defenceman whose creativity knows no bounds. Unfortunately, Merkley has sacrificed his defensive responsibilities for offensive opportunities far too often — a tendency which has led to his definition as a rover rather than a defender.
Although Merkley boasts an incredible amount of potential, he could prove to be a high-risk, high-reward prospect for the Oilers should they decide to select him. However, he could become the defender which Edmonton desperately needs — a strong, puck-moving blue liner capable of quarterbacking his team's power play.
Brett Slawson is a four-year veteran of The Hockey Writers who covers the Toronto Maple Leafs, NHL prospects, and the OHL's Mississauga Steelheads.
Contact Brett on Twitter @brettslawson92, or by email at brett_slawson@hotmail.com.