From the moment he made his NHL debut against Vancouver Canucks in April of 2011, Edmonton Oilers centre Ryan Nugent-Hopkins has more or less been riding solo. While Shawn Horcoff helped with some of the heavy-lifting during the former Red Deer Rebels' rookie campaign, it has essentially been a one-man show when comes to generating offence from the centre position in Edmonton.
With the recent "addition" of Connor McDavid, it seems to be a pretty safe bet to suggest that will change for the upcoming 2015-16 season. While there is no question Nugent-Hopkins will gladly welcome the help, McDavid's presence will certainly change the long-term outlook for the first overall pick of the 2011 NHL Entry Draft.
Instead of being this franchise's number one centre for both the foreseeable future and long-term, the 22-year old must now prepare to play the role of second fiddle. While there are those out there who have always believed Nugent-Hopkins to be a bit of a stretch as a No.1 at this level, many seem to forget just how young he still is and the sheer lack of support he was given during his first four years in the NHL.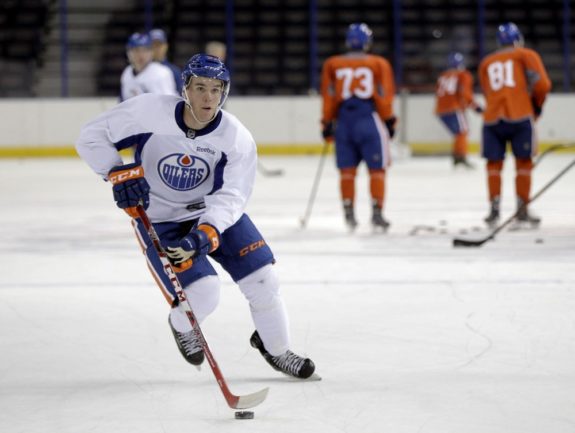 Oilers Struggles Send Mixed Signals
Perception can be a funny thing.  This kid has barely started to scratch the surface on the type of player he should develop into and yet so many were eager to write RNH off. And yet the reason that mindset was out there is because the Oilers organization did such a horrible job of insulating their young talent with better veteran players.
Even if Edmonton did not have McDavid fall into their lap, there is no reason to believe that Nugent-Hopkins would not have morphed into a legitimate top end guy in two or three years' time. With the Oilers current situation being what it is, we will likely never be able to answer that question.
With that said, there is every reason to believe the McDavid/Nugent-Hopkins duo could end up being the best one-two punch in the game and in very short order. If you believe all the hype, and there appears to be absolutely no reason for you not to, the chances of the 2015 first overall pick not turning into the premier offensive force in game are essentially nil.
While it could take a year or two for the former Erie Otters standout to hit his "full-stride" playing against men and learning the pro game, it is just matter of how great McDavid will be and not if. Outside of possibly the upcoming season, logic dictates the chances of Nugent-Hopkins seeing the opponent's best players on a nightly basis as very slim. Unless of course Todd McLellan is looking for said matchup to free up No. 97.
The Pittsburgh Penguins Blueprint
Much like the Pittsburgh Penguins, who have watched Sidney Crosby and Evgeni Malkin centre their top two lines for the better part of the last nine years, the Oilers could make life very difficult for teams across NHL for the next decade. While Nugent-Hopkins has yet to show the ability to produce points at anywhere near the level Malkin has during his career, one can make the argument his all-around game may end up being a better fit for Edmonton when it comes to winning hockey games and more importantly…Stanley Cup Championships.
Contrary to what some may suggest, Nugent-Hopkins has taken huge strides forward in his "200-foot" game since his rookie season. Being thrown to wolves on a nightly basis for the last number of years has forced the three-time 50-point man to improve in all three zones and the Burnaby native has been up to the challenge. Something which cannot be said about many of the Oilers other talented youngsters.
He continues to get better in the face-off dot and is now used in all situations. In fact, the only forward to average more ice-time in 2014-15 was New York Islanders captain John Tavares(20:40 to 20:38). Again, No. 93 is far from being a finished product but the progress he has made since 2011 cannot be ignored.
Make no mistake, the Edmonton Oilers are still a ways away from being where they need to be and should frankly be satisfied with being in the playoff mix for the upcoming 2015-16 season. However, when it comes to the long-term forecast of this organization, the presence of Ryan Nugent-Hopkins could very well turn out to be the difference between this group reaching their full potential or falling short of those lofty expectations.