So here we are. Just two seasons into the seven-year/$42 million deal Milan Lucic signed via free agency with the Edmonton Oilers and it appears as though the worst-case scenario has come to fruition far quicker than most imagined. In fact, it has gone so poorly that even those who were onboard with the move are suddenly wondering aloud what the next five years might bring. With that said, this organization has little to no choice but to use the veteran winger in a top-six role in 2018-19 and hope for something that resembles a bounce-back campaign.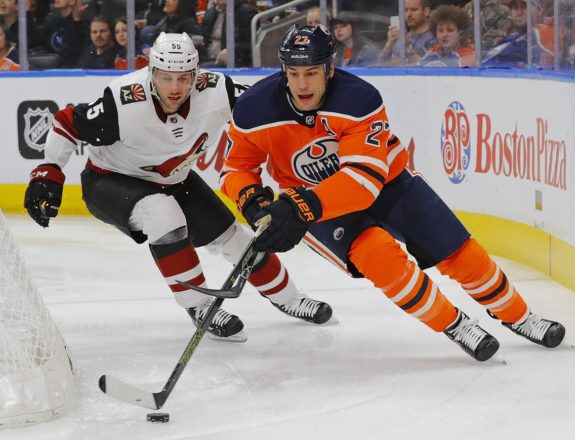 That's right folks, it may not be what the masses want to hear but using Lucic as a third liner this soon into his tenure, is simply a non-starter. With the Oilers having just inked Ty Rattie to a one-year "show me" deal, the hope is the 2011 second-round pick will continue to be a useful piece playing alongside Ryan Nugent-Hopkins and Connor McDavid on the club's top line. First impressions were promising but we shall see about that.
Related: Oilers Re-Sign Ty Rattie to One-Year Deal
Oilers Stuck with No. 27
Though nowhere near a sure bet, at $800,000 it is the exact kind of value/reclamation project pact this team will have to look at entering into for the next number of years.  However, in order for this offence to have a consistent two-line attack, they are going to have to find Leon Draisaitl a pair of capable wingers and there isn't a whole lot to choose from in-house.
In a perfect world, one of Rattie or Jesse Puljujarvi become a permanent fixture with No. 97 and the other teams up with Lucic and forms chemistry with No. 29. Now the chances of both of those players hitting it out of the park are likely not high but even if they did, the former Boston Bruins standout is going to have to be a key piece of the equation.
Ty Rattie earns a one-year contract for 2018-19 after scoring five goals and assisting on four others in the final 12 games of the season.

— Jack Michaels (@EdmontonJack) April 14, 2018
Imagine if one or both of Puljujarvi or Rattie were to struggle. With a $6 million price tag hanging around his neck, Lucic has to give this roster something other than a rough and tumble style of play. Even with his lack of foot speed and knack for giving away the puck at an alarming rate, ten goals just isn't going to cut it. In fact, anything short of a 20-25 goal campaign would have to be viewed as a failure.
Spare me the point projections of 40-50 points, as a bunch of secondary assists won't make or break such a player's season. Much like the recently departed Patrick Maroon, it all comes down to how many pucks these guys put into the back of the net.  In order for Lucic to have any shot of reaching those targets, it is going to have to come playing on one of the team's top two units.
All About Scoring Goals
Again, not likely to be a popular opinion but if the plan is to have the soon-to-be 30-year old to approach his previous totals, playing alongside the likes of Ryan Strome or Drake Caggiula, prepare to be disappointed.  Now if the Oilers actually had kids pushing in the AHL, perhaps they seriously consider using Lucic in a third line role. Unfortunately for them, that is not their reality and pretending as if it is, services absolutely no purpose.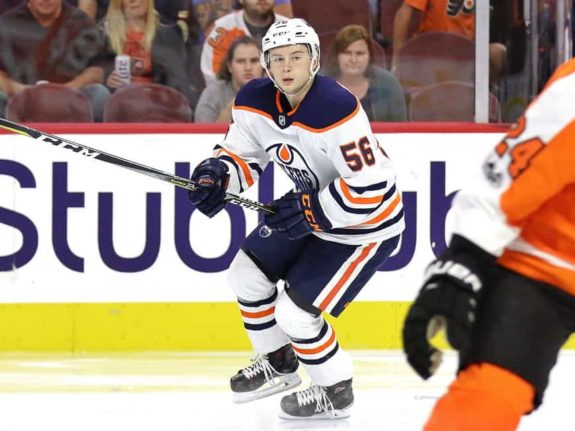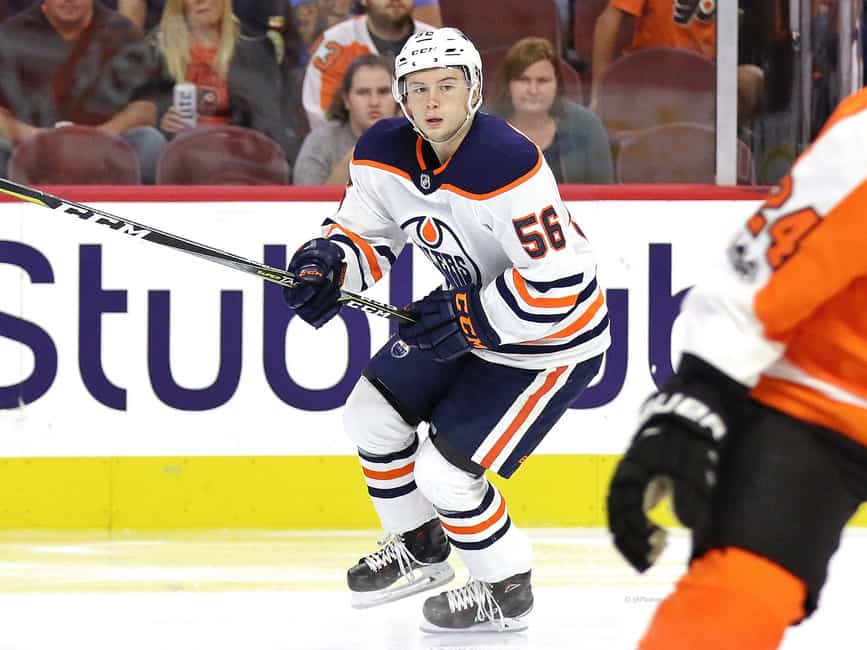 Unless Kailer Yamamoto is lights out come next September, that isn't going to change. And to be perfectly frank, even if he were to standout during training camp, the talented American should be starting next season in the minors. After all, the last thing this organization needs is to add another 20-year old to a roster that is already littered with youngsters in key roles.
For a player like Yamamoto, the plan should be to have him lineup next to fellow rookie Tyler Benson and make-up two-thirds of a top-six unit in Bakersfield. See how they fare with the Condors and as was mentioned earlier, force them to push for a spot in Edmonton. As painful as this past season was, the sole focus cannot be on overhauling the mess that was in hopes of correcting previous blunders overnight.
Related: Oilers Thoughts: Benson, Maksimov, Skinner & Others
Prospects Must Be Allowed to Develop
Not making decisions that will harm this organization further in the future is the key. Peter Chiarelli already went down that road and it has proved rather costly. Doubling down said path would be disastrous and something that cannot be allowed to occur. Sorry but spending big money in free agency, rushing a prospect for a role he is not yet equipped to deal with or bringing an older player from outside the organization at a hefty cost, Oscar Klefbom, Puljujarvi or the 2018 first-round pick say hello, is not the way to go.
He may not be the impactful player they thought they were getting when inking him to the deal they did but the Oilers are in no position to cast aside Lucic and his $6 million cap hit. They need to find a way to get something out of him, as he will be here for the foreseeable future. During his first two seasons in Edmonton, the hulking winger has arguably played his best hockey with Draisaitl as a linemate.
Not silly season YET, but hearing rumblings of #Isles (potential/presumptive) interest in Oscar Klefbom

— NHL Rumors (@NHLRumorsDaily) April 16, 2018
Seems like a decent starting point and if he delivers a repeat performance of what we saw in 2017-18, then the Oilers are going to have a massive problem on their hands. Make no mistake, Lucic was, is and will continue to be a flawed player. That won't change with age but the situation dictates the organization do everything in their power to make the best of a terrible situation. Not ideal but it is a predicament of their own doing.
Like it or not, until the Edmonton Oilers have a player ready and able to fit under their cap and push Milan Lucic down the depth chart, his spot in this lineup won't change much. The days of getting repeated looks playing alongside Connor McDavid will thankfully be view and far between but a key piece of the puzzle he remains. Here is hoping there is something left in the tank. Fingers crossed.
Also available from Rob Soria: 
Connor McDavid: Hockey's Next Great One
Rob Soria is the Author of Connor McDavid: Hockey's Next Great One. He has chronicled the Orange and Blue since creating his Oil Drop blog in 2011 and has also had his writings featured over at HometownHockey.ca and Vavel USA, where he has covered the NHL, MLB and ATP Tour. Rob was born, raised and still resides in Edmonton, Alberta and can be reached via twitter @Oil_Drop.