The more that I observe the Edmonton Oilers during the 2023 Stanley Cup Playoffs, the more I believe the biggest opponent they will face is themselves. They looked dominant in Game 2 of their second round series against the Vegas Golden Knights. They were relentless from the opening faceoff and Vegas had no answer, except to try and intimidate the Oilers. And even that didn't work.
These are not the old Oilers we're talking about. The team that used to get pushed around, or outworked and even out goalied. This is a close-knit team with swagger and belief, a team that can beat their opponents with high-octane offense, and with grit and toughness. If they can keep their focus and composure in the series against Vegas they could be on their way to something very special in the spring of 2023.
Game 2 Press Conference Revealed A lot About Both Teams
Watching the postgame press conferences after Game 2, you could sense a shift in mood and confidence with both the Golden Knights and the Oilers. Golden Knights head coach Bruce Cassidy felt that the most disappointing aspect of the game for him was, "We got out-teammated." That's a revealing statement in terms of a team sticking up for one another, and Cassidy looked genuinely concerned in his postgame comments. Meanwhile, Oilers captain Connor McDavid provided an interesting insight about team toughness in his postgame remarks saying, "At the end of the day, we're not going to sit back and take it either. I thought we did a good job of standing in there and sticking up for one another."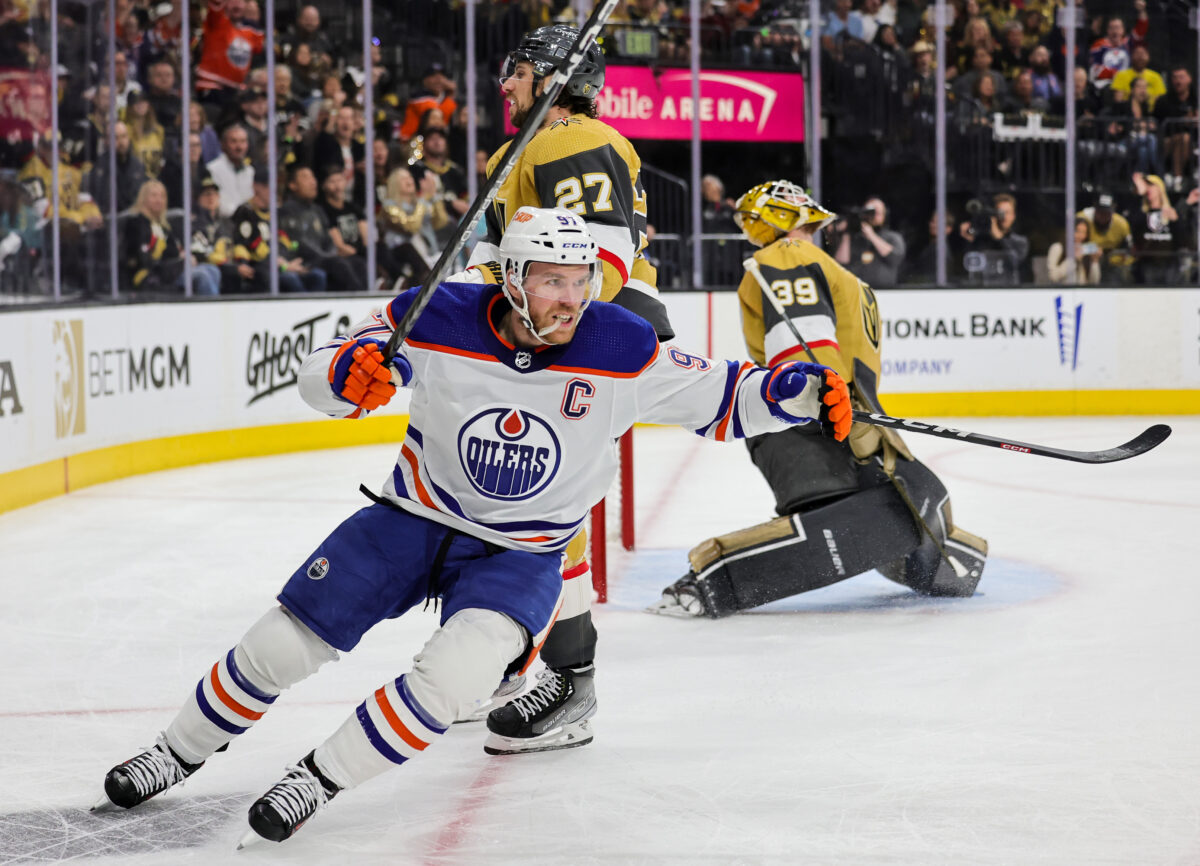 That statement from McDavid isn't one you might have heard a few years ago as the Oilers were considered a soft team to play against. But with the additions of Evander Kane, Klim Kostin, and Vincent Desharnais, the Oilers, under general manager Ken Holland, have added toughness and size to go along with the scoring prowess of McDavid, Leon Draisaitl, and Ryan Nugent-Hopkins, who is due to break out offensively any day now.
Staying Focused In A Hockey Crazed City
The Oilers haven't played a home game in Edmonton since their Game 5 victory over the Los Angeles Kings on Tuesday, April 25. That feels like a lifetime ago, especially in the playoffs. But now they find themselves with home-ice advantage in the series against the Golden Knights, and the atmosphere inside Rogers Place for Games 3 and 4 should be crazy. It's like the energy of the city has been bottled up for close to two weeks. It's going to be electrifying – especially in the early part of Game 3. The Oilers need to keep their composure and focus, they know how passionate the hometown crowd can be. It'll be interesting to see how the Golden Knights contend with it. I know NHL players are professionals, and Vegas has one of the loudest buildings in the NHL, but Edmonton fans in the playoffs know how to take it up another notch. It'll be interesting to see which team keeps their composure the best.
Skinner Looking More Poised, Focused As Playoffs Go On
Oilers goalie Stuart Skinner seems to have shaken off what was affecting him early on in the first round against the Kings. He has looked stronger and more focused since Game 5 of that series and played especially well in the Oilers' 5-1 victory over the Golden Knights in Game 2.
Related: Oilers Goaltending Has to Be the Difference vs. Golden Knights
---
Latest News & Highlights
---
If Skinner has indeed found his groove, the Oilers could ride his hot hand a long way in the 2023 Stanley Cup Playoffs. Meanwhile, Golden Knights starter Laurent Brossoit was pulled in Game 2 in favour of Adin Hill, but it was more of a mercy pull as Brossoit had little chance on the goals he gave up, except for possibly McDavid's shorthanded goal. Expect Skinner and Broissoit to continue their goaltending duel in Game 3.
Oilers Gaining Momentum as Series Shifts to Edmonton
Oilers head coach Jay Woodcroft has once again guided his team to a Game 2 victory (for the fourth time in five series) and helped swing momentum in the Oilers' favour. Alan Mitchell, the intuitive co-host of Lowetide and Jamieson on TSN 1260 in Edmonton provided some interesting insight into the coaching style of Woodcroft after the Oilers' Game 1 loss. Mitchell mentioned on the May 5 show that Woodcroft is often at his best when the Oilers lose Game 1 in a Stanley Cup Playoff series, which has happened in the last five he has coached.
"What is the strength of this team?" said Mitchell. "I think it's Woodcroft. I think he is a brilliant hockey architect…and he will cobble together a Macgyver-like solution that will work. I believe in him." Wise, prophetic words from Mitchell. Woodcroft could be the Oilers' ace in the hole in terms of always finding solutions. If he and his assistant coaches can keep the Oilers focused and sticking to their strengths, they could very well be on their way to an appearance in the Western Conference Final for the second year in a row.
A Special Thank You To Firefighters in Alberta
A state of emergency has been declared in Alberta with over 25,000 people evacuated from their homes. I live 20 minutes from one of the fires that was burning out of control on Friday and was preparing to evacuate with only a few photos, some papers, and my pets. Thankfully the firefighters got the fire close to me under control. It made me once again realize what's most important in life. It also made me appreciate those who risk their lives to help others, especially the firefighters battling wildfires across Alberta. Thank you to all of you for your sacrifice, and what you do to keep us all safe. I wish you well and pray for your safety, and also for some rain to help keep the fires at bay.
---
---