September is almost here and that can only mean one thing: the hockey season, at long last, is almost upon us.
For the Ottawa Senators, the 2017-18 season can't come soon enough after a tremendous 2016-17 run that saw them take the Pittsburgh Penguins to a Game 7 in the Eastern Conference Final. With few changes to the roster over the summer, the Sens look poised for a repeat playoff berth and maybe more this season (at least on paper).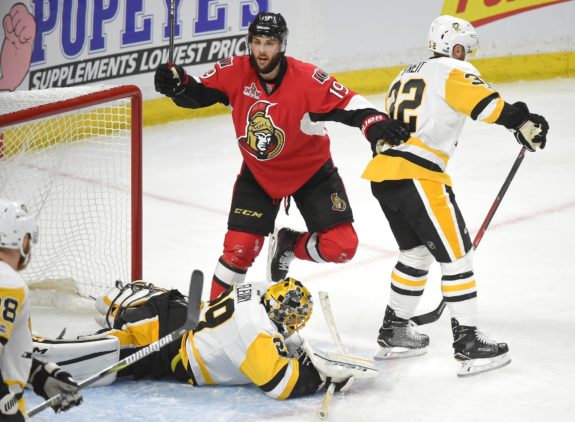 But just because last season's roster remains largely intact doesn't mean there won't be some difficult decisions made in training camp. From the departure of Marc Methot in an established d-corps to the addition of Nate Thompson in an already deep forward group, expect some shuffling in camp.
Question Marks on Defence
Unable to work out a deal with the Golden Knights to keep him in Ottawa, the Sens lost Methot in June's expansion draft. While the average hockey fan may take his loss lightly, Methot occupied a pivotal role for the Sens that few others have been able to with much success – play alongside Erik Karlsson and keep up with the superstar.
They replaced the departed Methot with almost equal experience in 35-year-old Johnny Oduya, he of 11 NHL seasons. Oduya is a nice addition if for no other reason than because of his experience, but his is a role already filled by the likes of Chris Wideman and Mark Borowiecki – that is, of a depth defenceman.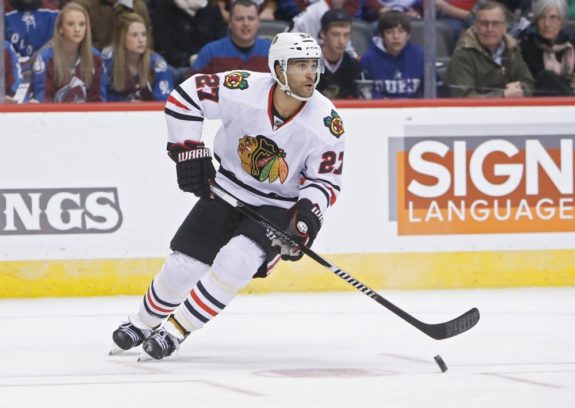 The biggest question Oduya's presence doesn't answer is who will slot in beside Karlsson? The Sens have experimented with a few different combinations with Methot out of the lineup, but Dion Phaneuf is better suited to play alongside Cody Ceci and Fredrik Claesson is not quite ready for full-time duty as a top-pairing defenceman.
The most logical option would see the Sens employee a platoon strategy. Despite neither looking like viable full-time partners for Karlsson, Claesson and Phaneuf would make a good 1A-1B option, with Oduya available to slot in should either need a breather.
Thomas Chabot's Fit
Not mentioned in the above conversation is Thomas Chabot, the Senators' prized 20-year-old blueliner out of Saint John. Chabot has shredded the competition in the Quebec junior league the past two seasons and should get a good look from the coaching staff in training camp.
The problem is,though, where would Chabot play in a defensive unit that, while not solidified in its pairings, seems set in terms of the bodies who will fill those six slots? Third pairing minutes would do little for his development, but first pairing minutes may be too much and there's very little chance he boots Phaneuf or Ceci off the second pairing.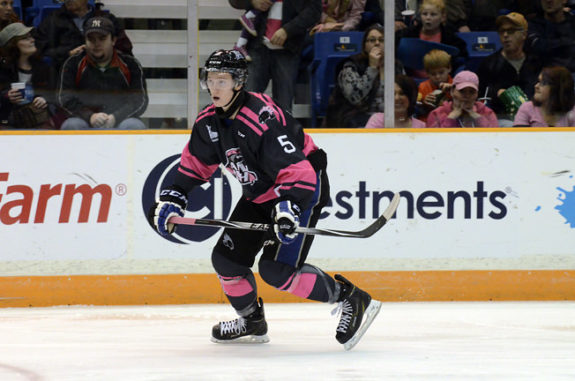 That leaves the Senators in a difficult position given Chabot's stage of development – too good for junior hockey, but maybe not quite good enough for the NHL, just yet. It's a tough call, but the way the roster is likely to shape up it's unlikely Chabot will land a spot, at least beyond the first nine games of the season.
We have seen Guy Boucher roll with a seven-defenceman, 11-forward lineup in the past, and that may be an option he explores more often this season to accommodate Chabot, etc.
Forward Depth
Viktor Stalberg left for Switzerland in the offseason, replaced later on by Nate Thompson, but the rest of the Senators roster remains the same as it was at the conclusion of 2016-17. The only real difference is the Sens will have a full season of Alex Burrows and, depending on how he performs in September, potentially the same for Colin White.
White is in a similar position to some other young forwards in the Senators system – held in high regard but in tough trying to crack the roster. With the exception of Dzingel, the Senators' top-12 is chalked full of NHL veterans, so White's best chance of making the roster would seem to be as an extra forward — something that would benefit neither White nor the Sens.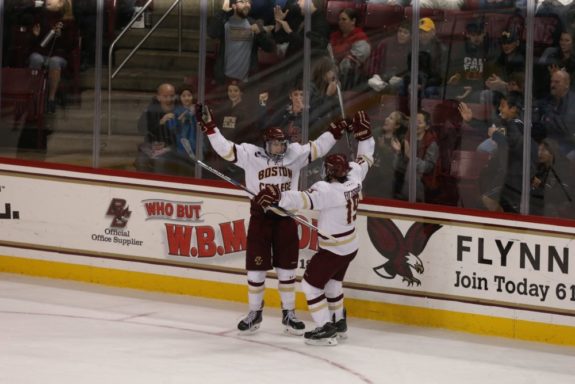 As with Chabot, White may make the roster out of training camp, but unless he can land a spot in the top-six – or, in the absolute worst case, the third line – don't expect him to stick around. In addition to White, 19-year-old Logan Brown and 22-year-old Nick Paul headline the list of prospects who will be contending for roster spots.
It's starting to feel like it's now or never for Paul – the main prospect the Senators received in the trade for Jason Spezza three years ago – who has fizzled at the NHL and AHL levels. The situation is not so dire for Brown, who is still junior eligible, but both players will struggle to crack the roster given the number of players ahead of them on the depth chart.
Projected Lineup
Here's how I see the Senators lineup shaking down this season beyond the nine-game threshold:
Forwards
Mike Hoffman-Kyle Turris-Mark Stone
Clarke MacArthur-Derick Brassard-Bobby Ryan
Zack Smith-Jean-Gabriel Pageau-Ryan Dzingel
Alex Burrows-Nate Thompson-Tom Pyatt
Chris DiDomenico
Defence
Fredrik Claesson(1A)-Erik Karlsson
Dion Phaneuf(1B)-Cody Ceci
Johnny Oduya-Chris Wideman
Mark Borowiecki
Goalies
Craig Anderson
Mike Condon
Andrew is a sports nerd extraordinaire. He holds an undergraduate degree in journalism, as well as a journalism diploma, and has been in the sports writing biz for the past four years (previously with Hooked on Hockey Magazine and SportsEh). He has experience covering junior hockey and the Women's World Hockey Championships in Ottawa. Feel free to reach him on Twitter @littelitaly93.