Over the last decade, the Boston Bruins have seen it all. After finishing in last place in the Northeast Division in 2006-07, the Bruins developed their squad into a playoff-caliber team, making the playoffs the following season, and winning their first playoff series in 10 years one more season later.
The Bruins remained contenders for the next couple of seasons until finally earning their first Stanley Cup in 39 years in 2011. Two seasons later, they'd find themselves back in the Final, only to be dispatched by the NHL's hottest early-2010s playoff team, the Chicago Blackhawks.
The B's completed the cycle in 2014-15, when they missed the playoffs for the first time since 2006-07, only to find themselves back in the postseason picture last season.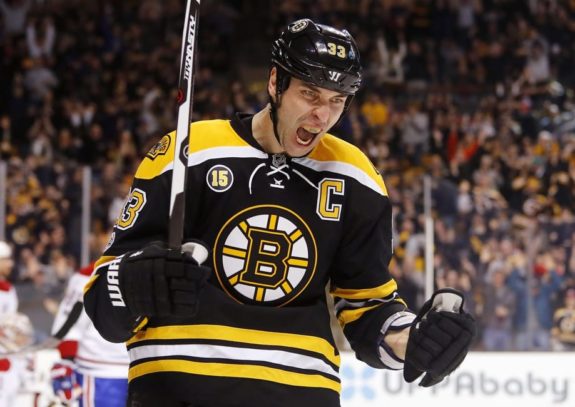 Over the course of these last 10 or so years, many faces have passed through the Bruins' dressing room. But, through everything, all those that have come and gone have answered to one man.
That man, of course, is Bruins captain Zdeno Chara.
Chara's Legacy
When it's all said and done, it's hard to compact Chara's legacy with the Bruins into one sub-headed section of an article that will primarily focus on another player. But, here's an attempt nonetheless:
When the Bruins brought in Chara in July of 2006, they knew the type of player that they were getting. With Ottawa, Chara had proven himself as one of the NHL's elite defenseman. His massive frame allowed him to bully opposing forwards in front of the net, and his defensive prowess played a large part in Ottawa being the best defensive team in the Eastern Conference in 2005-06. His production numbers were certainly favorable—the Big Z tallied 43 points in his final season with the Senators—and Chara was already making opposing players cringe at the sight of his explosive slapshot.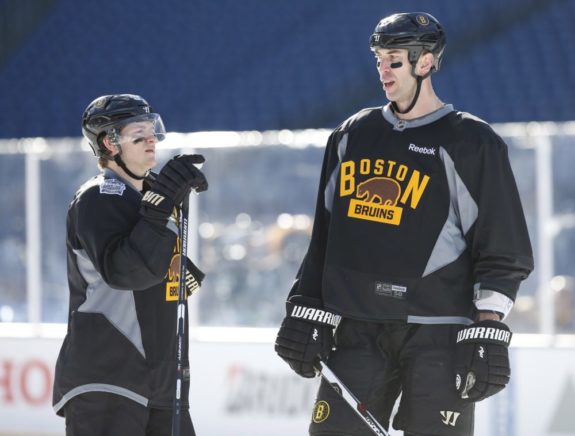 The Bruins had labeled Chara as a player that they could build a franchise around, and they did just that, wasting no time in naming him captain upon his arrival. With so much potential, it was clear that Chara was going to have a massive impact on the Bruins franchise. However, just how big that impact really was would have been impossible to guess at the time.
Chara has served as the rock in the Bruins organization ever since his arrival. His excellent play helped carry Boston to its first Stanley Cup in nearly four decades while establishing the Bruins as a perennial playoff contender. Quite simply, Zdeno Chara became a face of the Bruins franchise—not only for today's Bruins, but from the perspective of the team's entire history.
However, Chara's time is running out. At 40 years old, Chara's career is approaching the final bend, and with his contract expiring after the upcoming season, the big man's tenure with the B's may be on its last legs.
Chara's departure will also result in the Bruins being without a captain for the first time in more than 10 years, leaving an obvious question: Who will be the next captain of the Bruins?
Patrice Bergeron
In many cases, picking a new captain for a team can be difficult. After all, the ideal captain needs a specific set of qualities that lies beyond pure skill, and that combination of qualities can be hard to find. That will not be the case for the Bruins. When Chara moves on from Boston in the coming years, be it to hang up the skates, or to bring his talents elsewhere, there will be someone waiting to take on the 'C.' That someone is Patrice Bergeron.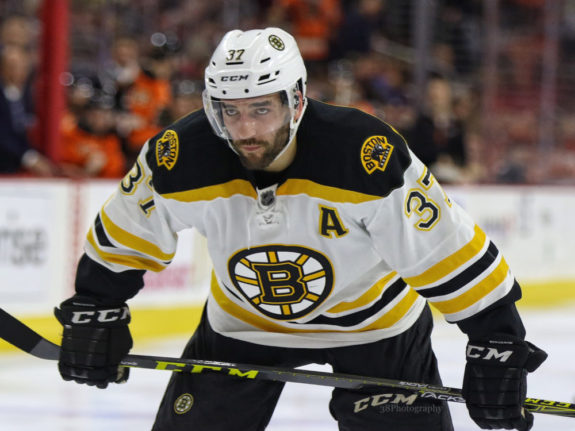 For years, Bergeron has acted as the heart of his team. Sure, he's sported the 'A' on his jersey while Chara has boasted the 'C', but it would be tough to argue that Bergy has had any less of an impact on the ever-changing team than Chara has.
Bergeron embodies everything that you could want from a captain. He's a lifelong-Bruin, having been with the organization since he was drafted by in 2003. He's stuck with the team through the hardest of times and has helped lead it during the best times while cementing himself as one of the league's most respected players along the way.
He's been a big producer for the Bruins year in and year out, but more importantly, he understands as well as anyone that hockey is a 200-foot game, and his record-setting four Selke trophies can attest to that.
He understands how to help out young players because he was one of those young players. Back in 2003, when 18-year-old Bergeron was the youngest player in the NHL, veteran Marty Lapointe took Bergeron under his wing, and his roof—quite literally. Bergeron lived with Lapointe and his family as a rookie and learned his way around, both on the ice, and with regards to life in the real world, from someone who had been there for 11 years. Even then, Lapointe praised Bergeron's character as someone who was different from other rookies — more reserved and less cocky than others, despite being a clearly superior talent.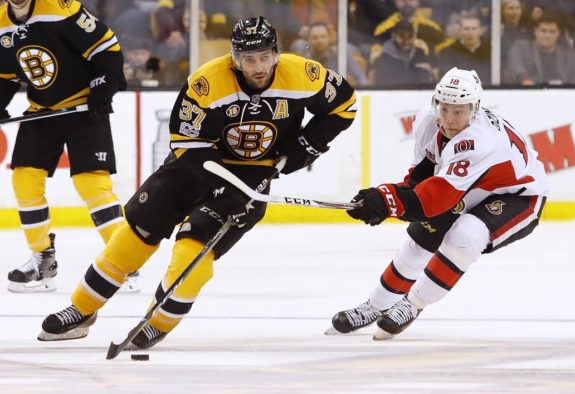 Fast-forward 13 years and the attitude hasn't changed. You could ask everybody who's ever lined up alongside or across from Bergeron, and they'd all tell you he plays the game the right way—I'd bet my life savings on that.
Bergeron is a guy who puts the team first. He's willing to sacrifice himself for the good of the group, even if that means playing through a broken rib, a separated shoulder, and torn cartilage, as he did during the 2013 playoff campaign.
You might even say that there are very few guys across the league who deserve a captaincy more than Bergeron, although you'd never hear it out of his own mouth.
Passing of the Torch
Barring a very weird set of events unfolding over the next couple of years, Patrice Bergeron is slated to become the next captain of the Bruins. To those that follow the organization, that shouldn't come as a surprise.
When Chara does depart from Boston, be it next summer or in the coming years, the Bruins will lose a piece of their core that has provided a solid backbone for more than a decade. Luckily, though, the B's are fortunate enough to have another equally-capable player to take on the torch.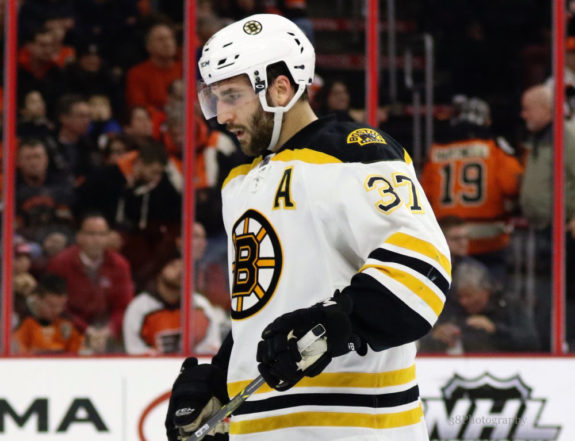 Had he been somewhere else, Bergeron likely would've had a 'C' on his jersey for years now. On that note, it's crazy that Connor McDavid, who was just six years old when Bergeron made his NHL debut, has sported a 'C' on his sweater before Bergeron has.
But, that time is coming, and when it does, it will be very, very well deserved.