The Florida Panthers are currently spiraling into a free fall as they sit nine points out of a potential playoff spot in both the wild card and the division with a record of 15-16-4 with 34 points. The season has gone completely off the rails after having their best season in franchise history. One of the issues plaguing the team has been goaltending. While Spencer Knight is having a good year, the $10 million man in Sergei Bobrovsky continues to struggle.
But top-tier goaltenders in Florida struggling has been an issue for the team for over a decade. For that, the team has to look within their staff, specifically at goaltending coach Rob Tallas. He's been with the organization since 2009 and has dealt with names such as Tomas Vokoun, Jose Theodore, Scott Clemmensen, Craig Andersson, Roberto Luongo, James Reimer and even Tim Thomas throughout his coaching career. He even had to suit up himself as an emergency goaltender one night when both Luongo and Al Montoya were injured, but he did not play. And while some of his prospects have had good years, it's clear his ways are outdated, and the team needs a breath of fresh air in that department. With that being said, it may be time to move on from Tallas and look into promoting someone from within or find an experienced coach who's willing to get back into the fray.
Tallas' Coaching Career
After playing in 99 games between the Boston Bruins and Chicago Blackhawks, finishing with a record of 28-42-10, he became a goaltenders coach for Florida in the fall of 2009. He's seen multiple coaches from Peter DeBoer, Kevin Denean, Tom Rowe, Bob Boughner, Joel Quenneville and even Gerard Gallant. Somehow through the carousel of coaches, he's stuck around in multiple systems through 13 years.
Related: Flames & Panthers Have Yet to Benefit from Blockbuster Trade
---
Latest News & Highlights
---
Throughout his entire tenure, the team save percentage (SV%) never went above .920 with the closest being a .917 SV% in the 2015-16. Furthermore, the team was also below .900 five times, including this year, with a pitiful .893 SV% between both Sergei Bobrovsky and Spencer Knight.
Individuals May Have Stagnated Due to Tallas
Certain goaltenders have stagnated in their play during and after their time as a Panther. This may be in part due to Tallas' teachings. Reimer was one of a dynamic duo with goaltender Jonathan Bernier with the Toronto Maple Leafs and was excellent in his few games with the San Jose Sharks before being acquired in a trade by Florida. In his first season with Florida, he was ok by posting a .920 SV% and a 2.53 GAA in what was ultimately a lost year for the squad. However, as the years progressed, his stats sank down further and further with his second season being a .913 SV% with a 2.99 GAA and his third with a .900 SV% and a whopping 3.09 GAA.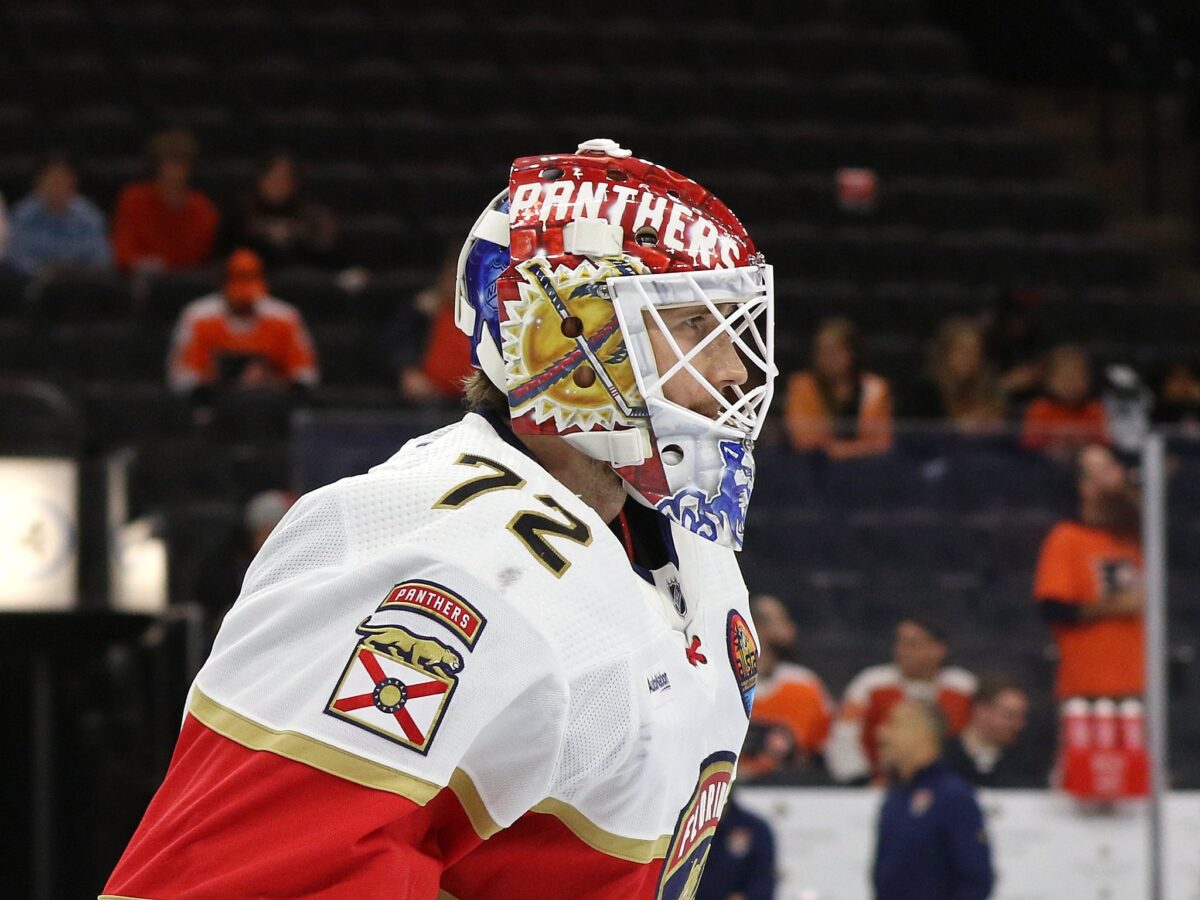 Luongo's second stint with Florida was not much different. Granted, age was starting to catch up to him, but Tallas was not doing him any favors. His first three seasons were good for the team, but his last three seasons were not kind to him as he only went below 2.50 GAA once, and he finished his last year with a .899 SV%.
Another example has been their current starter in Bobrovsky. He was crushing it as a member of the Columbus Blue Jackets with two Vezina Trophies under his resume and was signed to a 10-year, $10 million per season contract with Florida after coming off of an impressive first-round sweep against the Tampa Bay Lightning in 2019. Unfortunately, he's been extremely inconsistent throughout his time as a Panther. In his first year, he had a .900 SV%, his second a .906 and his third a .913. His fourth is currently an abysmal .894. In his entire time in South Florida, his GAA never fell below 2.50, with the lowest being 2.67 last season.
How can all these great goalies have such bad seasons in Florida? It could be the teachings of their goaltending coach. And it's the adjustment they've needed to make for years, as his format is clearly becoming outdated and obsolete.
Who Could Replace Him?
Currently, Tallas is part of the Panthers Goaltending Excellence department they created back in December 2020. This includes him, Roberto and his brother Leo Luongo, and Francois Allaire. Both the Luongo brothers have some history in the league, but Allaire has a fantastic resume that includes developing one of the greatest goaltenders of all time Patrick Roy. In addition, he is a three-time Stanley Cup Champion.
Related: Panthers' Aaron Ekblad Is a Shell of What He Once Was
They have a ton of options in-house, but it does not guarantee the team will go that route.
Are Tallas' Days Numbered?
Since 2009, Tallas has been with the Panthers organization through its ups and their downs. This includes multiple playoff appearances. But with inconsistent goaltending throughout his tenure, it may be time to finally send him packing after so many years.
Of course, the time spent within the organization is remarkable. But with the team projected for a bad season, it's time for a long and overdue change.
---
---
My name is Joey. I've been writing about the NHL for about 3 years with my experience spread out between TSJ 101 Sports and Panther Parkway. I look forward to you reading my articles!