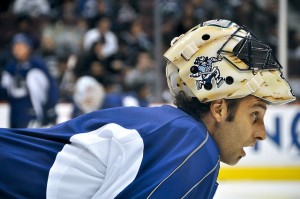 The Cup has been awarded, the draft has been held, and even the NHL Awards Show has come and gone.  Now with nothing on the hockey horizon except vague details trickling out about the CBA, it seems all attention has been shifted to Roberto Luongo.  If twitter is to be believed (and we all know how rarely that should happen), it seems as though all that's left is for the Vancouver Canucks and Florida Panthers to agree on the pieces being exchanged.
Report: Roberto Luongo will only waive his no-trade clause to play with the Florida Panthers. http://t.co/z1HSp4lc

— theScore (@theScore) June 26, 2012
Don't look now, but sounds like the Panthers are the front runners for Luongo. http://t.co/Yokvy61v

— David Pagnotta (@TheFourthPeriod) June 24, 2012
#FlaPanthers say if VAN called, they would listen re: Luongo. Still a big-time goalie who could help Cats get back to playoffs. $$ an issue

— George Richards (@GeorgeRichards) June 23, 2012
Panthers GM Tallon has kicked the tires with Canucks about Luongo but reports of deal are, "pure speculation.'' #flapanthers

— Harvey Fialkov (@hfialkov) June 24, 2012
But what's in it for Florida?  When the team finally broke its playoff drought last season by winning the southeast division, there weren't too many complaints about the goaltending.  Jose Theodore and Scott Clemmensen proved to be a more than adequate tandem.  The Panthers gave up 227 goals on the season, good enough for 6th in the east.  Theodore posted a respectable 2.46 GAA in 53 GP.  To compare, Luongo recorded a just slightly better 2.41 GAA in 55 games.  Save percentage numbers were also virtually identical at .919 for Lu, .917 for Theo.  And I don't think you'd find too many people that won't say Luongo had a better team in front of him.  On paper, it doesn't appear as though the trade provides an immediate upgrade to the position.
Another factor to consider for Florida?  While goaltending certainly isn't a primary concern, scoring is.  The Panthers placed 27th in the league in goals scored.  Twenty seventh.  So when you hear that Vancouver is asking for a prospect like Nick Bjugstad, you have to wonder why Florida would part with him, or any potential piece, that could turn into a bona fide scorer.  A number of experts that rate such things, like hockeysfuture.com, has Florida's prospect pipeline as tops in the league.  Forwards like Jonathan Huberdeau, Quinton Howden, Nick Bjugstad, John MacFarland, and Drew Shore all have NHL potential.  For a team that has lacked that true, raw, pure scoring talent since new hall of famer Pavel Bure left a decade ago, why risk a player (or two or three) that could turn into a perennial 30+ goal scorer, just to get back an aging, recently above average goalie tied into a monster contract?
Lastly, there's Jacob Markstrom.  The big Swedish goalie has not quite progressed as quickly as expected, but he is still thought of as the future in net for Florida.  While two knee surgeries for a 22 year old goalie is certainly a concern, signing Luongo would almost certainly mean giving up on Markstrom because Lu's contract runs for the next 10 years.  Of course it's highly doubtful he will play until the end of said contract, but Luongo will certainly demand the #1 spot while being paid over $6 million for the next 5 years.  Markstrom simply won't be sitting on the bench for the prime years of his career, so then what?  A trade piece that Florida can hopefully use to get prospects back at the same level that they just gave up to get Luongo?
Apart from nostalgia, there just doesn't seem to be much in this deal for the Panthers.  Assuming Vancouver asks for the caliber of players they have been rumored to ask for, the price is simply too high for Florida to take a chance.  Based on numbers alone, Jose Theodore is certainly comparable and only under contract for one more season.  This gives Markstrom another year in the AHL to fully develop, and then Florida can see where they sit next summer.  Jonathan Huberdeau should make the roster this coming season, and there are more prospects in the pipeline behind him.  It's far too early to give up on those, it's too early to give up on Markstrom, and at this point of his career with the contract tied to him, Luongo just isn't worth the risk.