The NHL Entry Draft is complete.  Teams drafted the players they had their eyes on and the players are now training hard to get ready for rookie camp. The Buffalo Sabres walked away from the draft with eight eager prospects: five centres, two defencemen and a goaltender. Time to evaluate the future Sabres.
Mikhail Grigorenko 
Considering the majority of rankings had Grigorenko going in the top five, he was a steal at twelve. With the lack of centres in the organization (both with the Amerks and the Sabres), he is a welcome addition.   Darcy Regier took risk with Grigorenko instead of playing it safe, perhaps a positive sign of things to come. Taking him instantly puts the Sabres in the "winner" column of the draft. Grigorenko's  immense size and scoring potential fit the needs of the Sabres perfectly. It remains to be seen if he will join the Sabres in October, but when he does, he will be a tremendous help and potentially a number one centre.
Zemgus Girgensons 
With just two picks the Sabres jumped from a team with no depth at centre to a team with overwhelming depth at the position. While Grigorenko is the "super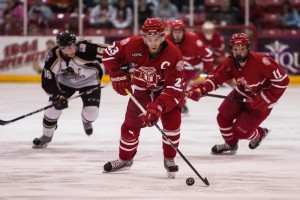 star" of the two, Girgensons is a tough no-nonsense type of player who can put up his share in points. His size and strength are perfect for the Sabres, who were looking to get bigger up front.
Jake McCabe

McCabe has a lot of potential.  He's a solid 2 way defenceman who could one day become a key member of the blue line.
Justin Kea
Another one of the five centres the Sabres drafted, while Kea isn't the same type of scoring threat Grigorenko and Girgensons are he will be a solid fourth line checker. He's got a big body at 6 foot 3, 212 pounds and is willing to drop the mitts when needed. He could be a good replacement for Paul Gaustad. It would appear that the Sabres are trying to "bulk up",  especially among forwards.
Logan Nelson
Nelson is another centre in a club who currently has depth to spare. He'd likely find a spot on the fourth line as a gritty centre who works hard and fights for his points. Due to the new found depth at centre, Nelson may find himself stuck in the minors for the foreseeable future.
Linus Ullmark
With their sixth round pick, the Sabres decided to gamble on a goaltender. Ullmark comes from the Swedish Elite League and will be given time to develop his skills in Sweden before being brought over to North America. Ullmark fits the mould for "big" goalies at 6 foot 3 and 198 pounds. Sabres fans should keep a close eye on this guy as he could become the Sabres future number one goaltender.
Brady Austin
With their seventh round pick the Sabres drafted their biggest pick Brady Austin coming in at 6 foot 3,  234 pounds. This is a very interesting and unusual pick as Austin was drafted as a defenceman but has experience playing the wing.   He could always help out on wing if the Sabres need. He has improved his game and turned into a full package defenceman, which would make him an interesting bargaining tool for the Sabres.
Judd Peterson
Next to the drafting of Grigorenko, Judd Peterson may be second biggest steal. Despite being taken in the last round of the draft,  he was projected to go in the top three rounds.  Still in high school student, Peterson is a highly skilled centre who has been busy breaking records. It will be a long time before fans get to see him on Buffalo's roster.  He still has 2 years left to play in the juniors. With their last pick in the draft Peterson was a solid pick and worth the risk.
Buffalo had a very good draft year. They fixed their issues with depth by taking five centres.   Best of all,they may have found a future number one centre and their future number one goaltender. It would be hard to give the Sabres draft picks anything lower than an A, they were clearly winners in the draft!