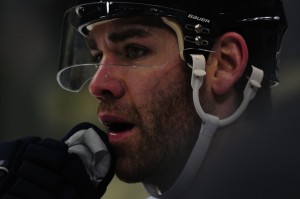 Over the past few seasons the Pittsburgh Penguins have not had their full roster. Sidney Crosby has been sidelined with a concussion. Evgeni Malkin missed a large chunk of last season and parts of this season with a knee injury. Jordan Staal, with a variety of ailments, has been left off the roster at various times over the past two seasons. Almost every player for the Penguins has missed some time due to injury over the past three seasons to date.
The sole reason why the Penguins have been one of the most consistent and best teams in the league is due to their role players. Three things all of the Pens' role players stress is playing a north and south game, getting the puck behind the other team's defense and exiting their defensive zone as quickly as possible.
The one constant trying to accomplish these tasks has been Pascal Dupuis. The Pens' coaching staff knows what they are going to get from Dupuis every season. He has played in 81 games over the past two seasons and has participated in all of the Penguins 37 games to date.
The French-Canadian born forward has a burst of speed that not many players in the NHL carry with them. Duper can unleash a shot with heaviness and quickness, as he has put on display at many points this season. He can let loose any type of shot. There aren't many forwards who can blast a wrist, snap and slap shot as equally and as fearsome as Dupuis. Most players are one-dimensional who only carry one type of shot in their arsenal.
Dupuis encompasses the ability, and has often been asked by Dan Bylsma, to play in every kind of in-game situation this season. Dupuis has played the point on the power play since he carries one of the hardest slap shots on the team. He has the skating speed to keep up with Sidney Crosby and has been Crosby's winger more often than not when Sid has been healthy enough to play. Duper is one of the most important penalty killers on the team as he anchors the 5th best penalty killing unit in the NHL. Dupuis is trusted in these different roles.
Dupuis is the type of player that every NHL team wants to have on their roster. He is consistent and has the versatility to be placed in any situation at any point in a game. The Pens' management and coaching staff knew that Dupuis would score around 18 goals, be one of their best penalty killers and show up to play every single night this season. He continues to live up to this billing and more.
Dupuis is third on the Pens in total points with 25. He sits behind James Neal and Malkin. Neal is two goals away from being the leading goal scorer in the NHL. Malkin has been on an absolute point-scoring tear since the most recent hiatus of Crosby. Geno sits only three points behind Claude Giroux from leading the NHL in scoring. While Duper's offensive output hides behind Malkin's and Neal's numbers, he never complains and quietly goes about his responsibilities.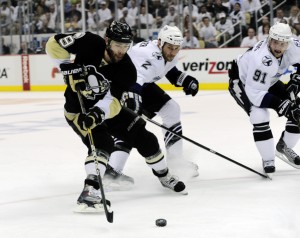 Dupuis never takes individual credit and does not receive enough credit for his stellar play. He is on pace for a career high in goals and career high in points. The Penguins' right-winger has tallied 11 goals and 14 assists in 37 games this season. At one time he led the NHL in even strength assists. His best full season was back in 2002-03 for the Minnesota Wild when he recorded 20 goals and 28 assists, stats he is on track to shatter this season.
Dupuis recorded his 300th career point back on December 17th, against the Buffalo Sabres. His great numbers as a role player do not do him justice. Dupuis' tenure with the Pens has been nothing short of solid. Without his reliable services this injury-ridden season, the Penguins might be sitting outside of the playoff picture. Instead, Dupuis and the Penguins are right in the thick of the Eastern Conference battle. Despite over 350 man-games lost due to injury, are still 6th in the league in goals for per game.
The return of Crosby may remain unknown for a long period of time, but the Penguins know that Pascal Dupuis will be in the line-up giving a sensational effort on a nightly basis. This is why Dupuis deserves hefty praise and has been the Penguins' unsung hero to this point in the 2011-12 season.
Justin Glock has covered the Pittsburgh Penguins for The Hockey Writers since 2011. As a lead writer, his Penguins knowledge traces back over two decades. For any requests, please feel free to contact Justin via email: JGlock10@gmail.com.